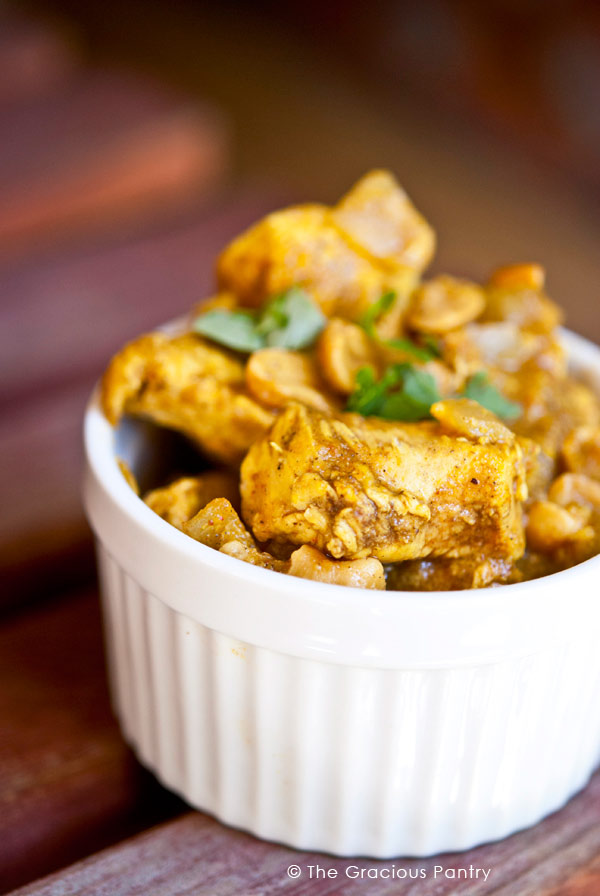 Oh how I love Indian food. All those rich spices and fabulous aromas.
I fell in love with my ex over Indian food and it's been a semi-regular staple ever since. In fact, I'm pretty sure I'll be diving into Indian cooking a bit more this fall. Nothing makes the house smell as amazing as spices like curry, garam masala, cardamom and turmeric simmering on the stove in the evening hours. The second people catch a whiff, they seem to gravitate towards the kitchen. It's an invisible force too powerful to fight. And thank goodness for that! It's a great way to get the family to the dinner table!
YOU MIGHT ALSO ENJOY:

Clean Eating Chicken Korma Recipe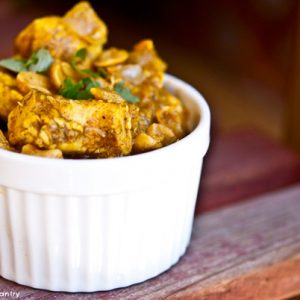 Author:
Tiffany McCauley | The Gracious Pantry.com
Ingredients
5 boneless, skinless chicken breasts (about 7 ounces each), cut into bite-sized pieces
1 tablespoon olive oil
1 large yellow onion
5 garlic cloves
2 teaspoons cardamom
1 teaspoon ground ginger
¼ teaspoon allspice
1 teaspoon cumin
1 teaspoon turmeric
1 teaspoon chili powder
1 teaspoon garam masala
¼ cup tomato sauce
½ cup chicken broth
½ cup light coconut milk
1 cup roasted cashew pieces, no added salt
½ cup non-fat, plain Greek yogurt
Salt to taste
Instructions
In a large skillet, saute the onions and garlic in the olive oil until translucent.
Add the chicken to the pan.
Add all other ingredients in the order listed, EXCEPT for the yogurt. Cook until chicken is cooked through.
Remove the skillet from heat and stir in the yogurt and salt to taste.
Serve over brown rice, with clean eating naan or by itself.