This clean eating coleslaw recipe is perfect for any occasion!
Not so long ago, I posted my recipe for clean eating mayonnaise. And I won't lie, this sort of opened up a whole new branch of recipes for me to create. Not that you ever want to overdo it on mayo, but let's face it. Sometimes, you just need a good spoonful to make a dish taste right.
Tuna salad, potato salad and even pasta salads are all made better by the use of mayonnaise. Some people love it, some hate it, and others love it more than life itself, but avoid it like the plague.
It's funny how we ascribe certain values to different foods based on life experience. For some people, mayo is the equivalent of a culinary satan. Something to run from at the mere sight of it. While others (usually low carb or paleo eaters) enjoy it in abundance, using fat instead of carbs for fuel.
Regardless of what your stance on mayo is, I firmly believe that every clean food has it's place, even the higher fat ones. It's all a balancing act, and as long as you do what works for your own body, there's not reason to avoid it. At least not in my book.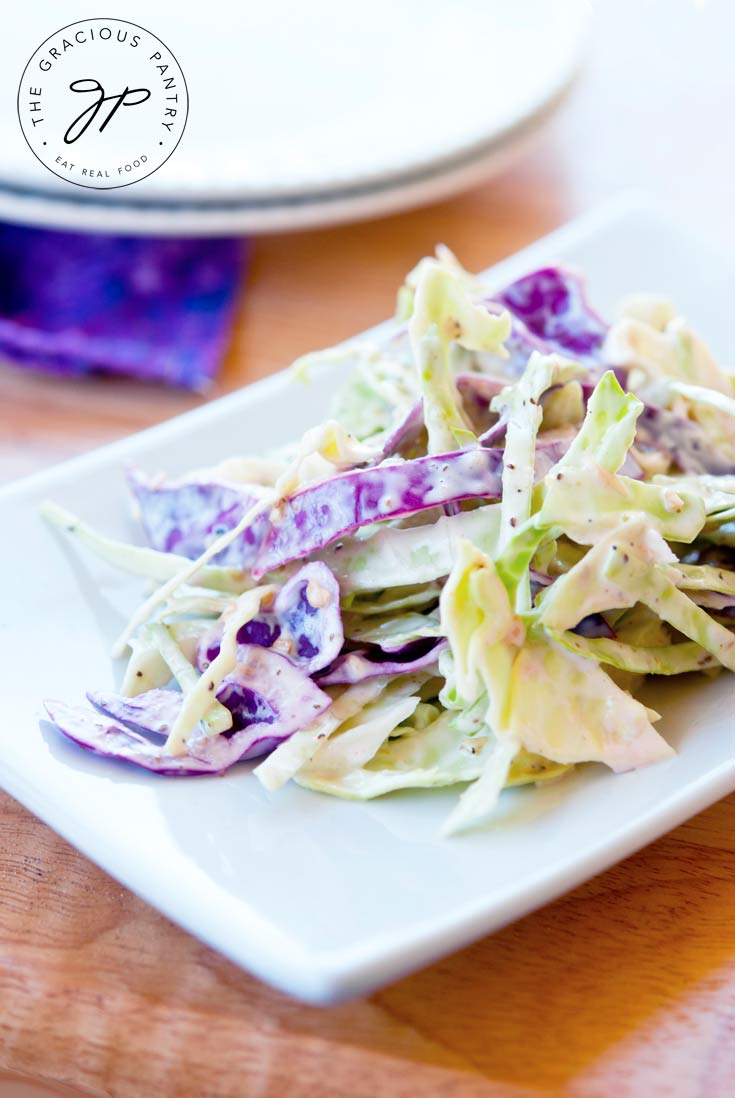 So I figured it was high time I did a coleslaw recipe. I had never done one before and it's not something I ever buy at the store. I've only ever had it at barbecues and potlucks. It's awesome and amazing stuff if it's made right, and depending on the flavors involved, it pairs well with many, many dishes. This particular recipe would go fabulously well next to a clean burger.
Notes on the recipe: I know that many people prefer to have coleslaw that has been sweetened. If this is your preference, please feel free to add in 2 tsp. to 1 tbsp. of your favorite, clean sweetener. I prefer my coleslaw to be savory, so this recipe reflects that.
YOU MIGHT ALSO ENJOY THIS CLEAN EATING RECIPE:
RECIPES USED:

CLEAN EATING COLESLAW RECIPE:
Clean Eating Coleslaw
Ingredients
2

cups

green cabbage,

firmly packed and thinly sliced

1

cup

red cabbage,

firmly packed and thinly sliced

1/2

cup

clean mayonnaise,

store bought or homemade (see link above)

1

tbsp.

lemon juice

1

tbsp.

apple cider vinegar

1/2

tsp.

garlic powder

1/2

tsp.

celery seed

1

tbsp.

dehydrated, chopped onion

salt and pepper to taste
Instructions
Place all ingredients in a large mixing bowl and stir until well combined.

Chill in the fridge for 2 hours before serving.

This recipe from the Gracious Pantry archives, originally posted 8/11/2014.