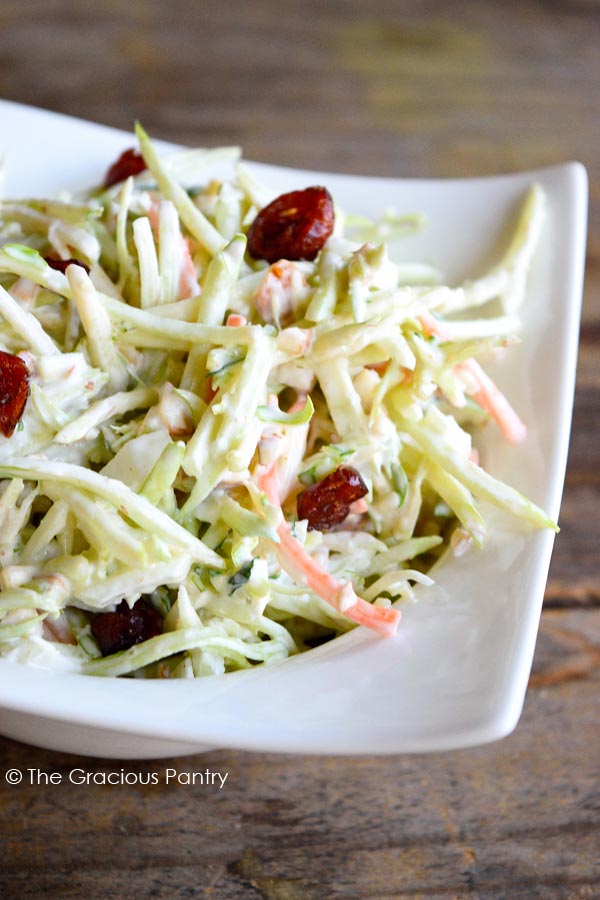 Broccoli slaw was a new one for me. I never had it at parties or barbecues. But after making this, I'm seriously questioning my upbringing. This stuff is so crazy good!
The key is to let the sugar dissolve before stirring everything together. But other than a few minutes of waiting time, this recipe is so fast and simple to put together!! Particularly when you purchase the broccoli already cut into slaw.
I found a package of organic slaw that had a few shreds of carrot mixed in, but not much. it was mostly broccoli, and it was perfect! Of course, you can shred your own broccoli if you have the attachment on a food processor. If you go that route, I recommend using about 2 cups. But it sure saves time if you can just pick up a bag at the store!
This dish is perfect for a tailgating party, a barbecue or just about any general gathering. This will definitely make it into my regular meal rotation! Yum!!
YOU MIGHT ALSO ENJOY:
NOTE: You can use either store bought or homemade mayo for this.

Clean Eating Broccoli Slaw Recipe
Author:
Tiffany McCauley | The Gracious Pantry.com
Ingredients
½ cup clean mayo
1 tbsp. lemon juice
1 tbsp. apple cider vinegar
1-2 tbsp. coconut sugar or Sucanat
½ cup almond slices
¼ cup juice-sweetened cranberries
9 oz. (package) shredded broccoli
½ medium onion (yellow or red)
Instructions
In a small bowl, mix the mayo, lemon juice, apple cider vinegar and sugar together. Allow it to sit for about 10-15 minutes so it will dissolve, then mix again to combine properly.
Mix all ingredients together in a medium to large mixing bowl until mayo is well distributed.
Serve