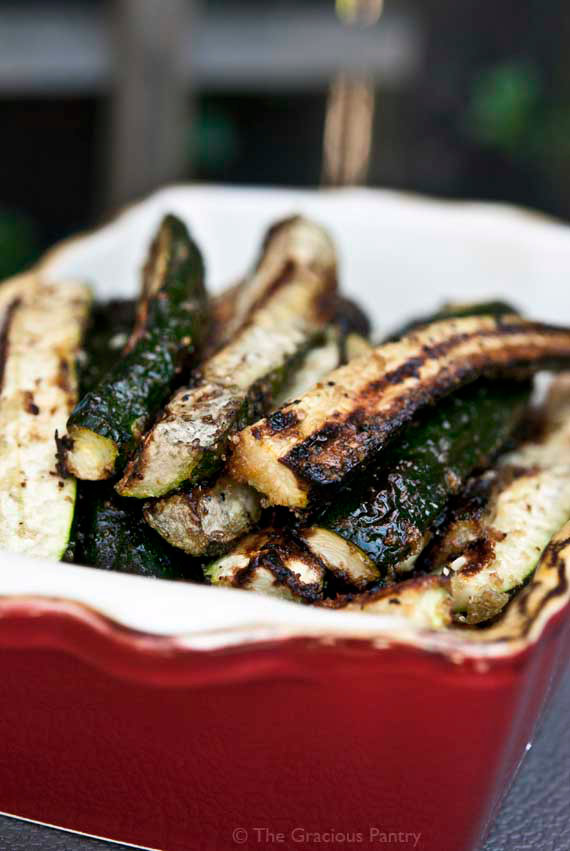 There's just something about barbecued food.
It seems like no matter what I put on the grill, I'm pretty much always guaranteed a tasty outcome. Even veggies! In fact, the grill is fast becoming my absolute favorite way to prepare almost any vegetable.
I love the smokey flavor that the grill imparts, and in this case, the zucchini can be cooked to any level of "doneness" and end up being rock-star-delicious! I prefer to cook mine a little less so that the zucchini maintains a slight bit of crunch. But you can also cook them long enough to turn them into something just shy of a tasty mush. It really is up to you!
Even Mini Chef (who is definitely going through an "I don't want that" stage) ate these. So that's sayin' something!
YOU MIGHT ALSO ENJOY:

Clean Eating BBQ Zucchini
(Makes 8 servings)
Ingredients:
2 pounds zucchini, quartered
2 tablespoons garlic powder
2 tablespoons onion powder
1/4 teaspoon salt
1/2 teaspoon black pepper
1/4 cup olive oil
Directions:
Place all ingredients into a plastic bag, and gently shake until the zucchini is coated in the oil and spices.
Place on BBQ and cook. (Much of the oil will be left behind in the bag. That's okay. I just toss it with the bag.)
When the zucchini is cooked to your liking, remove from the grill and allow to cool. These retain A LOT of heat. So cooling time is essential.
NOTE: For crispier/crunchier zucchini, cook on higher heat for a shorter time. For a softer zucchini, cook on lower heat for a longer time.