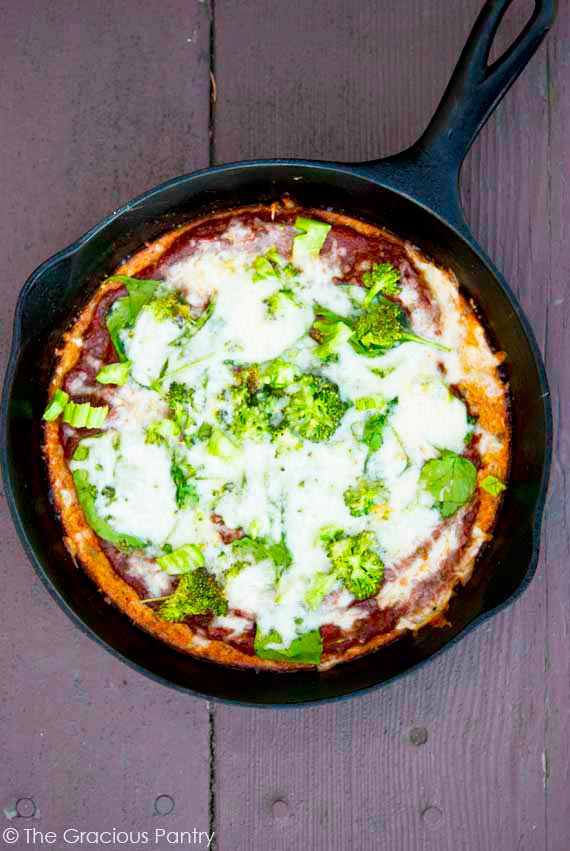 As many of you know, I struggle to keep breakfast interesting. Not only do I fight to avoid boredom at my morning meals, I expect them to be easy too. Kind of a tall order sometimes.
I love this recipe because you can make the frittata the night before, keep in in the fridge and bake the final dish with the toppings and cheese in the morning. A great way to heat the kitchen on these cold winter mornings!
A cast iron pan is best for this, but you can also use a baking dish if that's what you have. I will say that an 1/8 of this is a pretty small portion (see below). You'll most likely eat two pieces. But I wanted to break it down into the smallest possible amount. You can easily double the numbers if you wish.
I won't even tell you how many pieces I ate. I was hungry…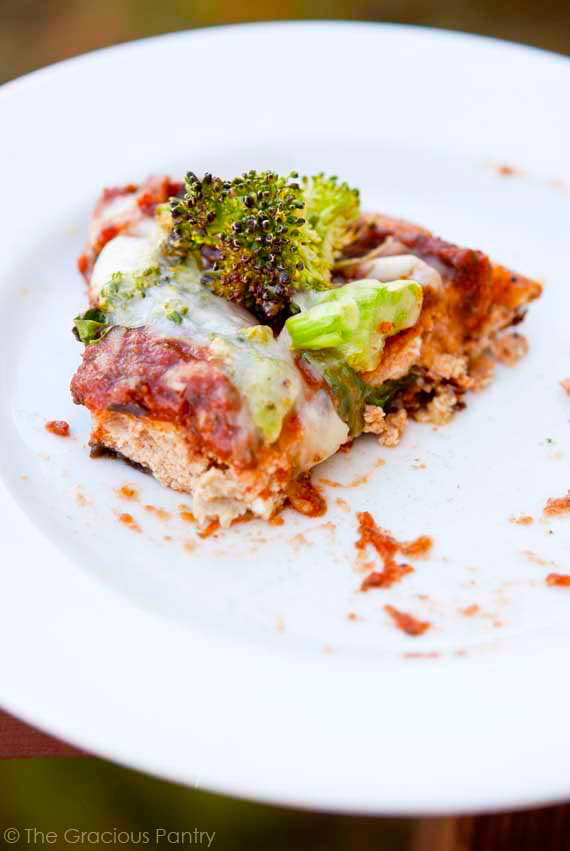 YOU MIGHT ALSO ENJOY:

Clean Eating Baked Skillet Frittata Pizza
(Makes about 8 servings)
Ingredients:
4 large, whole eggs
2 tablespoons milk or chicken broth
1/4 cup grated parmesan
1 cup cooked ground turkey – optional (I used leftover turkey chili!)
1 teaspoon garlic powder
1 tsp. onion powder
1 tablespoon coconut oil
TOPPINGS
1/4 – 1/2 cup Clean Eating Herbal Pizza Sauce
Toppings of your choice. I used veggies and mozzarella.
Directions:
Preheat oven to 350 degrees F.
If your coconut oil is solid, melt it first in skillet before adding anything to the pan. Remove the pan from heat before adding anything else to it. The eggs should not cook before going in the oven.
In your skillet whisk together the eggs, milk or broth, parmesan, cooked turkey, garlic powder, onion powder.
Place in the oven and bake for 30-40 minutes. It's done when you cut into it and you don't see any liquid.
Remove from the oven, top with pizza sauce, and toppings of choice. Return to oven just long enough to melt the cheese to a golden glow (about 10 minutes).
Cut into 8 pieces like you would a pizza and scoop out of the pan with a spatula and serve.
Once cooled, you can eat this with your hands like regular pizza. Just be sure to have napkins close by because it's a little messier than regular pizza.