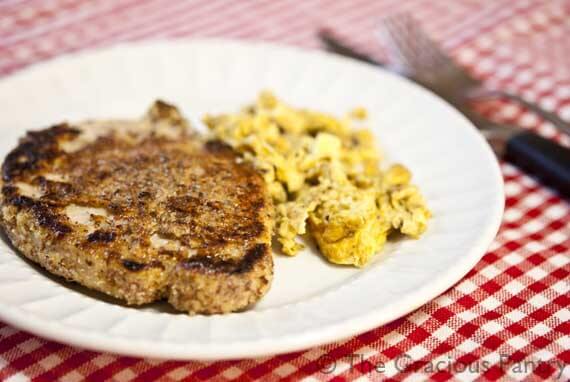 I admit it. I'm developing a real liking for pork. It wasn't planned. In fact, I typically only ate pork maybe once per month, if that. But I'm finding that as my eating plan changes, so do my taste buds.
Now that I'm eating differently, food once again has changed it's flavor. My taste buds seem to have woken up in a way that they never have before.
It's really pretty amazing how our tastes change when we truly make meaningful and complete changes to our eating plans. Changes that will last a lifetime because you just can't imagine ever going back. Changes that move us forward because slipping backwards is just not an option any longer.
So you'll be seeing a few more pork recipes around here and I hope that my fellow pork lovers will enjoy them.
YOU MIGHT ALSO ENJOY:

Clean Eating Almond Crusted Breakfast Pork Chops
(Makes 1 serving)
Ingredients:
2 breakfast cut, boneless chops
2 tablespoons almond meal
1 teaspoon garlic powder
1 egg white
Oil for the skillet
Directions:
Mix the almond meal and the garlic powder in a small mixing bowl.
Whip the egg with a fork in a separate bowl.
Dip the chops in the egg covering well.
Dredge the chops in the almond meal so that it is well coated on both sides.
Cook with oil in the skillet until the meat reaches at least 165 F. (About 5-10 minutes tops).
Serve with eggs cooked to your liking.