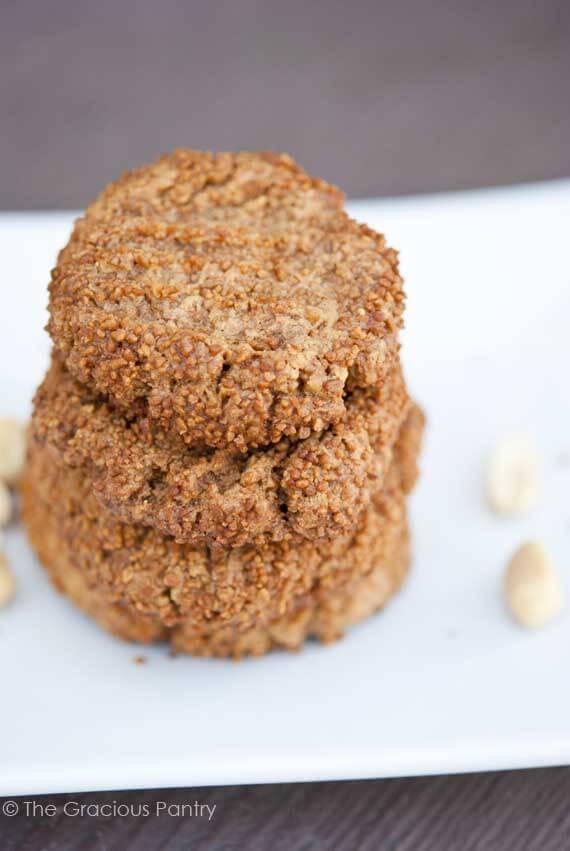 I've backed off of all sugars in a big way so far this year and I'm feeling really great. But into every life, a little sugar sneaks…
With Valentine's Day coming up, I did this recipe as a test run for Mini Chef for him to give out to his classmates at school. But the problem with doing a test batch of cookies is that inevitably, you end up snacking on them. In this case, Mini Chef beat me to the punch. He snuck a bunch when I wasn't looking. And right before dinner!!! The little stinker…
But I guess I can't really blame him. Leave a bunch of cookies out on the counter in the same room with a momentarily unsupervised 6 year old and a few cookies are likely to disappear. Needless to say, the rest were stored away up high and out of reach. But it was all worth it to see that impish little grin on his face. I swear that kid has me wrapped up tight around his little finger, and there's just nothing I can do about it. But at least we got a good giggle out of the whole situation. Not much dinner was eaten that night, but the giggles were a good workout.
I should also mention that this recipe originally came from Give Me Some Oven. She got more cookies out of the batch than I did, but mine turned out on the small side, so I made them bigger and fewer. If you want little ones, then you'll probably get the same yield she did (24-36). These were yummy! Crunchy on the outside, and soft on the inside. Delish!
YOU MIGHT ALSO ENJOY:

Clean Eating 3 Ingredient Peanut Butter Cookies
(Makes approximately 18 cookies)
Ingredients:
1 cup peanut butter
1 cup sucanat (amazon affiliate link) – coconut sugar (amazon affiliate link) 

works as well + extra for rolling.

1 large, whole egg
Directions:
Blend all ingredients together in a bowl using a spoon. It won't seem like dough at first, but just keep mixing. It'll get there.
When you have a nice thick dough, spoon a walnut-sized piece of dough into your hands and roll into a ball.
Roll the ball in the extra sucanat and place on a parchment lined cookie sheet.
Press the cookie down with a fork.
Bake at 350 F. for 13-15 minutes. They should be a nice, golden brown when finished.
Allow these to cool completely. They will fall apart while still warm.
Preparation time: 10 minute(s)
Cooking time: 15 minute(s)