I admit, I stole this idea from Whole Foods. I saw a stuffed squash like this sitting in their display case, so I copied the ingredient list to make my own. It was deeeeeee-licious.
In fact, it was pretty much a meal in itself. I think most folks (unless you're vegan or vegetarian) would use this as a side dish. But honestly, it's very tasty and very filling on it's own. I highly recommend putting a pat of butter or coconut oil on the top so it melts down into everything as it bakes. It adds a lot of flavor!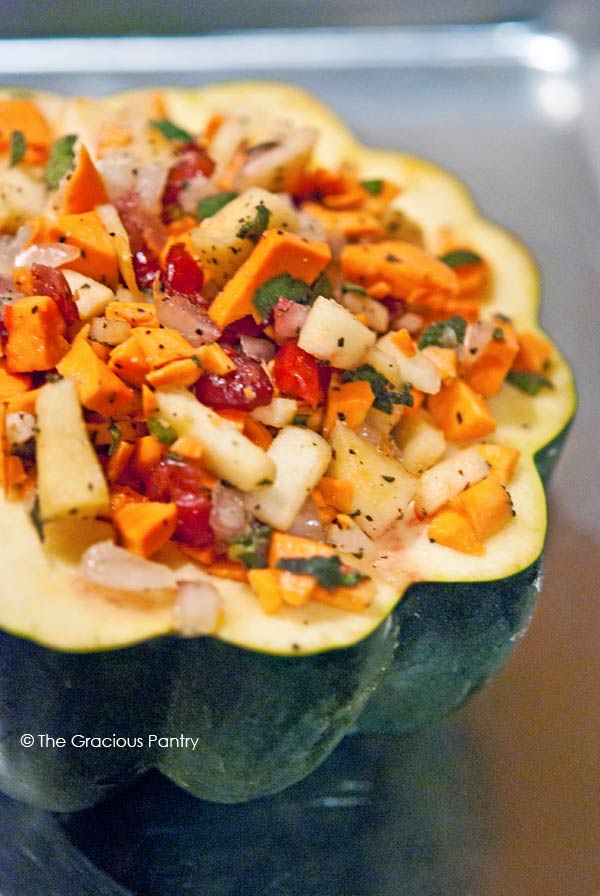 YOU MIGHT ALSO ENJOY:

Clean Eating Stuffed Acorn Squash
Ingredients:
1 large acorn squash
1/2 cup chopped sweet potato
1/2 cup yellow onions
1/4 cup chopped apples
1/4 cup fruit juice sweetened, dried cranberries
1/4 tsp. dried, ground sage
Salt and pepper to taste after cooking
Directions:
Cut the acorn squash in half horizontally and remove the seeds.
Mix all the chopped produce together in a mixing bowl with the sage and divide between the two halves.
Place a small pat of butter or coconut oil on top of each half for extra flavor.
Bake at 350 F. for about 1 hour, or until the squash is easily pierced with a fork or knife. (My squash was very large and thick, so it took 1 1/2 hours to bake.
Preparation time: 20 minute(s)
Cooking time: 1 to 1 1/2 hour(s)
Number of servings (yield): 4
SaveSave