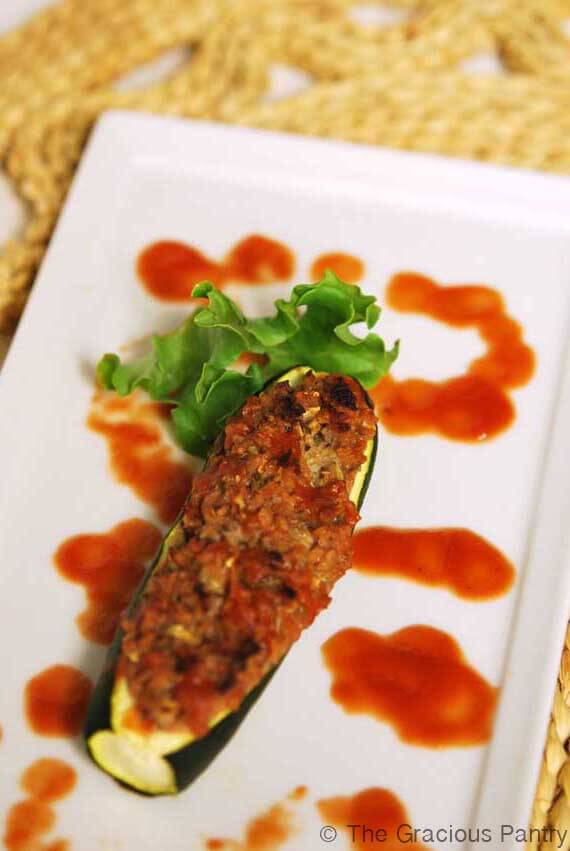 Stuffed zucchini is not a new phenomenon. There are tons of recipes out there. But there are three advantages to using my recipe.
it's vegetarian and still packed with protein.
it's a clean eating recipe.
it's my recipe. So it's the best. So there.
All right. Let's get on with the recipe already, shall we?
Clean Eating Stuffed Zucchini
(Makes 14 halves)
Ingredients:

7 small zucchini
1/2 cup egg whites
1/2 cup tomato sauce
1 tablespoon italian seasoning
1 teaspoon thyme
1 cup textured vegetable protein (tvp)
Directions:

Cut your cleaned zucchini in half and scoop out the inside into a bowl. Set your scooped out zucchini halves on a parchment lined cookie sheet or baking pan.
Add the rest of the ingredients to the bowl and mix well.

Add the TVP and stir again. Mix well.
Using a spoon, scoop the mixture back into your zucchini halves. Be generous. You should get all of the mixture back into the zucchini halves.
Bake in the oven at 350 degrees F. until the zucchini is soft. About 20-30 minutes. A fork should easily pass through it.
If you let these get cold, you can serve them on a platter as finger food with a bowl of plain tomato sauce on the side for dipping. Makes a really unique and healthy party appetizer, and your guests will have a hard time figuring out that it's vegetarian. And if they do figure it out and squawk about it, tell em' "my house, my rules. So there."
Nutritional Content:
(Data is for 1 stuffed half)
Calories: 40
Total Fat: 0 gm
Saturated Fats: 0 gm
Trans Fats: 0 gm
Cholesterol: 0 gm
Sodium: 65 mg
Carbohydrates: 5 gm
Dietary fiber: 2 gm
Sugars: 2 gm
Protein: 5 gm
Estimated Glycemic Load: 22
PLEASE NOTE: Nutritional Information estimated at Nutritiondata.com. Data may not be accurate and is subject to the availability of specific foods in their database. Where one ingredient is not listed, substitutions must be used. Therefore, you should not refer to this data as being exact. It's more of a ballpark figure. The Gracious Pantry does not take responsibility for the inadequacies of the nutrition calculator used. This data is provided as a courtesy and general reference only. It is not exact.