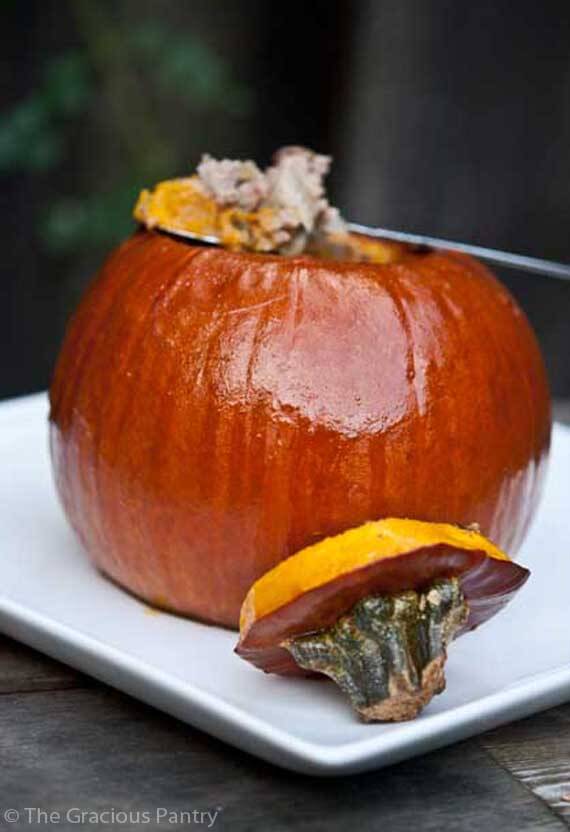 I know, I know. Never mind the pumpkin, there's no way sausage can be clean. Right?
Wrong!
I couldn't believe my eyeballs when I found it! I was in Whole Foods at their meat counter, and started reading the ingredient lists on their sausages. I guess it's become habit to read the labels on every food in sight. I just can't help myself. It's not an obsession, just a habit.
So when I saw them, I had to read the ingredient list four or five times to be sure. But it was true! Clean sausage with only pork and herbs (individually listed no less!). Not a hint of additives or dairy, or sugars ending in "ose". Just pork and simple herbs. I couldn't help myself. I just had to try one! Okay… two. But this was an earth-shattering, mind-altering find! So now you know why I read labels all the time. Sometimes, it pays off!
Now, on to the recipe. You see, I had three lonely little sugar pie pumpkins staring at me rather forlornly from the kitchen counter. Three little pumpkins that just couldn't understand why I had not turned them into something beautiful and delicious yet. Three little pumpkins just begging me to wave my fairy-chefmother wand (yes, that's a word in my dictionary) and send them off to the ball that is my dinner table. Three little pumpkins. (Maybe I should write a children's book?)
Note: This is one of those recipes where measurements may need to be adjusted due to the size of your pumpkins. Adjust freely, they'll still turn out great!
Vegetarian version below!
YOU MIGHT ALSO ENJOY:
Clean Eating Stuffed Pumpkins With Sausage
(Makes approximately 3 pumpkins, give or take)
Ingredients:
1 red onion, coarsely chopped
1 pound sliced mushrooms
1 tablespoon olive oil + extra on reserve
2 tablespoons dried marjoram
1 tablespoon garlic powder
2 teaspoon onion powder
1 teaspoon black pepper
3 clean eating sausages
3 sugar pie pumpkins
1 medium sweet apple, chopped (ask your grocer what's currently sweetest)
Directions:
Saute the onions and mushrooms in 2 tbsp. olive oil until the onions are translucent. (Caramelized is better)
In a small bowl, mix the marjoram, garlic powder, onion powder and pepper. Set aside.
If your sausages are raw, boil in a pot of water or sauté them in a very small amount of oil until cooked. Then chop up into small pieces. If they are already cooked, simply chop them up.
Preheat oven to 350 degrees F.
Cut the tops off your pumpkins and clean out the insides. Reserve the seeds for baking later.
Coat the inside of your pumpkins with a very light coat of olive oil. It's best if you can use an oil mister.
Divide your spices evenly between your pumpkins, put the lids on your pumpkins (hold the lids down) and shake your pumpkins, one at a time, to distribute the spices inside.
In a mixing bowl, combine the onion/mushroom mixture, apple and sausages. Stir well.
Evenly divide the sausage mixture between your pumpkins (Mine were about 3/4 full).
Put the lids back on your pumpkins, and spray the outsides with a nice thick coat of oil. Don't worry, you won't be eating that oil. It just keeps the outsides from burning as the pumpkins bake. (You'll find it all at the bottom of your baking sheet when it's done).
Bake for approximately 1 hour. (Could take as long as 1-1/2 hours) You want to be able to easily pierce the pumpkins from the outside with a knife or fork. They should be very soft.
Remove from the oven, remove lids (careful of the steam that will escape, don't burn yourself!), and allow to cool for about 10-15 minutes.
You have a couple of choices for serving. 1. Serve a whole pumpkin, as is, with a spoon. 2. Cut the pumpkin in half, and place in a bowl, dividing up the stuffing between the two halves (I prefer option 2).
Clean Eating Vegetarian Stuffed Pumpkins
(Makes 4 whole pumpkins or 16 servings)
Ingredients:
2 cups wild rice, cooked to package directions with veggie broth instead of water
8 stalks celery, chopped
2 cup slivered almonds
2 cup golden raisins
1 red onion
1/2 pound mushrooms, sliced
2 tablespoons olive oil
Directions:
Preheat oven to 350 degrees F.
Cut the tops off your pumpkins and clean out the guts.
In a pan, sauté the mushrooms, onions, raisins celery and almonds in the olive oil until the onions are translucent.
Combine with cooked rice and stuff into pumpkins.
Bake for approximately 1 hour, or until the pumpkins are easily pierced with a knife or fork.