20 Healthy Instant Pot Recipes
This post may contain affiliate links. Read my
Privacy Policy.
As an Amazon Associate I earn from qualifying purchases.
These healthy instant pot recipes are the perfect way to get your IP to help you reach better nutrition goals!
I use my Instant Pot constantly, so I'm always looking at new recipe ideas. But so many of them use boxed and packaged, processed foods that are totally unhealthy! I'm sure some of you have seen them too. So I thought I'd put together a list of healthy, clean eating recipes you can make in your Instant Pot!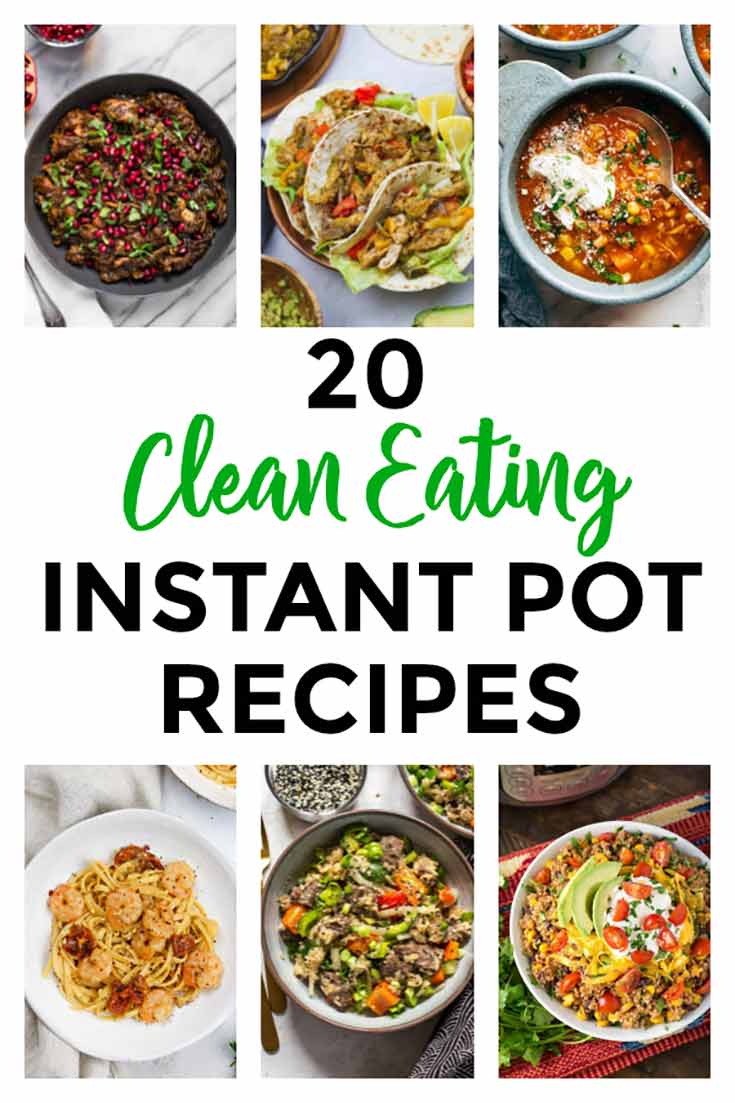 IS COOKING IN AN INSTANT POT HEALTHY?
Just like with a slow cooker, an Instant Pot cooks meals that are only as healthy as the ingredients you put into it. You could make a very unhealthy soup with tons of packaged, processed ingredients, or you could use real-food, healthy ingredients for a healthy soup. It's all about what you put in it that matter most. So yes, if you use healthy ingredients, cooking in an Instant Pot is very healthy!
DOES AN INSTANT POT REALLY SAVE TIME?
Yes, no and it depends. When Instant Pots first came out, everybody raved about these super short cooking times. Usually anything from 1 to 10 minutes! Technically, the weren't lying. The cook times on an Instant Pot CAN be that short. But what they forget to mention is the amount of time it takes to come to pressure and to release pressure if the recipe calls for a "Natural Release".
HOW LONG DOES IT TAKE AN INSTANT POT TO COME TO PRESSURE?
This will depend on the temperature (fresh or frozen) of the food and quantity (how much food you put into the pot). It can take anywhere from 5 minutes to 30 minutes. So be sure to read through the recipe before you start making it so you can gauge how long the recipe will really take.
HOW LONG DOES IT TAKE AN INSTANT POT TO RELEASE PRESSURE?
This one depends on the recipe as well. Some will call for a "Quick Release". Meaning, you can open the valve and release all the steam quickly. This will take about 1-2 minutes approximately. (Please don't burn yourself on the steam!)
If a recipe calls for a natural release, it will (or should) always give you a time for this. Often, I see a natural release of anywhere from 10 to 30 minutes. Meaning, you don't do anything. Once the cooking is done, you simply let it sit for the number of minutes indicated in the recipe. You will see the count down on your IP timer. Just be aware that there could still be steam in the pot. So once the natural release time is over, you'll still want to open the valve BEFORE you open the lid. Otherwise, you could experience the explosion of a pressure cooker lid being shot off the cooker by the steam.
No matter what you do, ALWAYS open the valve BEFORE you open the lid.
SUBSCRIBE:
Remember to subscribe to my free, Gracious Pantry Newsletter to receive all my latest recipes in your inbox! Click here to sign up!
MORE CLEAN EATING RECIPES:
Enjoy!

20 HEALTHY INSTANT POT RECIPES
Instant Pot Detox Vegetable Soup by Recipes From A Pantry
Instant Pot Beef Lettuce Wraps With Pickled Cucumbers by Mad About Food
Easy Instant Pot Pepper Steak by The Girl On Bloor
Instant Pot Fajitas by Little Sunny Kitchen
Instant Pot Salmon by Savory Tooth
Caramelized Onion Mushroom Kale Crustless Quiche by Wholesome Yum
Chicken Vindaloo by Piping Pot Curry
Instant Pot Quinoa Taco Bowls by Simply Happy Foodie|
Instant Pot Summer Soup by Pinch Of Yum
Fesenjan (Persian Pomegranate Chicken) by A Calculated Whisk
Instant Pot Smothered Pork Chops by Beauty And The Foodie
Vegan Lasagna Soup by Vegan Richa
Instant Pot Frittata by Monday Is Meatloaf
Instant Pot Dal by Recipes From A Pantry
Egg Roll In A Bowl by Melanie Cooks
Prawn Linguine Pasta by Little Sunny Kitchen
Instant Pot Meatballs by A Calculated Whisk
Instant Pot Cabbage Side Dish by Simply Happy Foodie
Red Wine Beef Stew by Sidewalk Shoes
Instant Pot Greek Chicken by Noshtastic