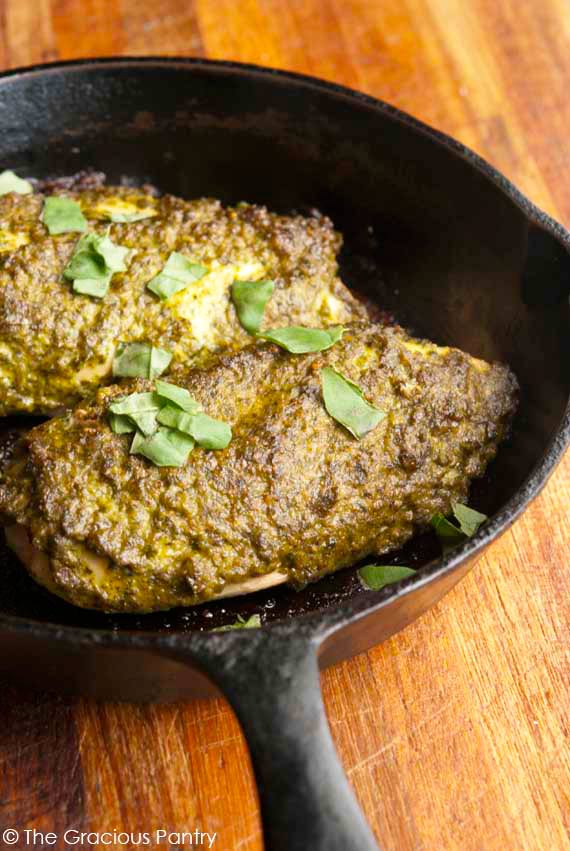 More and more, I'm adding recipes to my Simple Meals section. But the truth is, these sorts of recipes are how I eat most of the time these days. Quick, simple meals that come together with just a few ingredients (usually based on what I have in the fridge).
Not that most of my recipes are overly complicated, because I'm pretty sure most of them are pretty simple to follow. But the number of ingredients makes a difference both in flavor and prep time, not to mention a tight budget.
However, getting good flavor from fewer ingredients is not always a simple matter. The ingredients you choose at that point become much more important decisions if you want to end up with something that is actually palatable. So I'm slowly retraining myself to specifically use fewer ingredients in my day to day cooking and so far, I'm not doing too badly!
YOU MIGHT ALSO ENJOY:

Clean Eating Skillet Baked Pesto Chicken
Ingredients:
2 boneless, skinless chicken breasts (mine were about 7 oz each)
Clean Eating Pesto (about 1-2 tbsp. per breast depending on size)
Directions:
Set your chicken in a cast-iron skillet.
Cover it with pesto.
Bake at 350 F for about 30-40 minutes or until the chicken reaches at least 165 F internally.
Serve with veggies and brown rice for a complete meal.
Number of servings (yield): 4