Lemon Chicken Salad Recipe (With Basil Dressing)
This post may contain affiliate links. Read my
Privacy Policy.
As an Amazon Associate I earn from qualifying purchases.
If hot summer nights are keeping you out of the kitchen, a simple rotisserie chicken and a little chopping will get you this simple, easy lemon chicken salad without turning on the stove.
While everybody has their own idea of what a "classic chicken salad recipe" consists of, I like to keep things interesting by switching out flavors on what most people consider to be "classic".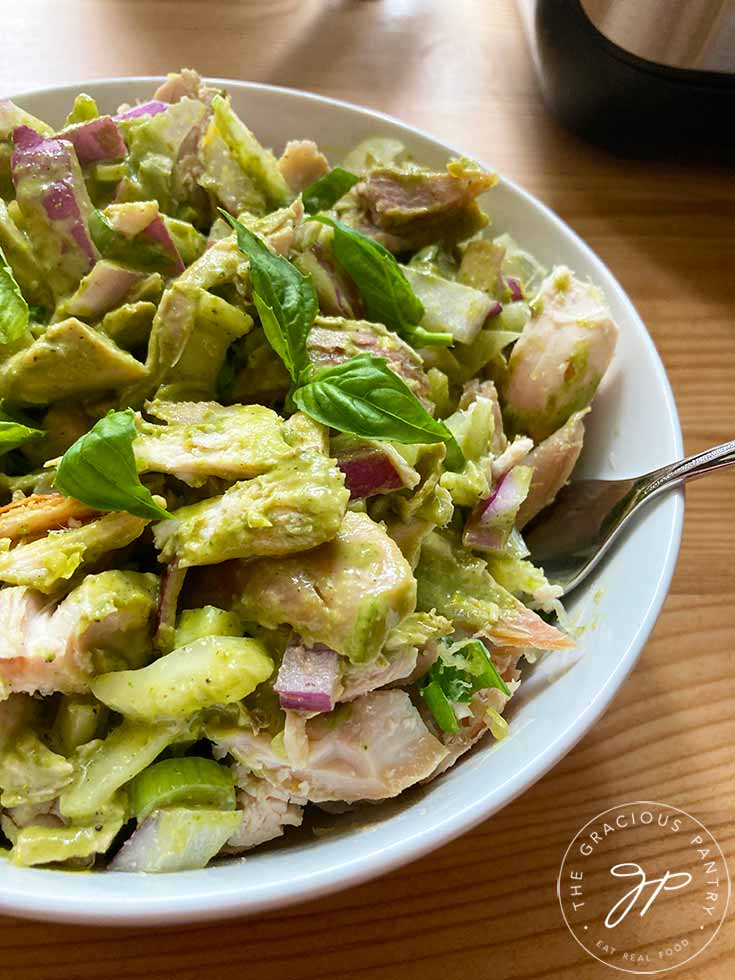 Don't get me wrong, classic recipes are staples in my kitchen too. But I like to keep things interesting, and when it comes to yet another chicken recipe, I find it's best to not get stuck in a rut with the same ol', same ol'.
I find that fresh flavors are the best. Using fresh lemon juice from fresh lemons, a newly roasted chicken and fresh, vibrant produce will always get you the best flavors and textures possible.
Best Type Of Chicken For Chicken Salad Recipes
All of these types of chicken are perfect for making chicken salad.
Rotisserie Chicken – Using a rotisserie chicken for this recipe is the perfect way to enjoy a cooked meal without warming up your kitchen. Just be sure to read ingredients before you check out at the grocery store. It's kinda crazy what some places add to a chicken.
Skinless Chicken Breasts – These are always a great option, but will require some form of cooking. On a hot summer day, I recommend an air fryer or Instant Pot.
Chicken Thighs – Like chicken breasts, these can easily be used for a chicken salad. I recommend removing a good majority of the fat that is on them, and the air frying them. Air fried chicken thighs are wonderful!
Grilled Chicken – It's summer, so many people have their grills going constantly. This is also a great way to cook your chicken without heating up your kitchen.
Chicken Marinade
While marinating the chicken first is not a requirement for this salad, some folks will find the added flavor to be quite good. I have made it both ways and enjoyed both equally. The choice is yours.
If you choose to marinate your chicken, here are a couple suggestions: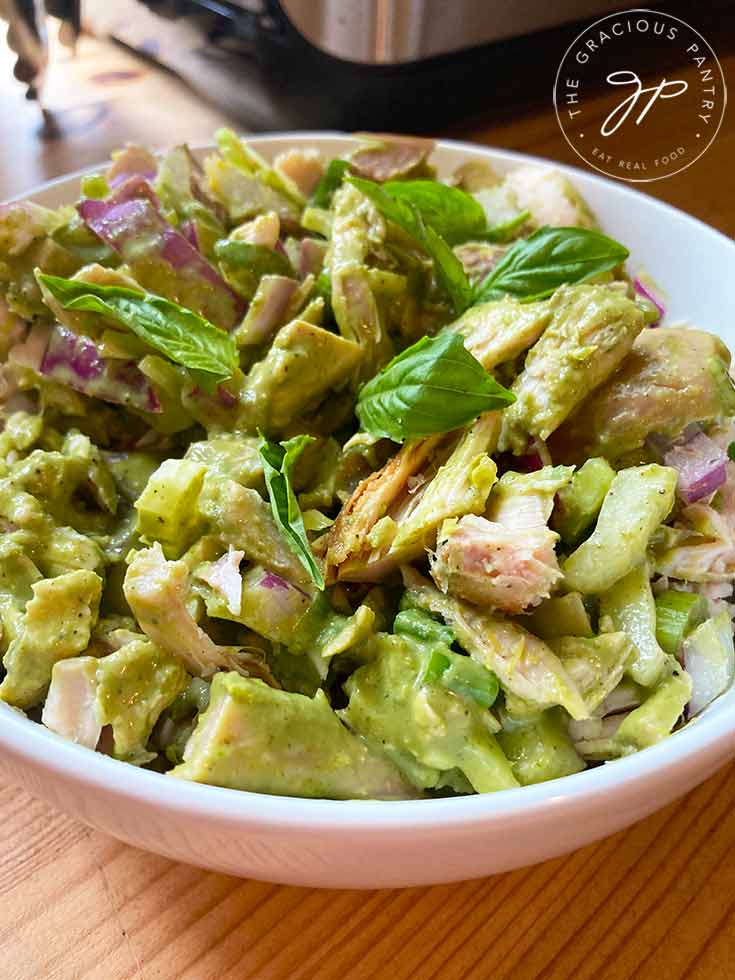 Chicken Salad Without Mayonnaise
Traditionally, chicken salad is made with mayonnaise. Some folks even add sour cream or Greek yogurt. But I have found that a dressing made with a healthy oil (such as extra virgin olive oil), still gives you the moisture you are looking for in a chicken salad, without adding all those unhealthy fats of mayonnaise, or the tang of sour cream or yogurt.
Another benefit of chicken salad without mayo is that it makes for easy lunches. You don't have to worry about the mayo being refrigerated because there isn't any!
Adding Mayo
If you prefer to use mayonnaise, you can absolutely add that here. I recommend starting with a 1/4 cup mayonnaise for this salad. You can always add more, but you can't take any out. So start small and add for taste and texture.
If you do add mayo, you will obviously want to go much lighter on the dressing.
Or, you could simply take the salad dressing ingredients and replace the oil called for with mayonnaise. It's the best of both worlds!
How Much Lemon Juice In Chicken Salad?
As you can probably tell by the title, the lemon juice really makes the flavor here. But that doesn't mean you have to put a ton of it in. An average for chicken salad is about:
1 tbsp. lemon juice = 1 lb. of chicken
This will give you a good, strong lemon flavor without it being overpowering. I pulled back from this a bit because the dressing I used (listed below) also has lemon in it.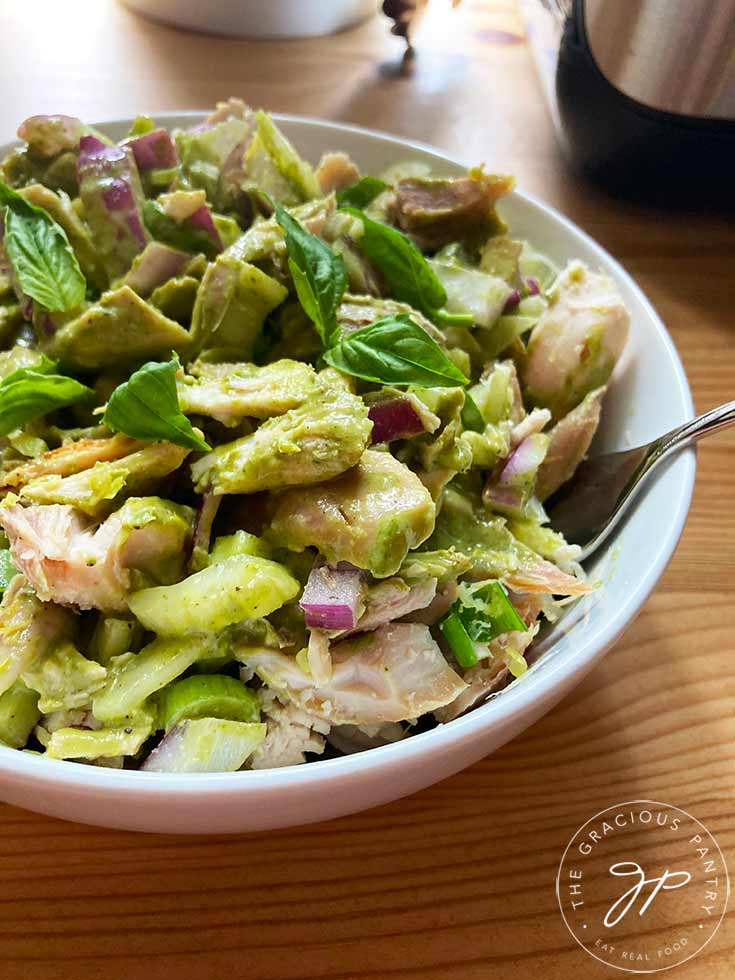 Ingredient Checklist
5 cups cooked, shredded chicken – You can roast a chicken yourself, or pick up a rotisserie chicken from the store. Whole Foods sells clean rotisserie chicken, and that's where I get mine. For other stores, you'll want to read the ingredient list. It's nuts what some places put on a chicken!) Shred or chop the chicken into bite size pieces.
1 tsp. garlic granules – Garlic powder will work too. If all you have is garlic salt, use sparingly to taste so it doesn't get overly salty.
½ cup finely chopped red onion – You can also use yellow onion, but red onion is sweeter and tastes better in a salad like this.
½ cup finely chopped celery – Chop this as fine as you can get it for the best texture in your salad.
1 lemon
1 tbsp. lemon zest – This is an approximate measure. I simply zested one lemon and used what I got from that.
1 tbsp. lemon juice – This is an approximate measure. I simply juiced the lemon I zested and used what I got from that.
4 medium green onions – Slice these as thin as you can slice them. You'll be using the entire green onions. Whites and greens together.
Basil dressing – Make this ahead of time for convenience. Use as much as you like, to taste. You can find that recipe here.
1/2 tsp. salt – I used pink Himalayan salt, but use whatever salt you normally use for seasoning food.
1/2 tsp. ground black pepper – I find that a course grind is great if you want the added texture, but a fine grind is best overall, since you already have crunch from the celery.
What Else Could You Add To This Salad?
While I didn't add anything else, there are a few ingredients that could be really delicious to add to this salad.
Fresh, chopped heirloom tomatoes
Feta cheese – Try a little with the dressing to see if you like the combo first
Sliced olives
Chopped, raw zucchini
Parmesan
Fresh dill
Chopped avocado
How To Make Lemon Chicken Salad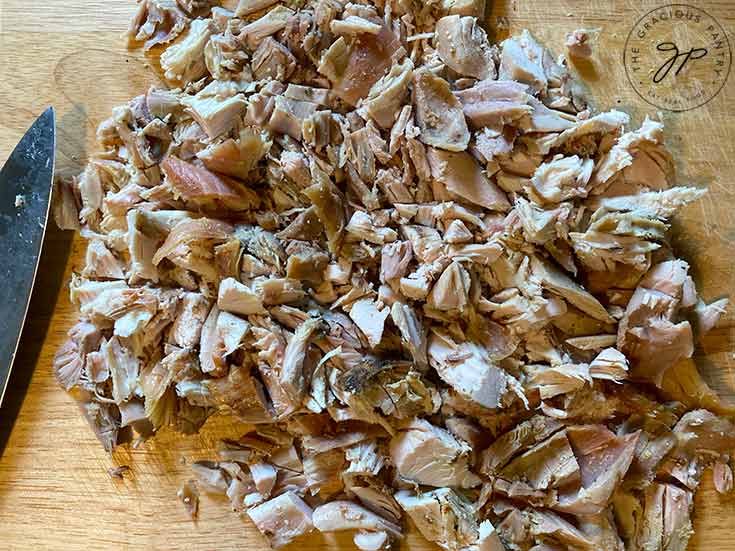 Chop the chicken into small, bite-size pieces. The smaller you chop, the better the overall texture of the salad will be.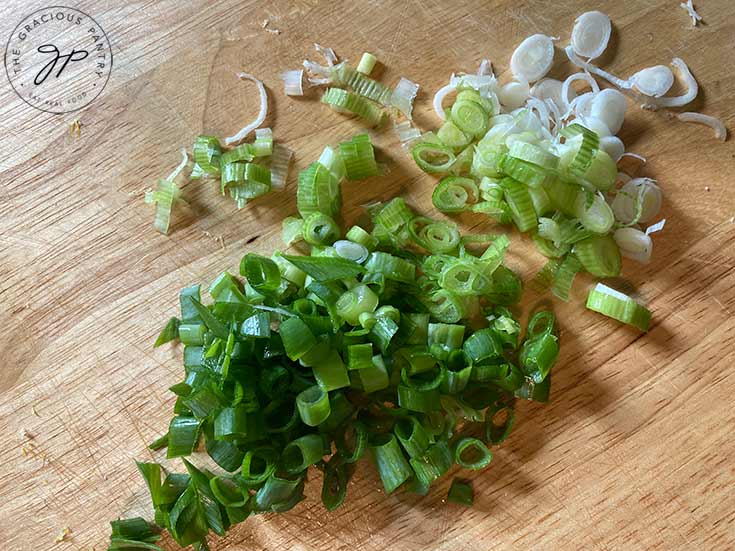 Finely chop the red onion, green onions and celery.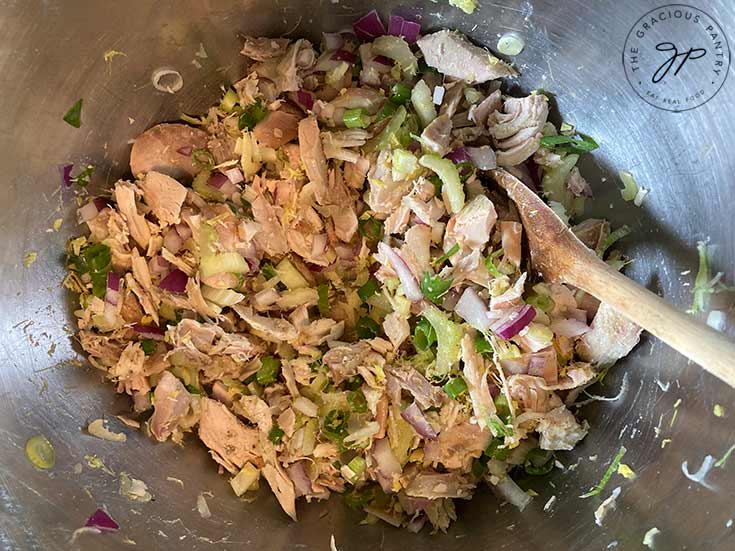 Add in the garlic, zested lemon peel and juice. Combine chicken and all ingredients (except dressing) by mixing well.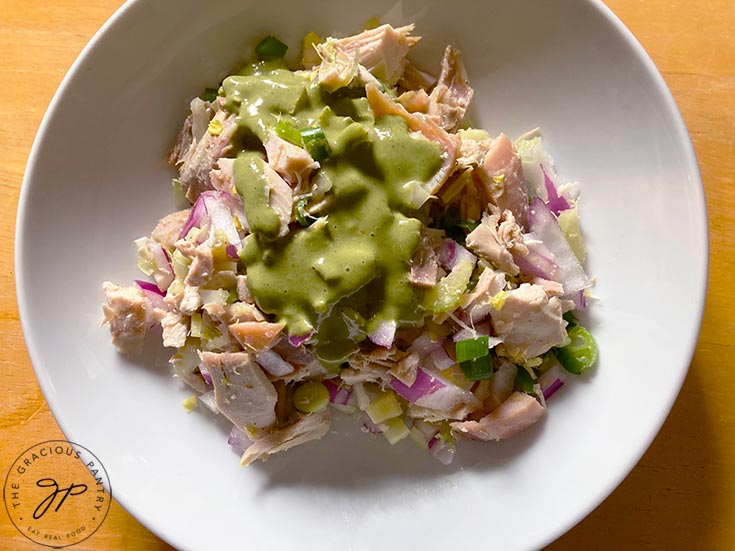 Serve with dressing.
What Goes With Chicken Salad
If you want to serve this either as a side dish or as a main course with other side dishes, here are some suggestions for what to serve this with.
On a bed of lettuce or other greens for extra veggies and more "salad" in your salad.
A side of brown rice.
Mix this into cooked pasta for a great pasta salad!
A side of veggies
How To Store Chicken Salad
This will keep in the fridge in an airtight container for up to 3 days.
Can You Freeze Chicken Salad?
While chicken salad in general can vary greatly, whether you can freeze it or not depends on the ingredients you have in it.
In this particular case, this recipe will freeze well with two conditions or exceptions.
Freeze without any added dressing or mayo.
Freeze without green onions. You can sprinkle them on fresh at serving.
Recipe Supplies
You'll want to be sure you have a few things on hand to make this recipe quickly and easily.
A good cutting board – I like bamboo cutting boards because they are durable, lightweight, and in most cases, sustainable.
Measuring cups – A good set is important in any kitchen. I find stainless steel to be the most durable and lasting.
A sharp knife appropriate for chopped meat and veggies – I find a chef's knife is usually the best option. Kept sharp and in good condition, it's also the safest knife you can use in your home kitchen.
Large Bowl – While you could get away with a medium bowl, I find that for salads like this (as well as other types of salads), a big salad bowl is best. Avoid using a small bowl for this recipe. You need to be able to properly mix your ingredients as well as toss them with dressing.
More Healthy Recipes For Chicken Salad
Recipes Used
SUBSCRIBE
Remember to subscribe to my free newsletter to receive all my latest recipes in your inbox. Click here to sign up!
Lemon Chicken Salad Recipe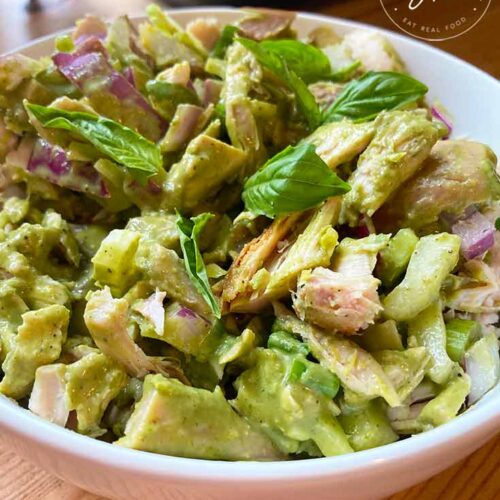 Lemon Chicken Salad Recipe With Basil Dressing
A delicious, refreshing summer chicken salad you can enjoy as a main course or a side dish. Great for potlucks!
Print
Pin
Rate
Add to Collection
Go to Collections
CLICK TO WATCH THIS RECIPE IN ACTION!
Ingredients
5

cups

cooked chicken

(rotisserie chicken works great here! Chop or shred)

1

cup

finely chopped red onion

4

medium

green onions

(white and green parts, sliced thin)

1

cup

finely chopped celery

1

tsp.

garlic granules

1

tbsp.

lemon zest

(approximately the zest of 1 lemon)

1

tbsp.

lemon juice

(approximately the juice of 1 lemon)

basil dressing

(to taste)
Instructions
Chop the chicken into small, bite-size pieces. The smaller you chop, the better the overall texture of the salad will be.

Finely chop the red onion, green onions and celery.

Add in the garlic, lemon zest and juice. Combine chicken and all ingredients (except dressing) by mixing well.
Notes
Please note that the nutrition data given here is a ballpark figure. Exact data is not possible.
Nutrition
Serving:
1
cup
|
Calories:
428
kcal
|
Carbohydrates:
10
g
|
Protein:
48
g
|
Fat:
21
g
|
Saturated Fat:
5
g
|
Cholesterol:
89
mg
|
Sodium:
878
mg
|
Potassium:
510
mg
|
Fiber:
3
g
|
Sugar:
2
g
|
Vitamin A:
5425
IU
|
Vitamin C:
5
mg
|
Calcium:
82
mg
|
Iron:
4
mg
Recipe originally posted 5/8/13 and updated on 6/19/21.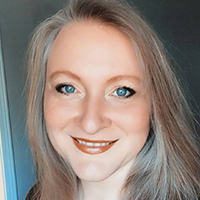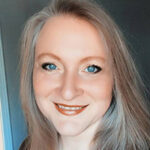 I'm Tiffany, a writer for MSN and the AP Newswire, a cookbook author, digital publisher, food lover, and mom. I create healthy, clean eating recipes for everyday living.