Kale Blueberry Smoothie Recipe
This post may contain affiliate links. Read my
Privacy Policy.
As an Amazon Associate I earn from qualifying purchases.
This Kale Blueberry Smoothie is sure to please even finicky smoothie drinkers!
If you're a smoothie junkie, then you probably consume at least one smoothie every day. However, it's nice to make sure you are getting plenty of nutrition in that daily smoothie. After all, not all smoothies are created equal.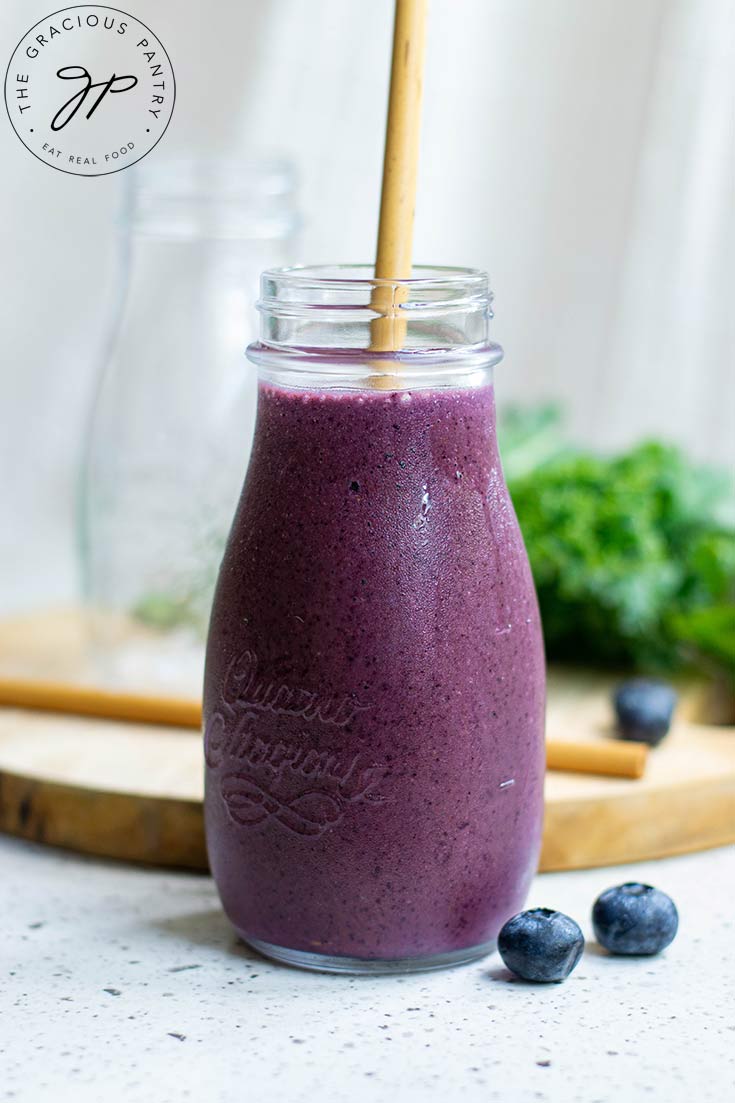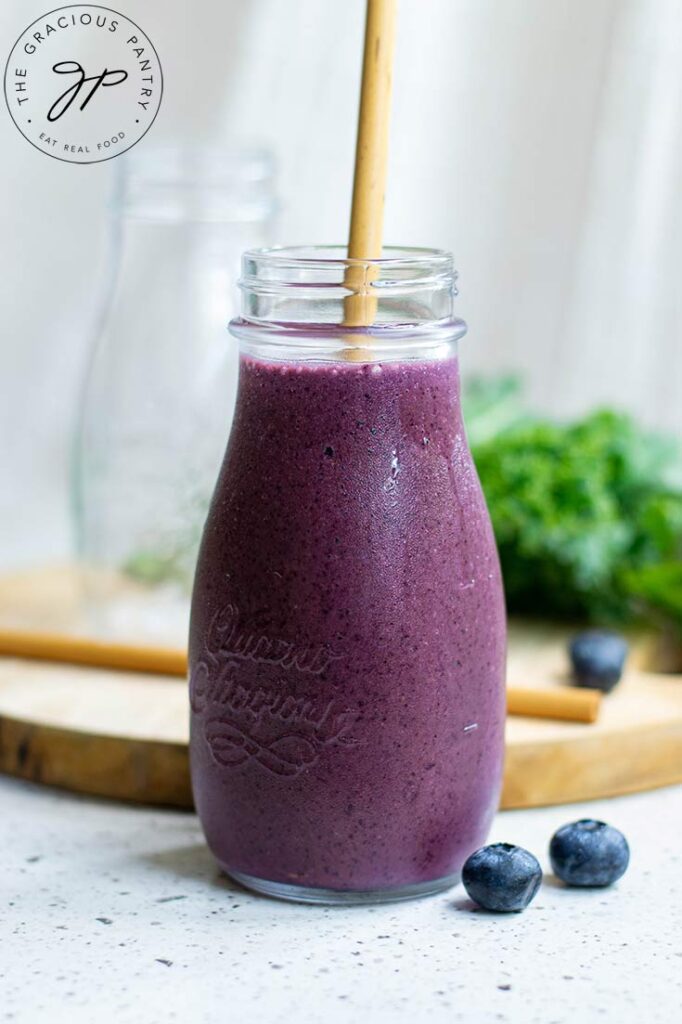 Many smoothies are made with tons of sugar or even ice cream. That's not to say there isn't a place for those smoothies, but it's probably not the way you want to go for daily smoothie consumption. Especially if you want to start your day off with a healthy breakfast smoothie!
How Many Servings Of Fruits And Vegetables Should I Eat Per Day?
It's no secret that we could all use more fruits and veggies in our day. And few meals allow us to get quite as many of them into our daily diet as a smoothie. There is just no better way to get a good dose of fruits and veggies and all the vitamins, minerals, and antioxidants they offer. The health benefits are numerous, and all you know is that you are enjoying a tasty, filling beverage. Who wouldn't want to get more fruits and veg that way???! It's a wonderful way to help fight off heart disease and other dietary-related illnesses. A green smoothie can go a long way to helping you stay healthy!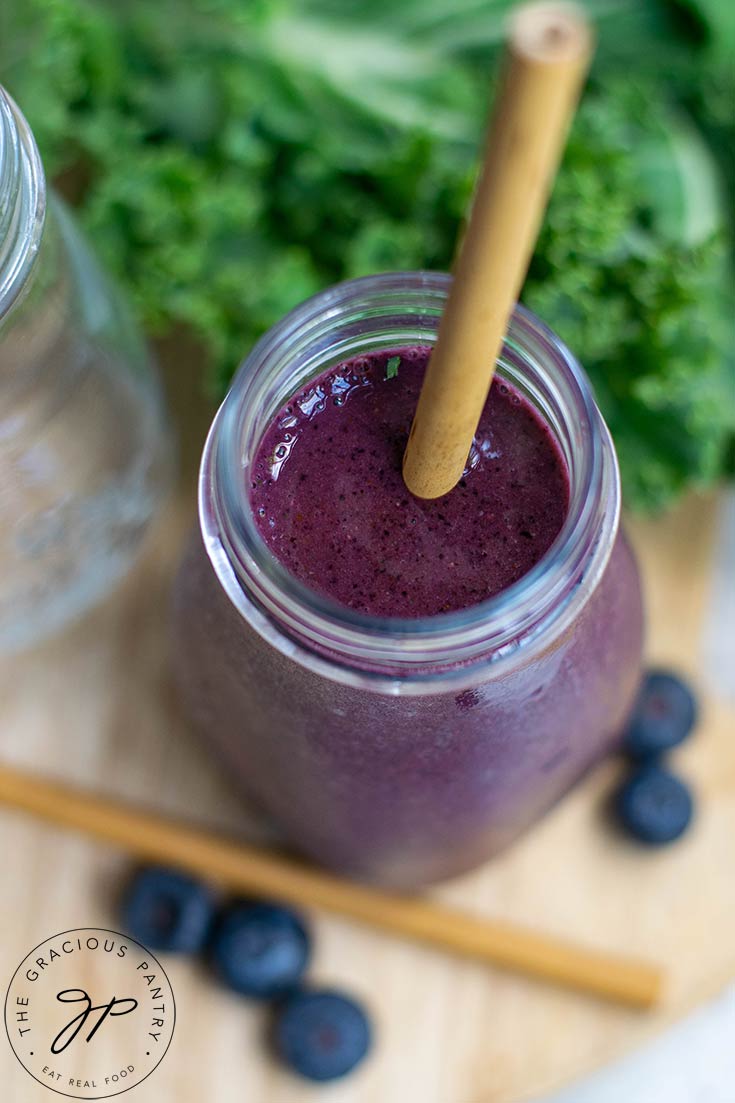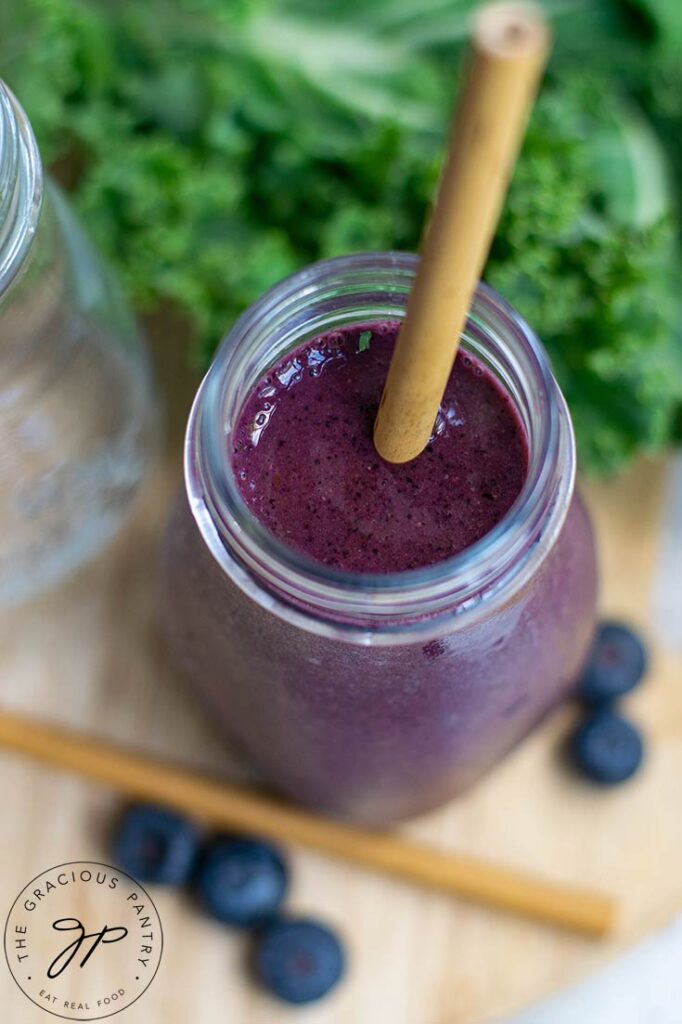 So how many servings of fruits and vegetables should you consume each day? According to the USDA, a minimum of 5 servings. Better still is all the way up to 13 servings, with a standard serving being approximately 1 cup for fruits and vegetables that can be measured by the cup. The recipe I'm sharing with you today will get you approximately 3 servings. Not a bad start to the day, and you can always add more!
If you are looking to add more protein to your smoothie, I highly recommend the following brands. You can also add other smoothie additions to improve the nutritional impact. Find a list of the 15 best smoothie add-ins here.
Top Choices For Protein Powder
If you love adding protein powder to your smoothies, this brand is the purest powder I've found so far. And it works great in smoothies!
---
The Smoothie Origin Story
While smoothies like this kale blueberry smoothie have been around for a very long time in many cultures, here in the US, we can actually pinpoint when smoothies entered into our American culture.
"It began with the invention of the electric blender in the 1930's. West coast health food stores began selling them as nutritional "boosts", and by the 1980's, the term was being trademarked and used in recipes and cookbooks."

Wikipedia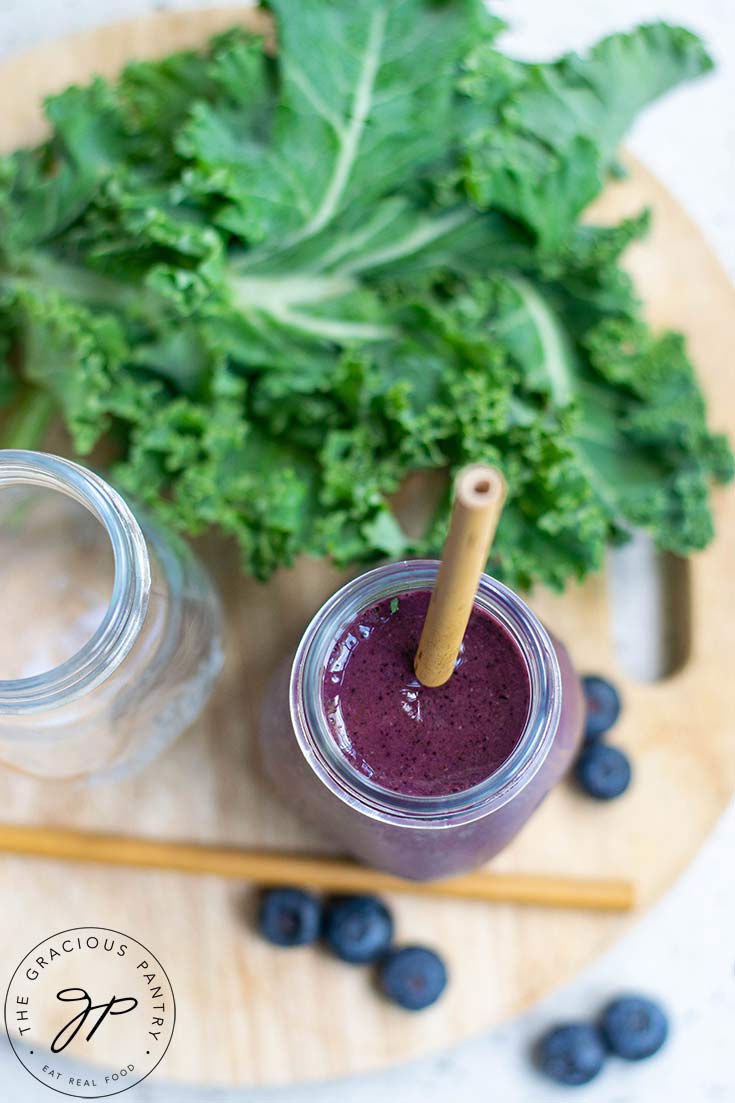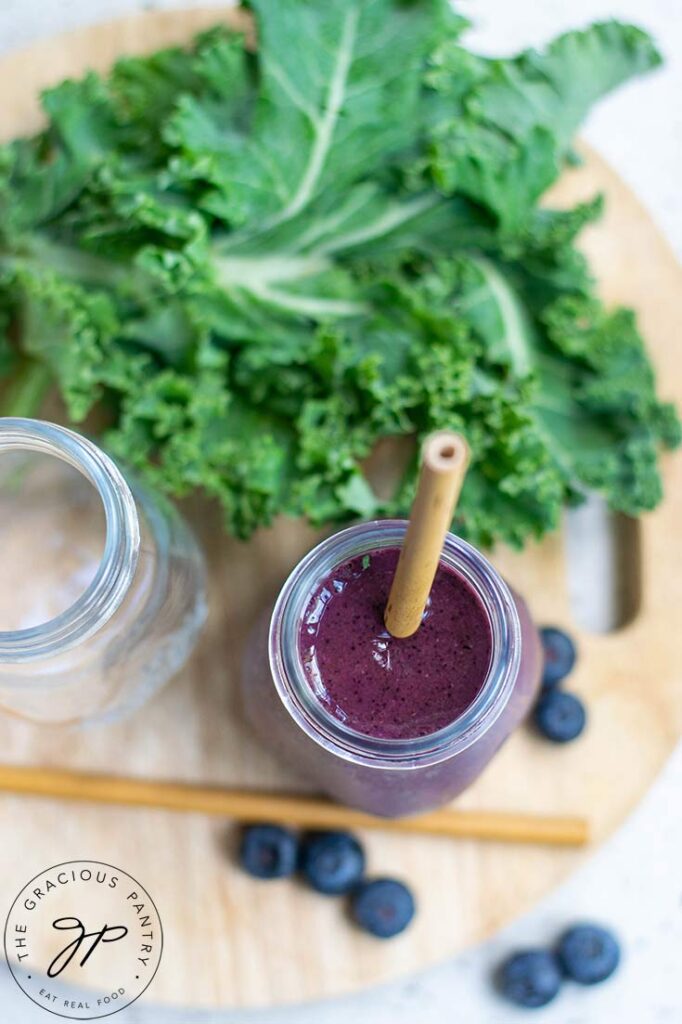 Best Smoothie Blenders
I love my blenders. Yes, that was blenderS, plural. What's not to love? They give me delicious smoothies day after day and never complain. But if you find yourself with a blender that is on the fritz or you are just simply in need of a good one, here are my recommendations for truly great smoothie blenders.
The first one here on the left is great for single smoothies. Especially on the go! But I have not personally tried it. The next three are all blenders I've owned and used myself and can personally vouch for them. I have the last one on the right currently and love it.
Note that a high-speed blender will work best for any type of smoothie.
---
How to Drink a Kale Blueberry Smoothie
While most folks will chug down a smoothie as they run out the door, smoothies are meant to be enjoyed slowly. Drinking your smoothie slowly have three main benefits:
You will feel fuller, faster.
Your body will better absorb the nutrients.
Your digestion will thank you.
Kale Blueberry Smoothie Recipe Variations
Here are some ideas for more healthy ingredients you can add to your kale blueberry smoothie.
Use unsweetened oat milk instead of almond milk. Unsweetened coconut milk is also an option!
Use mixed berries with no added sugar.
Try raspberries, strawberries, or blackberries instead of blueberries.
Add chia seeds.
Add a quarter to a half cup of Greek yogurt. Use dairy-free yogurt if you need it.
Add some avocado for extra creaminess and healthy fatty acids. Omega-3s, anyone?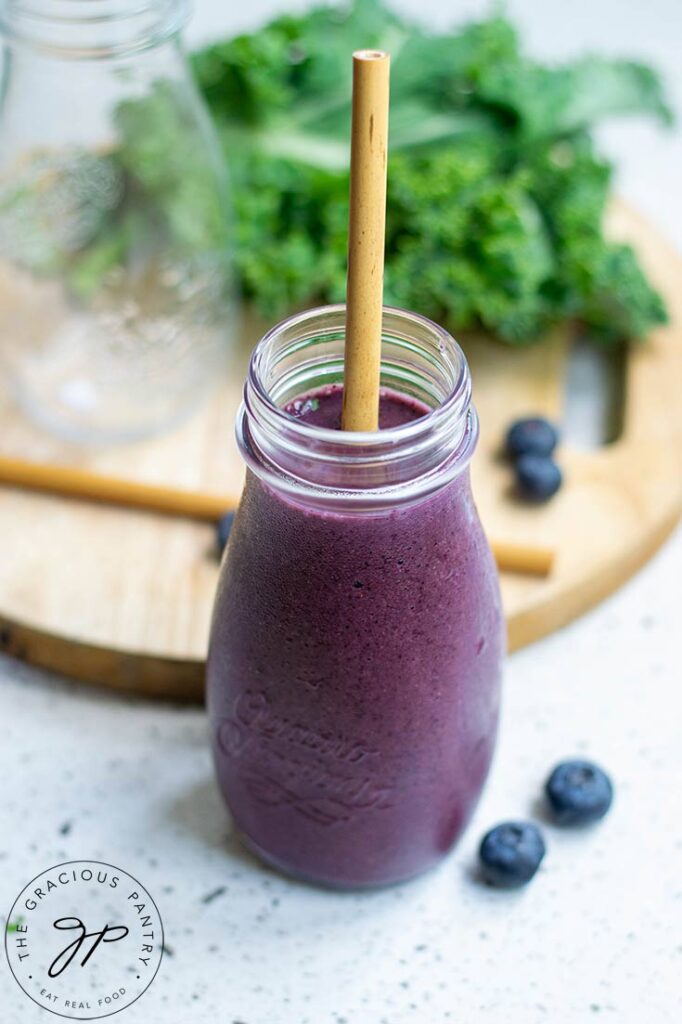 Natural Ways To Sweeten Your Kale Blueberry Smoothie
Add as much as you like of any of the following to get the level of sweetness you want:
Honey
Pineapple
Dates
Maple syrup
Monk fruit
Stevia
Extra banana
Dietary Concerns
This recipe, without any additions, is naturally vegan, dairy-free, and gluten-free. There is no added sugar or cholesterol. Just great flavor with lots of good-for-you nutrition.
About The Ingredients
Frozen blueberries – No sugar added.
Unsweetened almond milk – You can use regular or vanilla.
Large kale leaf – This can be any type of kale. If you are using baby kale, use 1 cup. Remember to remove the stems.
Frozen banana – Peeled, sliced, and frozen.
How To Make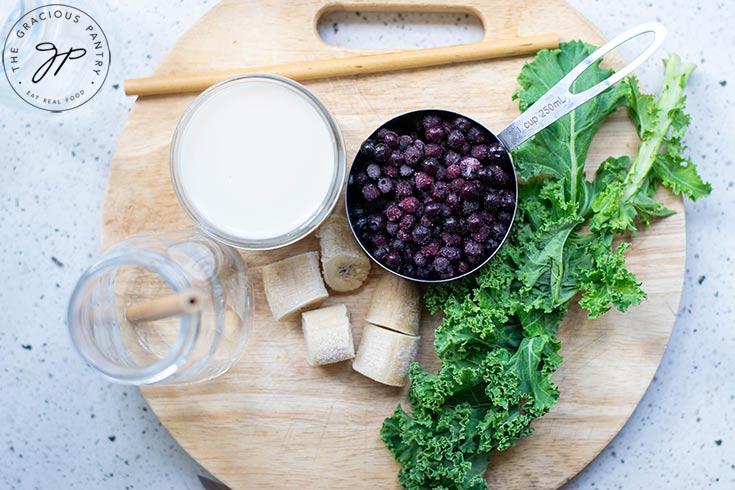 Gather, wash, and prep all your ingredients as needed.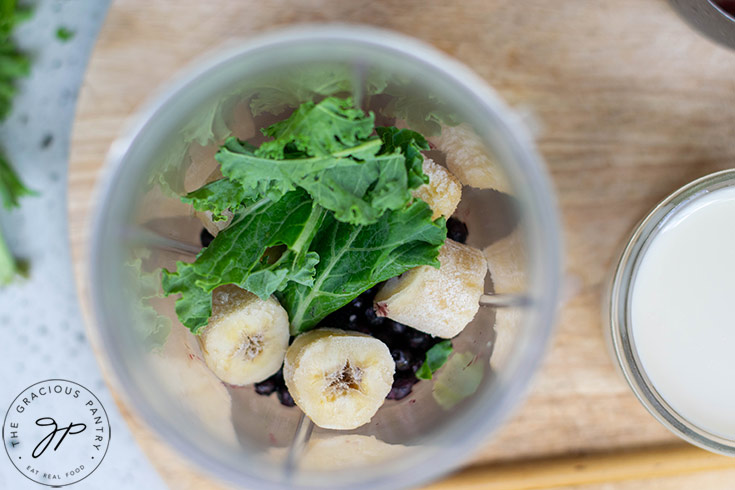 Add all ingredients to a blender.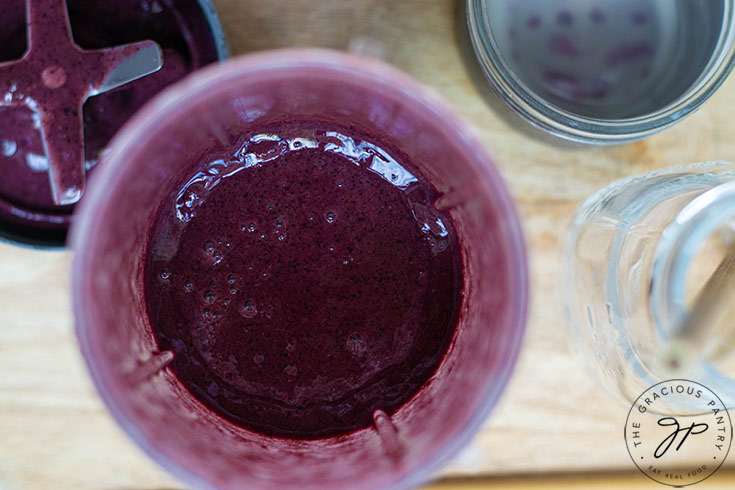 Pulse until smooth.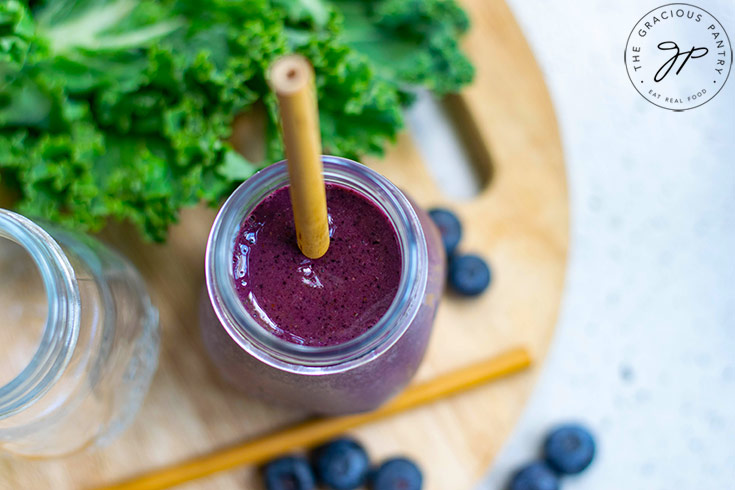 If the smoothie is too thick, add extra milk to thin it. Serve immediately.
Note: You can add sweetener or pitted dates if you want it sweeter.
Storing A Kale Blueberry Smoothie
If you have leftovers, store this in an airtight container and keep it in the fridge for up to 3 days. My favorite way to store this is in the blender cup my blender has. That way, when I'm ready to drink my leftovers, I can just give it a quick blend in the blender again without dirtying extra dishes.
Freezing A Kale Blueberry Smoothie
If you want to freeze this, I recommend doing so in a popsicle mold. Once frozen, I do not recommend thawing it in order to drink it. It's best eaten frozen.
Wrapping Up
Adding a daily smoothie to your life is a wonderful, healthful addition to your eating plan. And all you have to do is set yourself up with the right ingredients, the right blender, and maybe some healthy additions. Give it a try!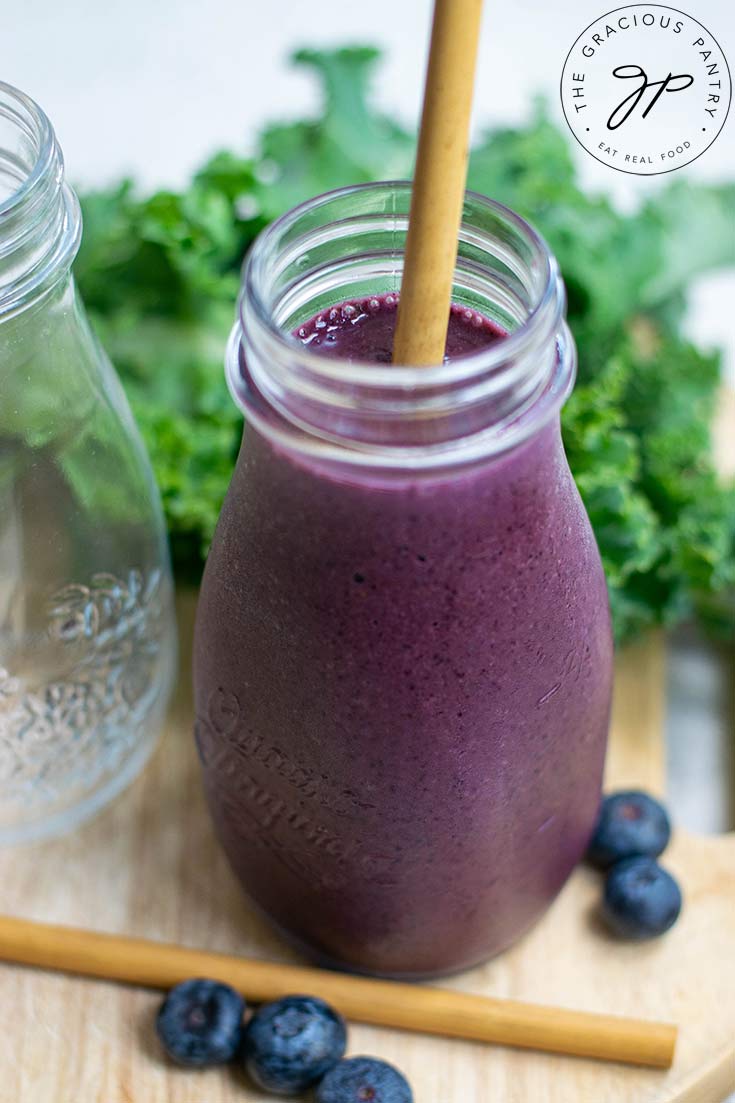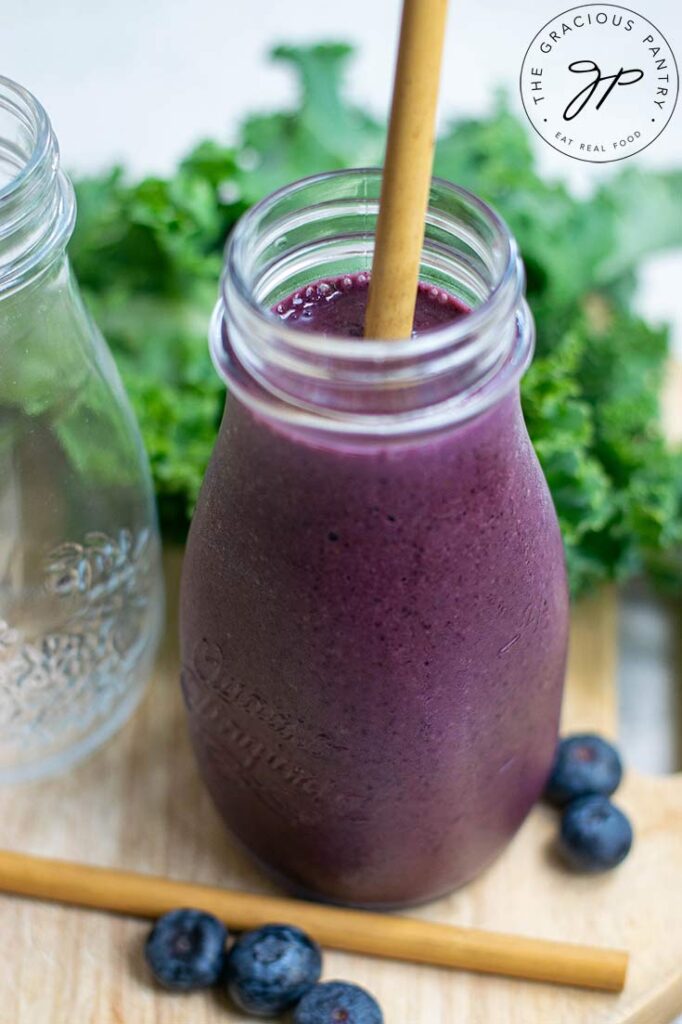 More Healthy Smoothie Recipes
SUBSCRIBE
Remember to subscribe to my free newsletter to receive all my latest recipes in your inbox. Click here to sign up!
Kale Blueberry Smoothie Recipe Card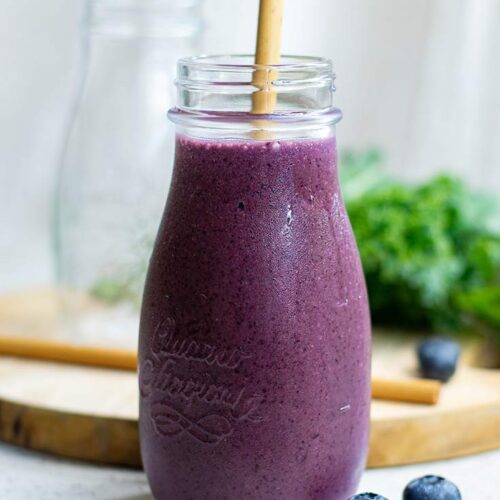 Kale Blueberry Smoothie Recipe
A delicious smoothie, full of superfood nutrition.
Print
Pin
Rate
Add to Collection
Go to Collections
Ingredients
1

cup

frozen blueberries

(no sugar added)

1

cup

unsweetened almond milk

1

large

kale leaf

1

medium

frozen banana

(peeled, sliced, and frozen)
Instructions
Gather all your ingredients and wash and prep them as needed.

Add all ingredients to a blender.

If the smoothie is too thick, add extra milk to thin. Serve immediately.

Note: You can add sweetener or pitted dates if you want it sweeter.
Notes
Please note that the nutrition data given here is a ballpark figure. Exact data is not possible.
Nutrition
Serving:
1
entire recipe
|
Calories:
248
kcal
|
Carbohydrates:
52
g
|
Protein:
6
g
|
Fat:
5
g
|
Saturated Fat:
0.3
g
|
Polyunsaturated Fat:
2
g
|
Monounsaturated Fat:
2
g
|
Sodium:
363
mg
|
Potassium:
770
mg
|
Fiber:
10
g
|
Sugar:
30
g
|
Vitamin A:
6849
IU
|
Vitamin C:
87
mg
|
Calcium:
485
mg
|
Iron:
2
mg
PIN ME!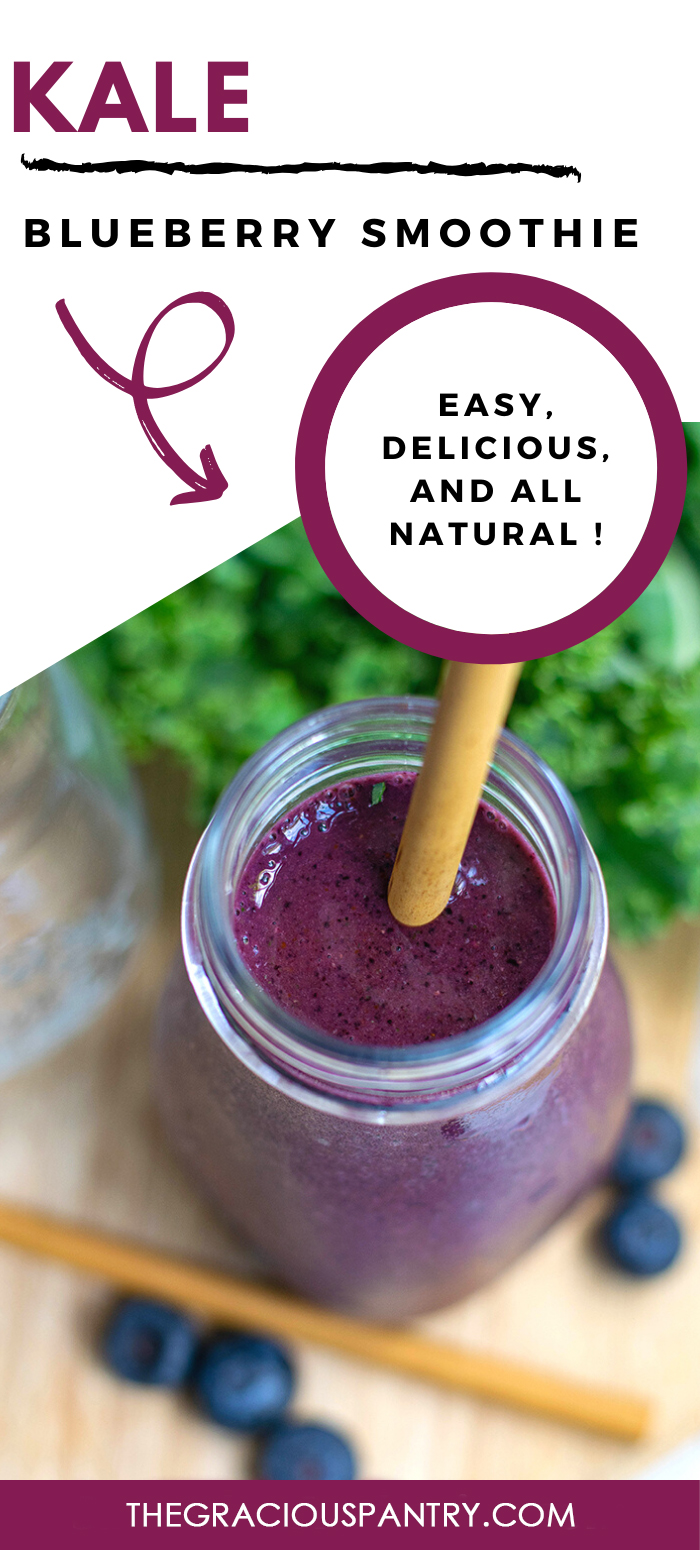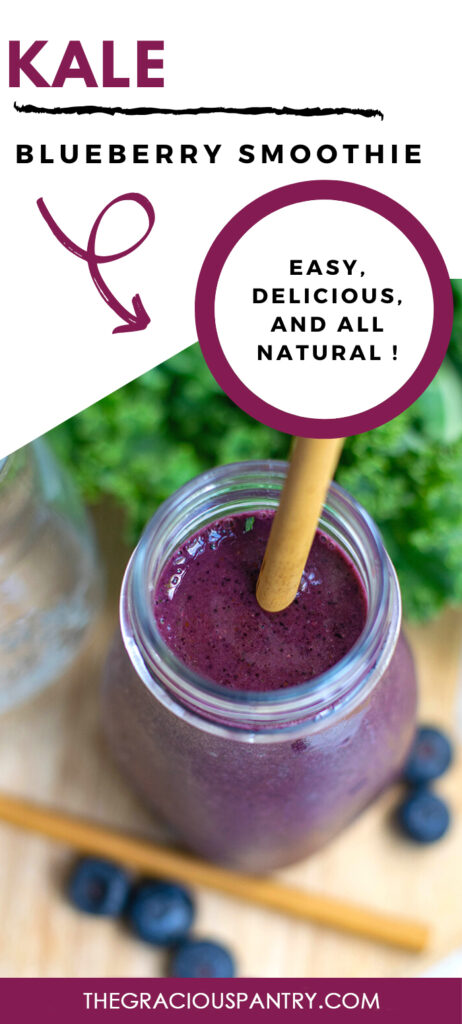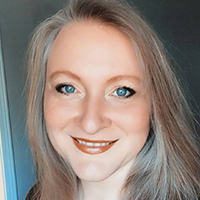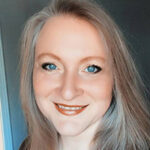 I'm Tiffany, a writer for MSN and the AP Newswire, a cookbook author, digital publisher, food lover, and mom. I create healthy, clean eating recipes for everyday living.