15 Best Smoothie Add-Ins to Supercharge Your Morning Smoothies
This post may contain affiliate links. Read my
Privacy Policy.
As an Amazon Associate I earn from qualifying purchases.
These 15 best smoothie add-ins will totally supercharge your smoothies, morning, noon, and night.
Smoothies, if made with the proper ingredients, are pretty darn healthy beverages. But if you are looking to really up the nutritional aspects of your morning blend, you can add all sorts of different add-ins to boost the nutrition considerably. To give yourself a veritable explosion of nutrients your body will love you for.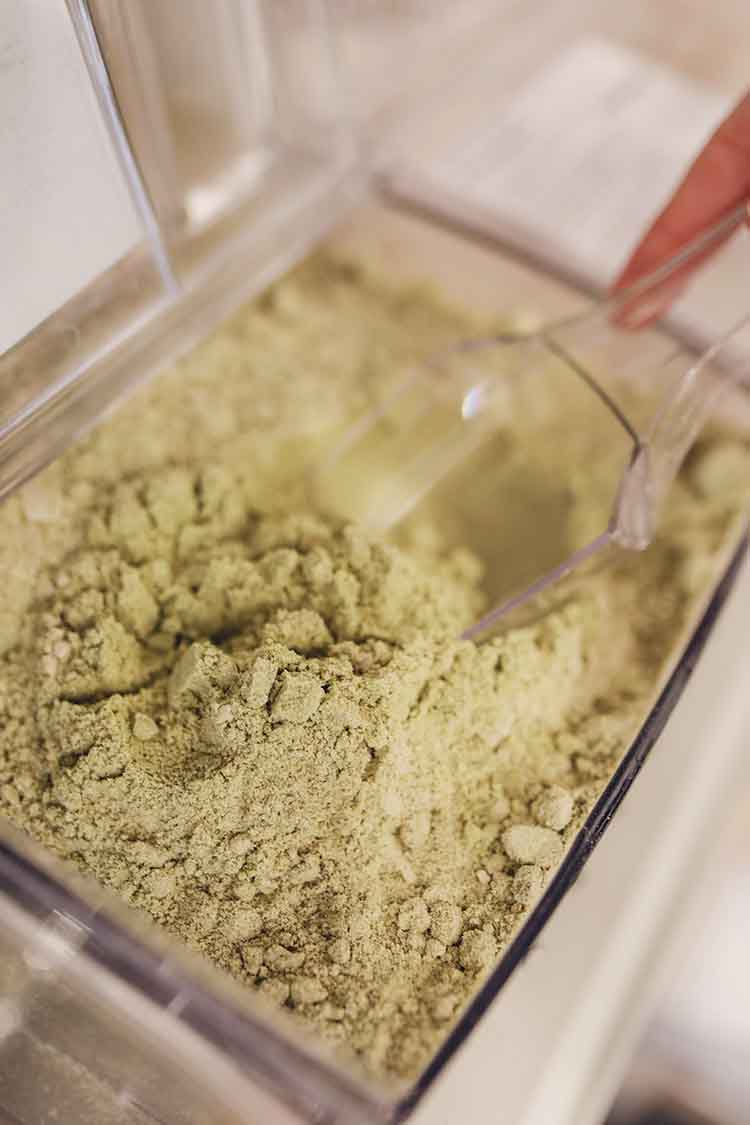 I've organized my smoothie addition recommendations into a few helpful categories to help you search a bit more efficiently. Here's what you'll find below:
Powders: From protein powders to vegetable powders, these are probably some of the most potent and powerful ways to add extra nutrition to your smoothies.
Healthy Fats: These fats can be added to your daily smoothie to ensure you are getting a good dose of the healthy fats your brain and body need.
Misc: You may not have thought about these less traditional additions, but they add wonderful nutrition to any smoothie you add them to.
Protein Powders – 15 Best Smoothie Add-Ins
Protein Powders
No, protein powder will never be considered a "clean" food simply because it's processed. That being said, a well-placed scoop of protein powder can actually be good for you. Sometimes, we have to decide between how strict we want to be, and how healthy we want to be. We are fortunate enough to live in a time when we have that choice! So if powders aren't for you, that's okay. If they are, read on!
This whey protein powder is from US Farms, Unflavored, Non-GMO, Soy, and Gluten Free, has no preservatives, aids in stimulating muscle growth, and enhances recovery. – 76 Servings
Whey is derived from cow's milk and is a complete protein. (It has all 9 amino acids). Whey will enter your bloodstream quickly. Much quicker than other types of protein powders, and effectively aids in muscle growth. This particular powder is easy on your digestion and won't leave you with a heavy feeling in your tummy.
I know it looks like I am partial to this brand of powders. And the truth is, I am! I love the brand's simple ingredients and high quality for reasonable prices. And if vegan protein powder is what you are looking for, this brand won't disappoint.
Pea protein is becoming ever popular these days and for good reason! It's from North American farms, it's 100% vegan pea protein isolate, it's super easy to digest, and is super helpful with muscle recovery after a workout.
Casein Powder
Casein is the main protein in milk. It doesn't absorb as quickly as whey, but it's often preferable because it gives you a fuller feeling for a longer period of time. For that reason, this makes a great meal replacement smoothie!
Superfood Greens Powder
This super greens powder contains spirulina, chlorella, digestive enzymes, and probiotics. It's a super boost to your digestion, ensuring your body actually absorbs the nutrients you are putting into it with this powder.
This powder is a Vegan, Non-GMO, Prebiotic, and Probiotic. It's a marvelous way to get enough veggies for the day and help your digestion in the process! It's also GMO-free, soy-free, dairy-free, and gluten-free. Each scoop will give you over 2 servings of greens for the day. Not bad for a powder!
Healthy Fats – 15 Best Smoothie Add-Ins
Oils
I know some people believe coconut oil to be unhealthy, saturated fat. But I believe that a good quality coconut oil that is unprocessed is one of the healthiest fats you can get. Especially when used in moderation. 1 tablespoon added to your morning smoothie not only gives you a small dose of healthy fats but also helps make your smoothie creamier and more delicious.
Some sources say that unprocessed coconut oil can actually help increase your good cholesterol. It may also help control blood sugar, reduce stress, give you a healthier head of hair, fight candida, and liver disease, and even help with asthma! (source)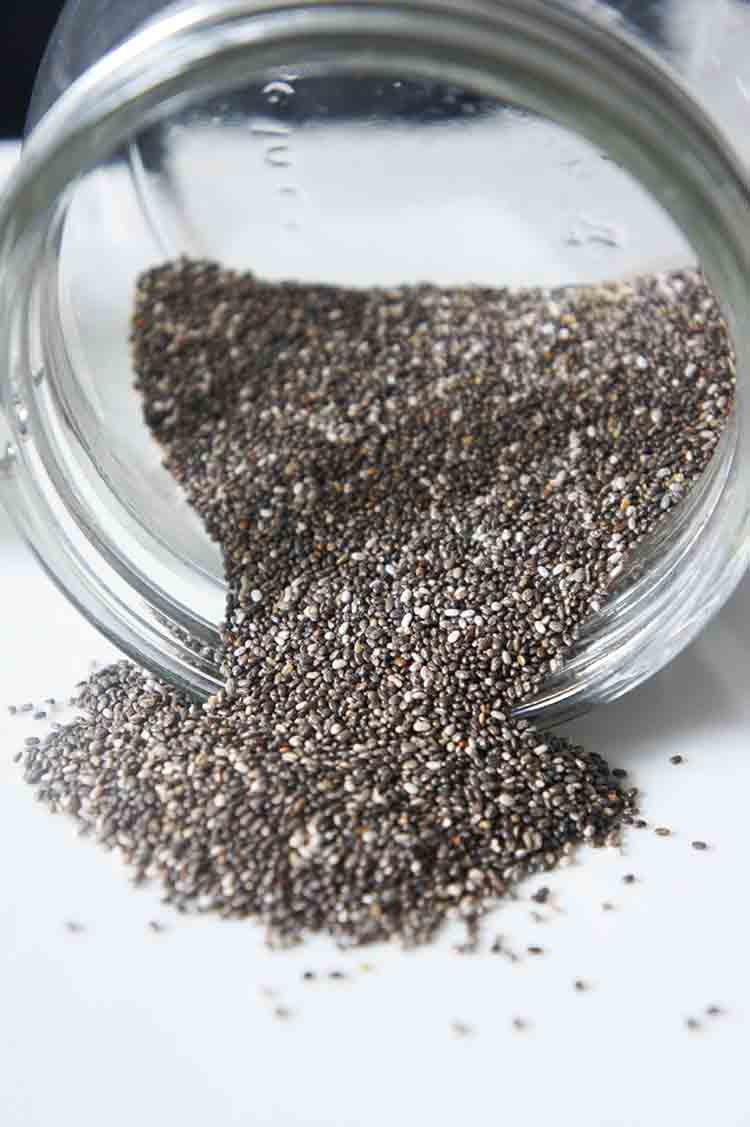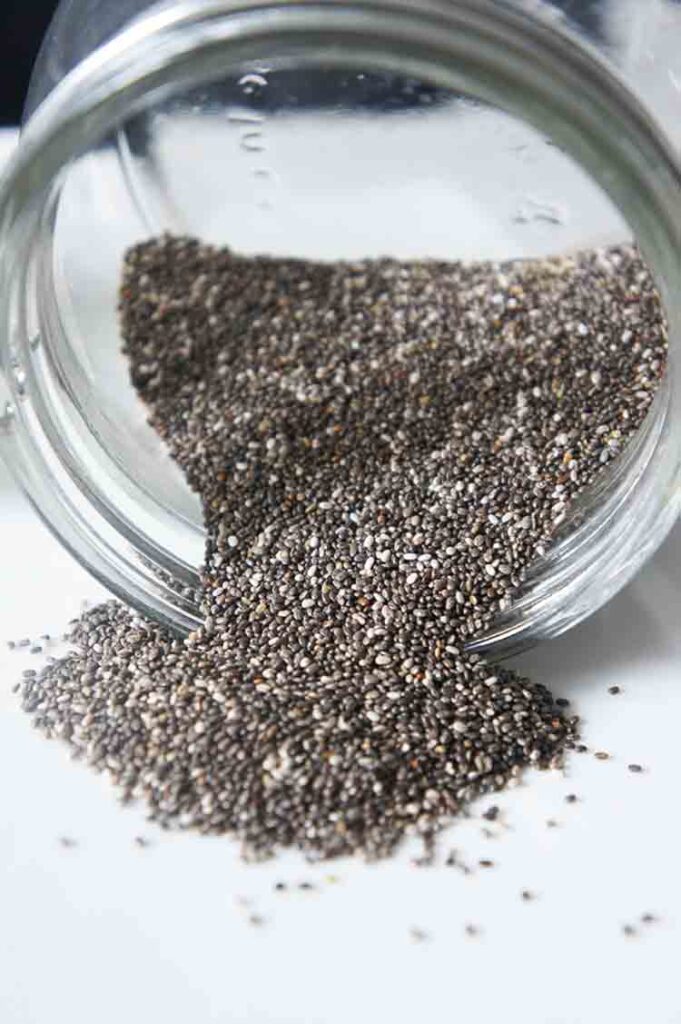 Seeds
This 2.5 lb, is a gluten-free, vegan, raw, keto-friendly bag of chia seeds. It's totally worth the small investment! Considering you usually only use about 1 tbsp. per smoothie, you'll have this bag for a while!
Health Benefits Of Chia Seeds
1 tablespoon of chia seeds will add the following to your smoothie:
only 69 calories
4.5 g healthy fat
6 g healthy carbs
5 g fiber
2.3 g protein
But that's just the nutrition data. What can chia seeds really add to your smoothie?
tons of antioxidants.
almost all of the carbs come from their fiber content.
their protein content is a good quality protein that your body can actually absorb.
high in omega-3 fatty acids.
they contain nutrients that are good for bone health.
they may help with blood sugar control and inflammation.
(source)
Misc. Smoothie Additions – 15 Best Smoothie Add-Ins
Aloe Vera
Aloe vera juice is wonderful for digestion and you won't even notice it in your smoothie! It's also said to help liver function, constipation, and heartburn. (source)
Never use aloe vera juice that hasn't been decolorized, otherwise, you risk some nasty side effects. I love George's Aloe Vera for its purity and flavor.
Please know that aloe vera does interact with certain medications. So if you are taking anything, please talk to your doctor before ingesting any.
Bee Pollen
While some folks are allergic to pollen, for those that aren't, bee pollen can be a wonderfully nutritious addition to your smoothie.
Health Benefits Of Bee Pollen
relieve inflammation.
helps with liver health and strengthens your immune system.
can help with some menopausal symptoms.
helps reduce stress and aids healing.
(source)
This particular bee pollen is raw and sustainably sourced.
Other miscellaneous smoothie add-ins:
These last seven smoothie additions are also great choices.
Cottage cheese – for protein, creaminess, and thickness.
Greek yogurt – for protein and creaminess.
Avocados – for healthy fats and creaminess.
Apple Cider Vinegar – for probiotic properties (digestion).
Cocoa Nibs – for healthy fats, protein, minerals, and antioxidants.
Maca powder – for increasing energy and endurance.
Spirulina – for its omega-3 fatty acids and phytonutrients.
PIN ME!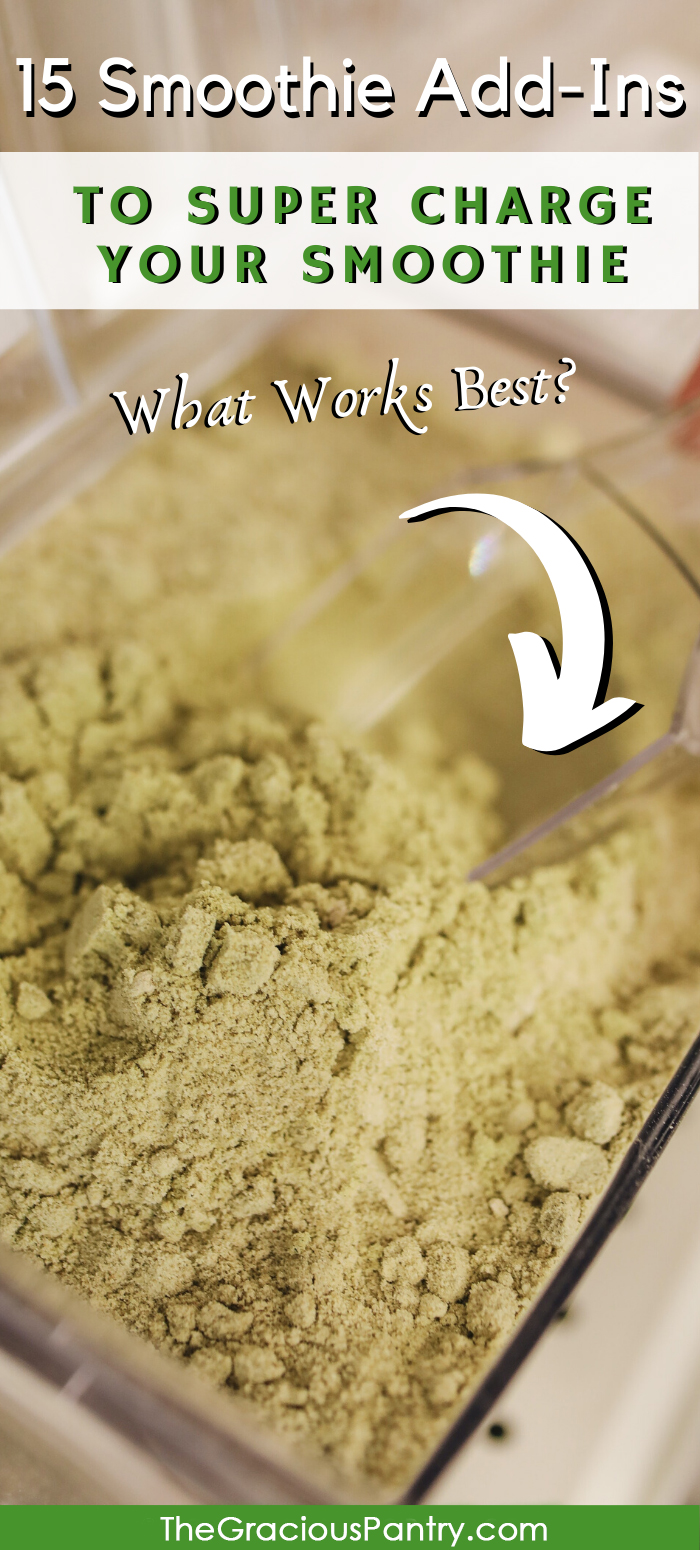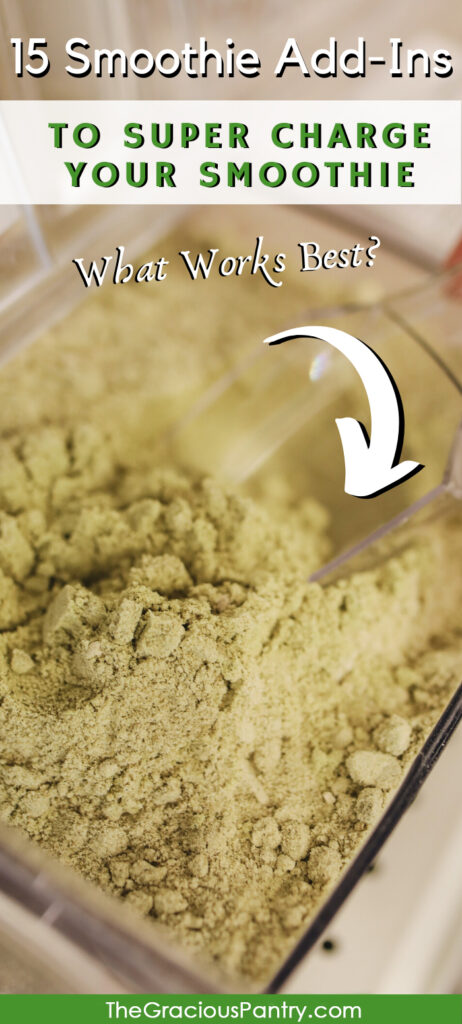 Recommended Reading
Need some smoothie recipes you can use all this information for? Give some of these amazing smoothie recipes a try!
See all my smoothie recipes here!
DISCLAIMER: None of these products, or the recommendation of these products, should be construed as medical advice. Speak with your doctor before adding these, or any other supplements, to your eating plan. Some individuals may have sensitivities to some or all of these products. Seek medical advice before ingesting any of these supplements.