How To Make Homemade Pasta
This post may contain affiliate links. Read my
Privacy Policy.
As an Amazon Associate I earn from qualifying purchases.
Wondering how to make homemade pasta? This super simple recipe shows you two ways to make it!
March is National Noodle Month. Mini Chef and I love our wide, fettuccini-type noodles around here. Especially Mini Chef. I make these for him often. He much prefers them to the store-bought, packaged variety and will polish off a huge bowl all by himself.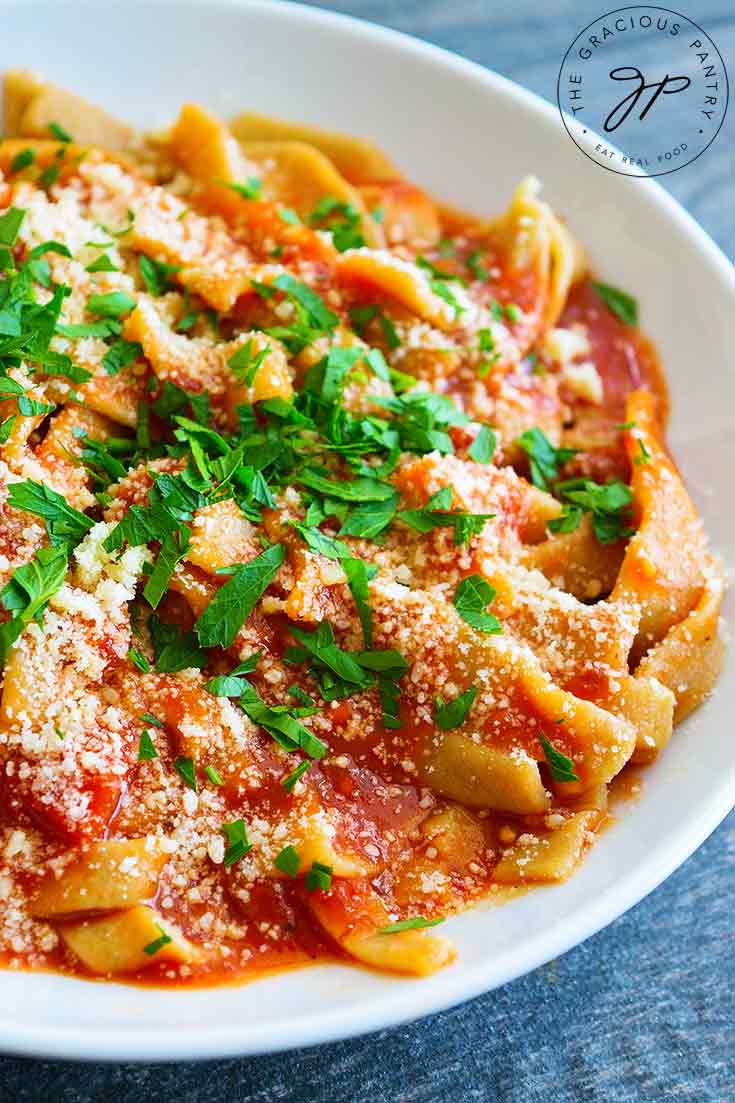 HOW TO MAKE FRESH PASTA
The steps for making pasta are pretty simple. Once you've done it once or twice, it will go super quick for you. You can make it with or without egg and adjust your dough any way you wish. But the basics are flour and water. Those two things get kneaded together until you have a firm but tender dough. In fact, once you've made this a couple of times and you get the feel for what the dough should feel like when it's done, you won't even need to measure out the flour or water. You can just pour some flour in a bowl and add water until you have the right consistency.
And if you get too much of one ingredient (the dough is too dry or too wet), it's super easy to adjust simply by adding in a tiny bit of the lesser ingredient.
CAN PASTA DOUGH BE MADE AHEAD OF TIME?
Yes! I often knead my dough into a ball, cover the bowl with plastic wrap and store it in the fridge overnight. In fact, if you find your dough is falling apart on you when you roll it out and cut it, often a short stint in the fridge will help change that. There really aren't too many ways you can mess this up. So have a little fun with it!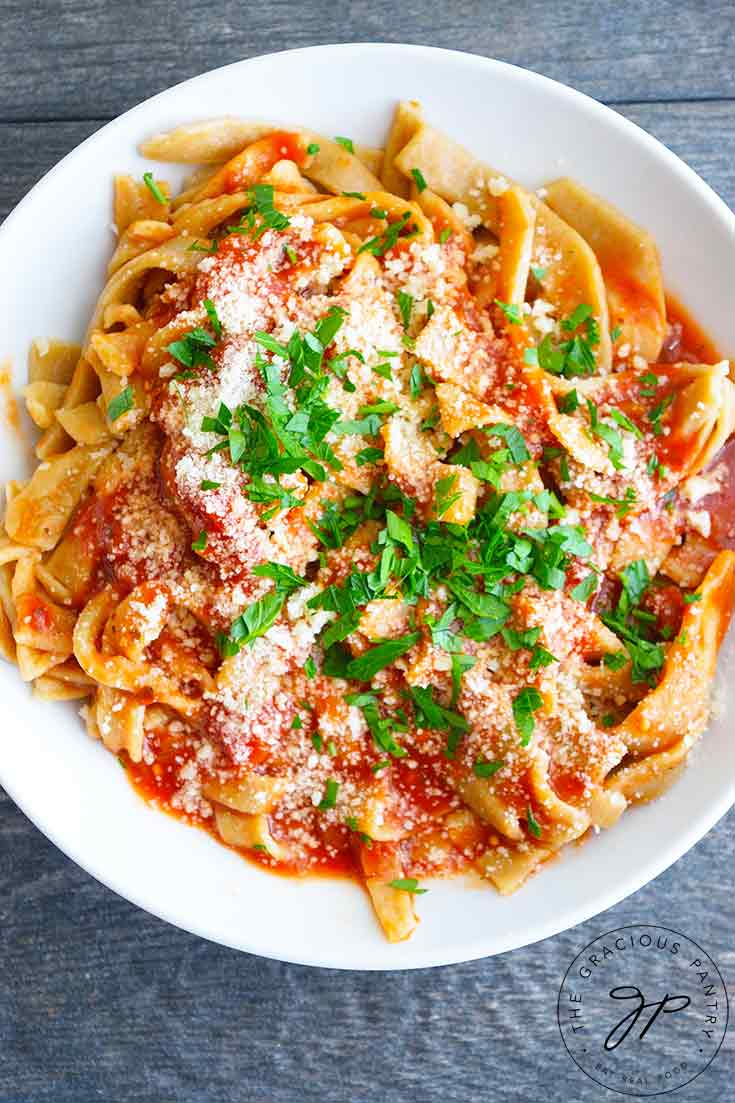 HOMEMADE PASTA
There are many shapes you can make with pasta dough. Way more shapes than I can show you in the scope of this blog post. Making different pasta shapes takes a little practice and knowhow. But it never hurts to try! Here is an excellent video I found on YouTube about making different pasta shapes. It's truly a fun video to watch.
MAKING PASTA
I will say that this is how I make pasta at home. I don't claim that it's the right way or the only way. But it works, every time, without fail, and it's always delicious!
If making pasta into different shapes feels intimidating, don't worry. The method below is super simple and will give you a nice fettuccini noodle you can enjoy with many different types of sauces.
Just don't rinse the pasta after cooking. You want the starch on the noodles to help hold onto your sauce.
When you're done making your pasta, discard the water you cooked it in. Don't save it for cooking more pasta the next day. But you CAN make multiple batches with that same pot.
DRYING PASTA
If you want to dry your pasta for future use, here's a great hack for drying it without a pasta rack.
SUBSCRIBE:
Remember to subscribe to my free, Gracious Pantry Newsletter to receive all my latest recipes in your inbox! Click here to sign up!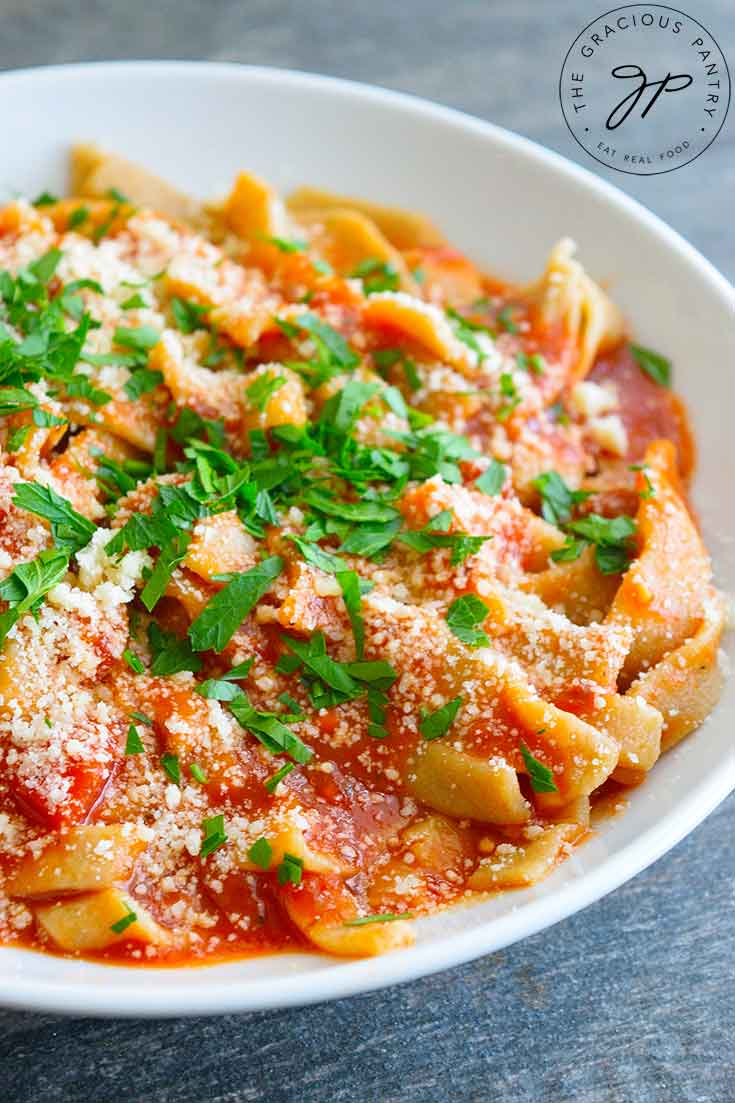 HEALTHY PASTA SAUCE RECIPES:
Enjoy!

HOW TO MAKE HOMEMADE PASTA
Here's how you make homemade pasta without eggs.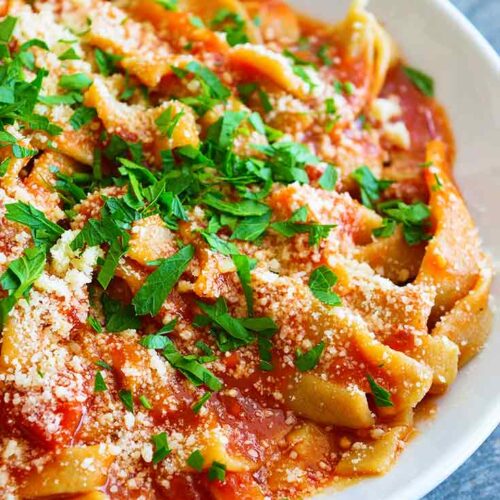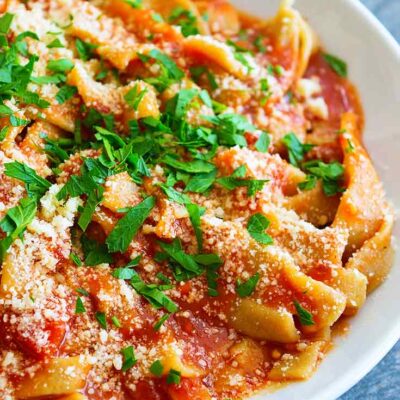 How To Make Homemade Pasta
This eggless recipe uses just two ingredients for simple, easy pasta.
Print
Pin
Rate
CLICK TO WATCH THIS RECIPE IN ACTION!
Equipment
Large mixing bowl

Large stock pot

Rolling pin

Pizza wheel or sharp knife
Ingredients
1-2

tbsp.

salt

2

cups

whole wheat pastry flour

1

cup

water
Instructions
Set a large stock pot with 2 tbsp. salt to boil.

Put the flour into a large mixing bowl and make a well in the center for the water.

Pour most of the water in and start to knead the dough. Add more water as needed in 1 tbsp. increments, even if it requires more water than listed. Water will vary based on the flour used.

When the dough comes together into a nice firm, but pliable dough, begin a ten minute countdown of continuous kneading. If the dough becomes too sticky, add 1 tbsp. flour at a time, kneading between each addition. If the dough is too dry, add 1 tbsp. water, kneading between each addition until you have a barely sticky dough that is pliable and similar to new play dough.

Allow the dough to sit for 2-5 minutes.

Liberally apply flour to your work surface. (A large cutting board usually does the trick, but a counter can work too). You want enough flour to keep the dough from sticking to your surface.

Place the dough on your work surface and cut it into quarters so you can work with one quarter at a time. (Or cut smaller pieces if needed for your work surface). Flour your rolling pin and roll the dough out flat to about 1/8 inch in thickness. Max thickness will be about 1/4 inch for thicker pasta noodles.

Once rolled out, flour the top of the dough again quite generously and using a sharp knife or pizza wheel, cut the pasta into long strips.

Flour the noodles again and use a spatula to lift them slightly from your work surface. Sprinkle flour over the loose noodles and gently roll them around in the flour to keep them from sticking together.

Place the noodles in the boiling water and cook for 3 minutes.

Using a slotted spoon, remove the pasta from the water, drain well and place directly into the bowl you will serve in.

Top with pasta sauce, parmesan and some basil and serve.
Notes
Please note that the nutrition data given here is a ballpark figure. Exact data is not possible.
Nutrition
Serving:
0.16
The recipe (1/6)
|
Calories:
136
kcal
|
Carbohydrates:
29
g
|
Protein:
5
g
|
Fat:
1
g
|
Saturated Fat:
1
g
|
Sodium:
3
mg
|
Potassium:
145
mg
|
Fiber:
4
g
|
Sugar:
1
g
|
Calcium:
14
mg
|
Iron:
1
mg
WHOLE WHEAT PASTA WITH EGGS
Here's how you make homemade pasta with eggs.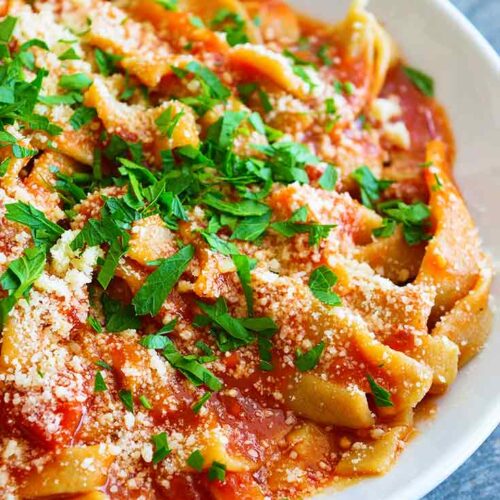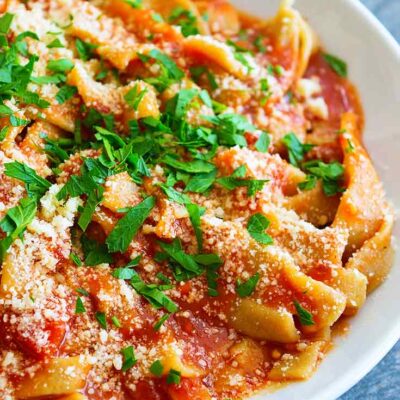 Homemade Pasta With Eggs
This homemade pasta recipe uses eggs and whole wheat flour to make deliciously fresh pasta.
Print
Pin
Rate
Equipment
Large mixing bowl

Large stock pot

Rolling pin
Ingredients
1-2

tbsp.

salt

2

cups

whole wheat pastry flour

(or white whole wheat flour)

3

large

eggs

¼

tsp.

salt

water

if needed and as needed to get a good consistency)
Instructions
Bring a large stock pot of water to boil with 1-2 tbsp. of salt added.

The directions for this recipe are the same as the recipe above.

Combine all the ingredients in a mixing bowl and knead to combine.

Once combined, knead for 10 minutes, adjusting dough with either water or flour as needed.

Cut the dough into workable portions for your work surface and roll out on a heavily floured work surface.

Cut to the size you like and boil for 3 minutes in the salted water.

Remove with a slotted spoon and serve with sauce and parmesan.
Notes
Please note that the nutrition data given here is a ballpark figure. Exact data is not possible.
Nutrition
Serving:
0.166
serving (1/6 the recipe)
|
Calories:
177
kcal
|
Carbohydrates:
29
g
|
Protein:
9
g
|
Fat:
4
g
|
Saturated Fat:
1
g
|
Cholesterol:
105
mg
|
Sodium:
121
mg
|
Potassium:
184
mg
|
Fiber:
4
g
|
Sugar:
1
g
|
Vitamin A:
153
IU
|
Calcium:
29
mg
|
Iron:
2
mg