Clean Eating Whole Grain Pita Pizza Recipe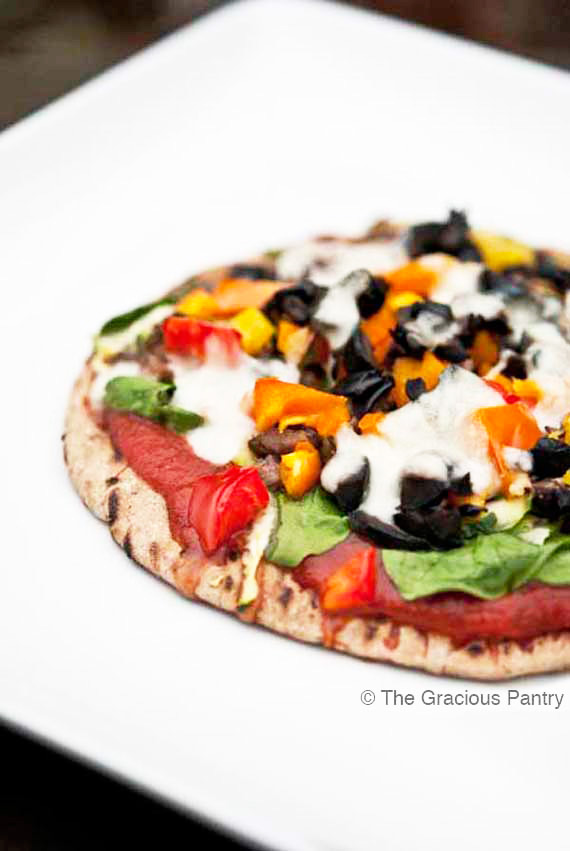 This pizza is a delightful way to enjoy pizza quickly and conveniently. Not to mention whole grain pita bread is a great way to have a healthy pizza crust without spending time in the kitchen making healthy dough from scratch.
Both Trader Joe's and Whole Foods carry whole grain pita bread that is clean.
This is a wonderful snack or even a meal and something I make often for Mini Chef. Serve with a salad and enjoy!
YOU MIGHT ALSO ENJOY:

Clean Eating Whole Grain Pita Pizza
Author:
Ingredients
1/8 cup pizza sauce or marinara, no sugar added
1/4 cup fresh spinach leaves
2 tablespoon chopped mushrooms
2 tablespoon chopped bell peppers (any color)
2 tablespoon chopped onions
2 tablespoon grated zucchini
1/4 cup grated, fresh mozzarella
Instructions
Preheat oven to 350 F.
Spread sauce on the pita bread and then layer all your toppings with cheese being the top layer.
Bake on a parchment lined cookie sheet (or in a skillet without a meltable handle) until cheese has melted (about 10-15 minutes).
This can also be cooked in a microwave for convenience!