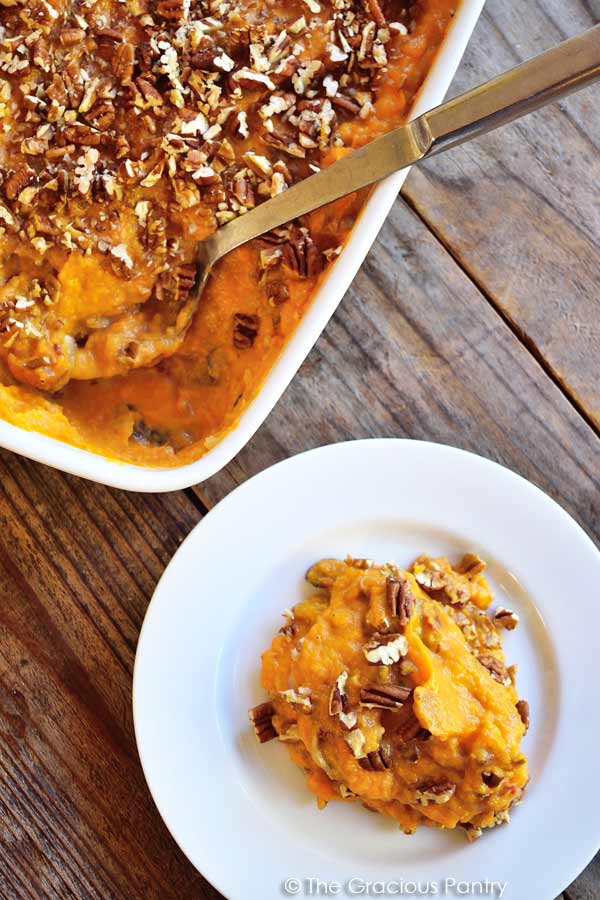 I love a good casserole. Maybe it's this time of year or maybe it's the weather outside. But few things beat a good casserole from about October through March in these parts.
This dish is perfect for the holiday season, but it's also great just about any cooler time of year! It's got all that sweet potato goodness paired with delicious bacon. Who wouldn't like that??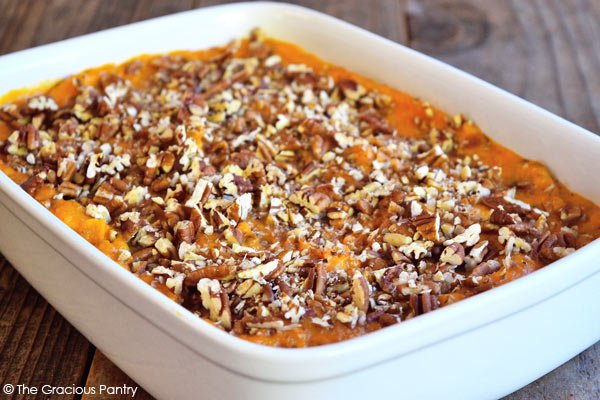 I'm making this for Thanksgiving this year. While it's not the traditional sweet casserole with marshmallows that everyone seems to love having on their Thanksgiving table, it's certainly a filling and tasty side dish. Perfect if you prefer your sweet potatoes savory rather than sweet.
In fact, you can even mix this with a little leftover turkey the day after for a delicious, use-up-your-turkey, evening meal.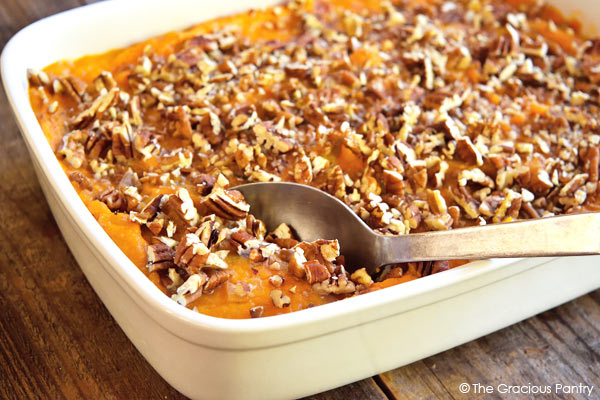 YOU MIGHT ALSO ENJOY:

Clean Eating Twice Baked Loaded Sweet Potato Casserole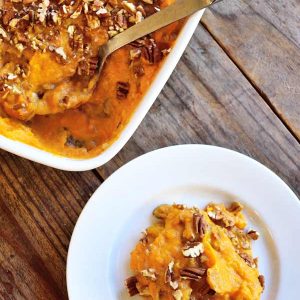 Author:
Tiffany McCauley | The Gracious Pantry.com
Ingredients
3 lbs. sweet potatoes, baked in their skin until soft, cooled and peeled
2 tbsp, light flavored oil
2 cups chopped yellow onions
8 oz. package sliced, white mushrooms
1 tbsp. garlic powder
2 cups milk (any kind will work)
½ lb. clean bacon, cooked and chopped (see notes above)
1 cup chopped pecans (approximate - will vary based on size of your dish)
Instructions
Place the baked sweet potatoes in a large mixing bowl, food processor or blender (depending on what you have available to blend. I had an immersion blender), and set aside.
Saute the onions and mushrooms in the oil over low to medium heat until the onions are translucent and a tiny bit caramelized.
Add the milk to the potatoes and blend.
Stir in the onions, mushrooms, garlic powder and chopped bacon and transfer to a casserole dish. Mine was 9x12.
Top with chopped pecans.
If you did not prep the potatoes before hand (see notes above) and they are warm, you only need bake this again for about 20 minutes at 350 F.
If you did prep the potatoes and keep them in the fridge (meaning, if they are cold), you will want to bake this for about 25-30 minutes at 350 F.
Cool slightly and serve.