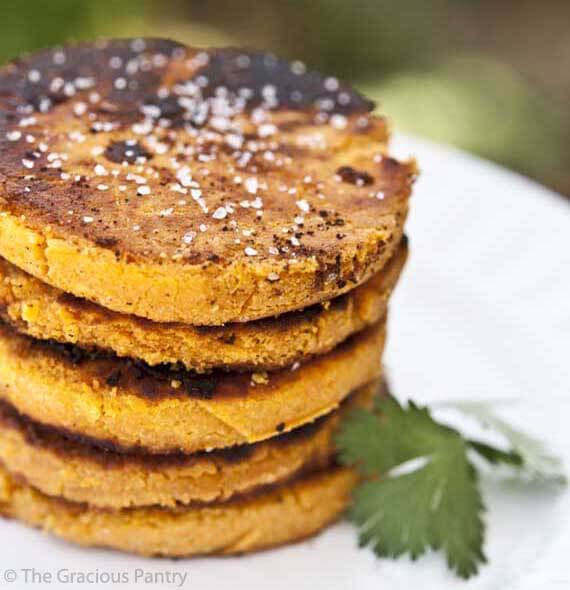 Sweet potatoes are not traditionally Irish. But potato cakes are. So I combined clean eating with a bit of Irish tradition for these Clean Eating Sweet Potato Cakes. They are great with a little maple syrup (like pancakes) or with some salt sprinkled on top for a savory dish. A little cheese would be good too if you prefer the savory route.
Typically, these are made with white potatoes and white flour. But since I'm not eating wheat at the moment, I made these with some coconut flour and a bit more egg to hold things together. The dough was delicate to work with, but nothing impossible or frustrating. It's just very soft dough.
If you are not accustomed to coconut flour, my version may seem a bit dry when you eat it. The more I get used to coconut flour, the less I notice stuff like that. So use your judgement here on which version to make. These do take a bit to cook, so I recommend saving this for a weekend breakfast when you have some time in the kitchen.
I adapted this recipe from the Irish Pub Cooking cookbook.
TRIP UPDATE:
Today, we needed a break. We've been going non-stop and finally realized that we wouldn't enjoy our trip much if we didn't relax a little and get some much needed rest. So I'm catching up on work and Mini Chef is playing checkers (again, and again, and again…) with grandma. But it's actually quite nice as it's cold and drizzly outside. The perfect day for staying in where it's warm and cozy.
YOU MIGHT ALSO ENJOY:

Clean Eating Sweet Potato Cakes
Ingredients:
1 pound peeled and cubed sweet potatoes
2 tablespoons healthy oil (I used coconut but you can also use olive or even organic butter)
1/4 teaspoon salt
2 eggs (1 egg if using whole wheat pastry flour)
1 cup coconut flour (or 3/4 cups whole wheat pastry flour) + more for kneading
Oil for cooking
Salt and pepper to taste.
Directions:
Put your potatoes in a large pot of water and boil until soft.
Drain the water and mash in the oil and salt.
When the mashed potatoes are still warm (NOT hot!), quickly stir in the eggs.
Add the flour and stir until you have a dough.
Turn the dough out onto a work surface, and gently knead by hand, adding flour as you go. Remember, this is a very soft dough. You want to add enough flour to keep it from sticking to everything, but not so much that flour is all you taste when you eat them.
Press or roll the dough out to 1/4 inch thickness.
Using a small glass or round cookie cutter, cut out circles and place in a skillet with warmed oil.
Cook on low to medium heat until brown on both sides. They will burn quickly if the heat is too high. Take your time.
Serve with maple syrup or savory toppings such as salt or cheese.