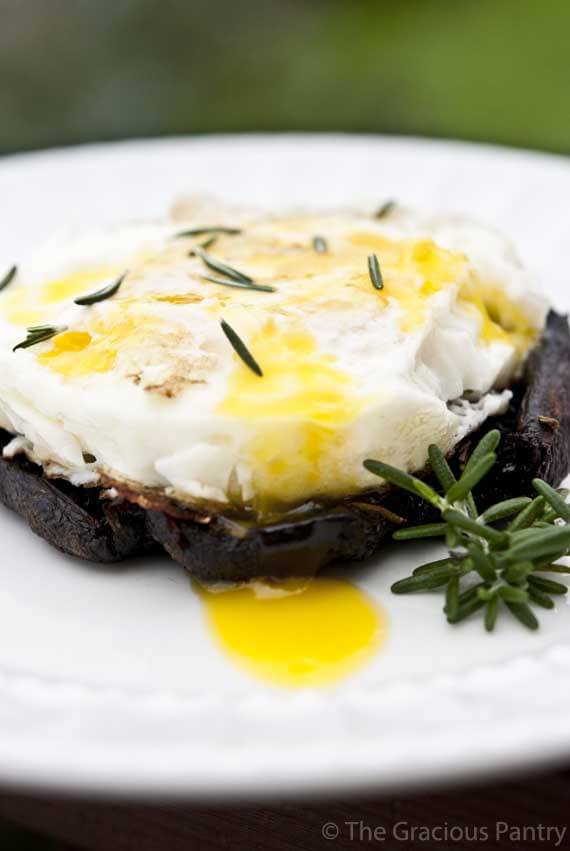 If you want a light, wake-me-up type of breakfast, this is the one you want. These simple flavors meld into delicious accents of rosemary and balsamic vinegar, and best of all, this lighter fair won't weigh down your tummy in the least. This is a fantastic weekend breakfast when you have a little time to bake the mushrooms before cooking your eggs. Serve with a side of grapefruit and a warm cup of tea and your morning will be off to a light and delicious beginning.
YOU MIGHT ALSO ENJOY:

Clean Eating Baked Eggs On Balsamic Portobello Mushrooms
(Makes 2 servings)
Ingredients:
2 large portobello mushrooms
Balsamic vinegar
Garlic powder
Fresh rosemary, chopped
2 large eggs, poached or fried
Directions:
Wash and cut the stems off the mushrooms (you want a fairly level surface for your eggs). Pat dry.
Place the mushrooms, undersides up, on a parchment lined cookie sheet.
Sprinkle with balsamic vinegar, garlic powder and chopped, fresh rosemary.
Bake at 350 F. for about 20-30 minutes or until the mushrooms are cooked. While they bake, make your eggs.
Remove mushrooms from oven and top with an egg on each mushroom.
Sprinkle with a little extra, fresh rosemary and serve.