This clean eating strawberry vinaigrette recipe is perfect for strawberry season!!
There are few things I love as much as shopping for strawberries. While I love all berries in general, there's something to be said for bringing home a package bursting with sweet, juicy, red strawberries. The possibilities seem endless.
They always bring back memories of days at the beach when I was little. My mom would take me to Drakes Bay near San Francisco and strawberries were always on the menu. I would play in the sandy water, jumping waves and squealing every time I felt the slimy, scratchy arm of a seaweed plant stealthily wrap itself around one of my legs. My memory of being dizzy from the feeling of watching the salty water retreat out to sea again and the overwhelming joy when the water left a treasured crustacean behind for me to take home as a trophy is something I'll never forget.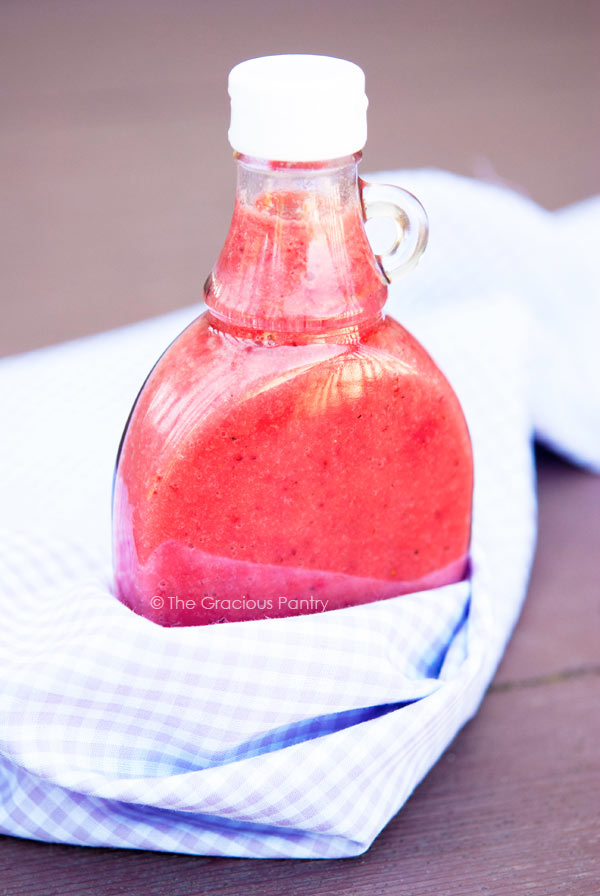 I would play hard and long in the summer sun, building up an appetite as only a young child can. It was always at just the right moment that my Mom called me for lunch. She seemed to have a knack for knowing when my tummy protested with it's first, gurgly growl.
It was then that I would go pile my plate high with a mountain of strawberries. Each heavenly, sweet bite was something I savored as if it were my last. But she had to limit the amount of strawberries I ate, much to my chagrin.
My Mom worked for Safeway at the time and there were times she would bring home an entire crate of strawberries. For a while there, she was bringing them home almost weekly. I would plop myself down and go through half a crate before she realized what was happening. After several times of doing that, I ended up with hives! Oh the injustice!! My beloved strawberries were making me itch like no other.
Thankfully, backing off of the number of berries I ate helped with that. It never became a serious allergy. So now I can thankfully still enjoy them in moderation. But I'll never forget those heaping plate of berries on the beach or even at home at the kitchen table. My sea of red berries washed over my happy tummy again and again in summer and I still have a similar feeling when I enjoy them these days with Mini Chef.
While it's not quite summer yet, strawberries seem to be popping up in every store I go to at the moment. And far be it from me to pass by one of those little packages of sweet memories.
This dressing will last approximately a week in the fridge. However, readers have also frozen leftovers and have said it holds up well in the freezer. I haven't tried it myself, but it has worked for others.
You could also use this as a marinade for pork or chicken. It tastes great over fruit salad as well and looks great in a canning jar if you want to give some as a gift!
So make your own strawberry-influenced memories this summer! Hit the beach, hang out with friends, have a barbecue and enjoy the warmer, longer days. You only live once, so make sure you live well!
RECIPE TOOLS: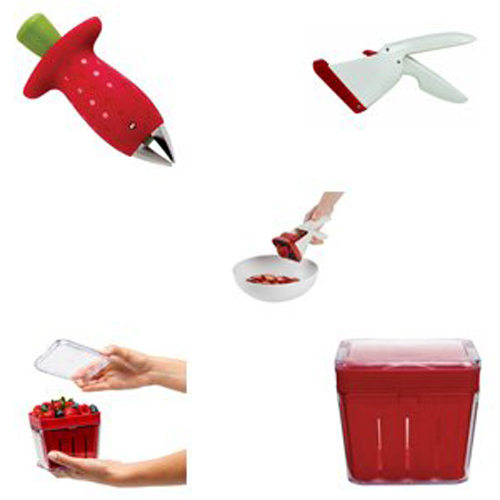 If you eat as many strawberries as we do in the summer, I have found it invaluable to have a Strawberry Kit (affiliate link)
available. I was not paid to say this, I honestly do use a kit just like this one every single summer. It makes the process of cleaning a lot of strawberries so much faster and easier!!
YOU MIGHT ALSO ENJOY THESE CLEAN EATING RECIPES:
Recipe adapted from TasteOfHome.com

CLEAN EATING STRAWBERRY VINAIGRETTE RECIPE: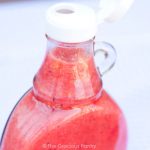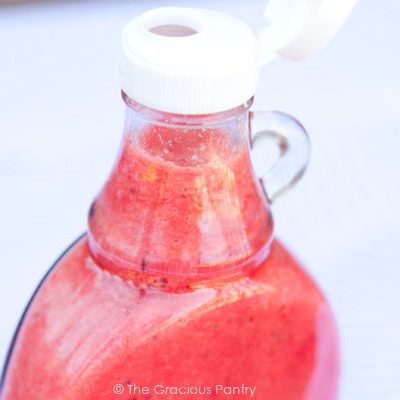 Clean Eating Strawberry Vinaigrette Recipe
This delicious salad dressing is perfect for summer. It's refreshing, sweet and pairs well with most green salads.
Yield
:
24
servings (tablespoons), approximately
Ingredients
1/2

lb.

fresh strawberries

2

tbsp.

honey (or more to taste if your berries are not very sweet)

2

tbsp.

apple cider vinegar

2

tbsp.

olive oil

1/4

tsp.

salt

1/4

tsp.

ground, black pepper
Instructions
Place all ingredients in a blender and blend until smooth.
Recipe Notes
Please note that the nutrition data is a ballpark figure. Exact data is not possible.
Nutrition Facts
Clean Eating Strawberry Vinaigrette Recipe
Amount Per Serving (1 tbsp.)
Calories 18
Calories from Fat 9
% Daily Value*
Total Fat 1g 2%
Sodium 20mg 1%
Potassium 14mg 0%
Total Carbohydrates 1g 0%
* Percent Daily Values are based on a 2000 calorie diet.