Clean Eating Spinach Summer Salad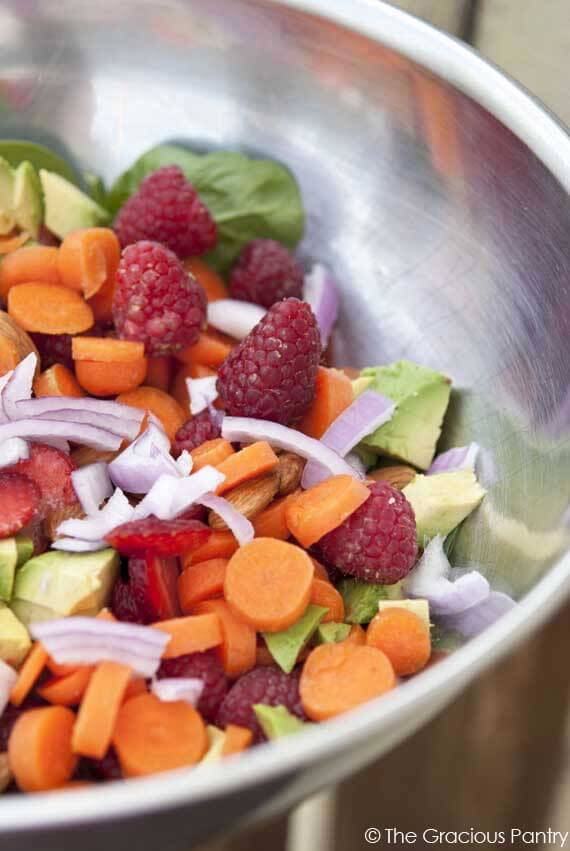 When I made this salad, I had veggies left over from a visit to a local farm. It was fantastic, and I loved knowing that I had supported a local farmer while getting some good-for-me nutrients in the process.
My tiny, apartment-sized vegetable garden is not producing yet, so in the mean time, I have no problem buying local produce. Especially since so many farmers in my area avoid the use of pesticides. It seems to be a growing movement that I am proud to support.
This simple farm fresh vegetable salad can be made in under 15 minutes, is filling, tasty and great for lunch or a quick dinner.
NOTE: For this salad, I used my recent Clean Eating Raspberry Vinaigrette Dressing. It went very well with this salad.

Clean Eating Spinach Summer Salad
Ingredients:
2 cups raw spinach
1 cup fresh raspberries
1 cup fresh strawberries
1/4 cup almonds
1 cup sliced carrots
1/2 avocado, cubed
1/3 cup dried cranberries, fruit juice sweetened
1/4 small red onion, sliced or chopped
1 cups shredded chicken (optional)
Directions:
Mix together and serve with your favorite dressing.
Number of servings (yield): 2