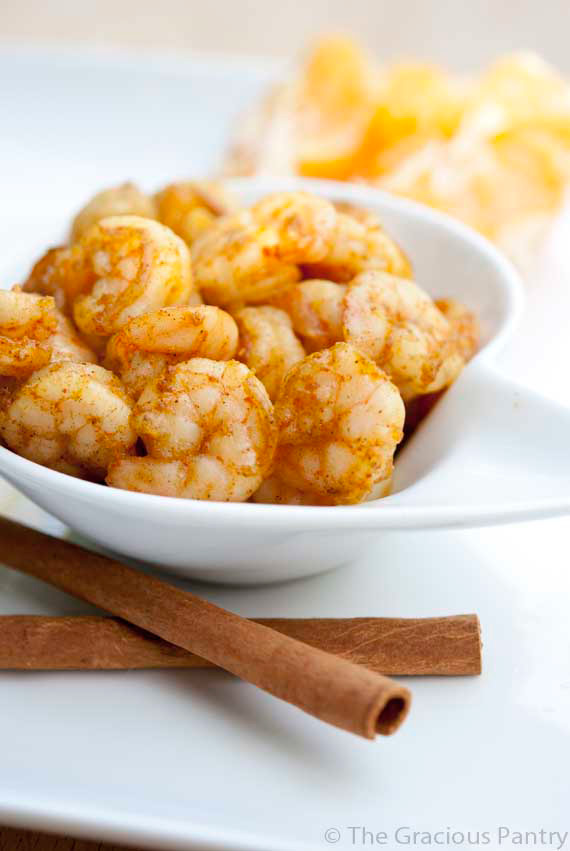 Few things in life make me as happy as shrimp. In fact, with a nice serving of shrimp in front of me, I pretty much forget where I'm at or who I'm talking to.
Ask anyone who has ever sat across from me while I'm eating shrimp and they will tell you that it's pretty tough to carry on a conversation with me until I'm done. Done with every last, succulent, delectable, scrumptious little shrimpy.
Poor little shrimpies. It's not their fault they taste so darn good…
Now what was I talking about?
YOU MIGHT ALSO ENJOY:

Clean Eating Spicy Orange Cinnamon Shrimp
(Makes 4 servings)
Ingredients:
1 pound small shrimp, tail off, cooked and frozen package – thawed
2 teaspoons olive oil
Zest of 1 large orange
1/4 teaspoon ground cinnamon
1/8 – 1/4 teaspoon cayenne pepper (depending on how spicy you like it)
Directions:
Place all ingredients in a large skillet and sauté the shrimp until just warmed.