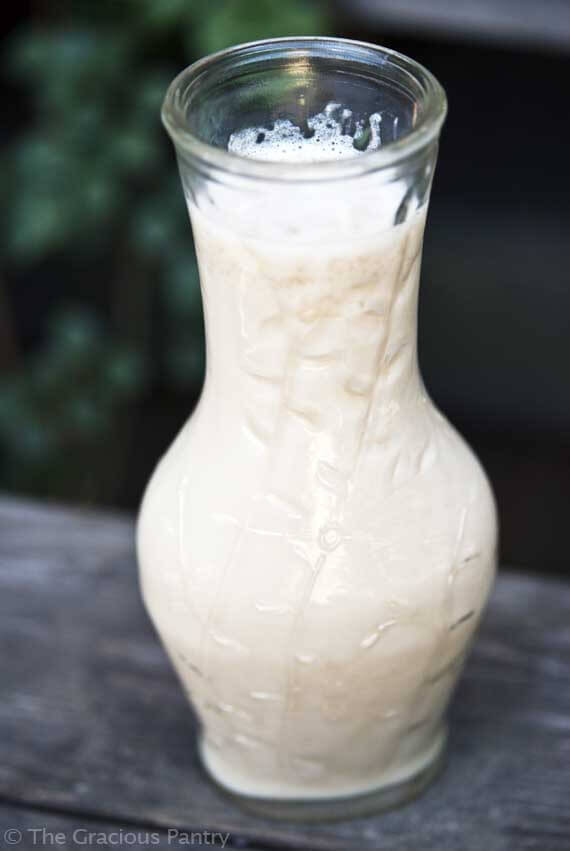 It's funny how many folks are dependent on their coffee creamer. Personally, I never liked them because they were too sweet and I could taste all the artificial ingredients. Plus, I don't like my coffee sweet. I'm strictly a "milk or cream in my coffee" kinda girl.
Now that I've tried this recipe, I have to say that sweet is a good thing. I wouldn't want this in my coffee without a little sweetness to it. And the fun part is, you can totally play around with the flavors by choosing the extract you prefer!
Just be aware that soy is one of the biggest GMO crops on the planet. So buy the stuff that is certified by the Non-GMO Project if that matters to you.
Clean Eating Coffee Creamer
(Makes 5 servings)
NOTE: If you can't get any xanthan gum or don't enjoy the texture it provides, try this recipe for Clean Eating Condensed Milk. It's sweet and it makes a fabulous creamer!
Ingredients:
1-1/4 cup unsweetened, plain, organic soy milk – room temperature
3 teaspoons vanilla extract (I used bourbon vanilla)
1/2 teaspoon extract of choice – optional (this is where you can play with the flavors I used almond extract.)
2 tablespoons honey (you can also try stevia)
1/16 – 1/8 teaspoon xanthan gum (optional)
Directions:
In a blender, blend together the soy milk and xanthan gum until well combined.
Blend in the extracts and honey.
Pour into a glass storage container and store in the fridge.
Possible Variations:
Extra vanilla extract
Almond extract
Orange extract
Rum extract (if you can find a clean version)
Raspberry extract (if you can find a clean version)
Note: I'm partial to strong flavors. So you may want to start with a smaller amount of extracts and add to taste.
Nutritional Content:
(Data is for 1/4 cup)
Calories: 48
Total Fat: 1 gm
Saturated Fats: 0 gm
Trans Fats: 0 gm
Cholesterol: 0 mg
Sodium: 8 mg
Carbohydrates: 8 gm
Dietary fiber: 1 gm
Sugars: 7 gm
Protein: 2 gm
Estimated Glycemic Load: 4
Please Note: Nutritional information estimated at Nutritiondata.com. Data may not be accurate and is subject to the availability of specific foods in their database. Where one ingredient is not listed, substitutions must be used. Therefore, you should not refer to this data as being exact. It's more of a ballpark figure. The Gracious Pantry does not take responsibility for the inadequacies of the nutrition calculator used. This data is provided as a courtesy and general reference only. It is not exact.