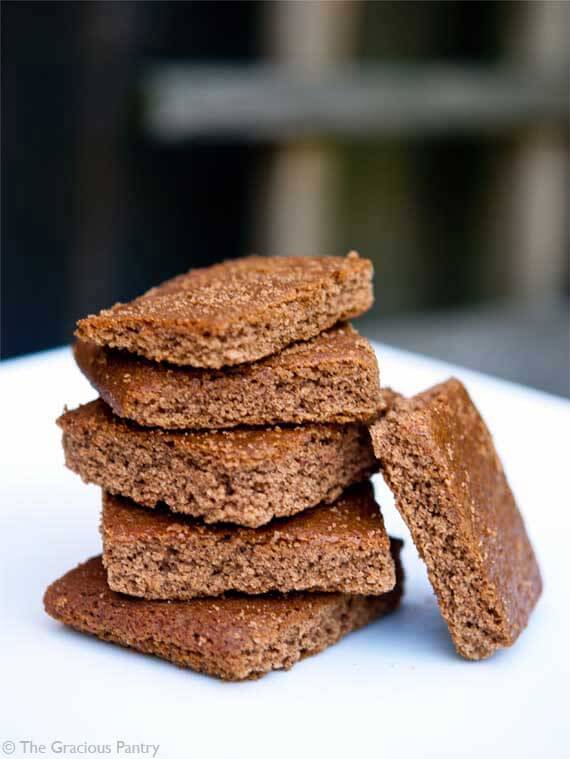 Ya, you read that right.
Say it with me… Clean Eating G.R.A.H.A.M. C.R.A.C.K.E.R.S!!! I could just squeak!
Why?
I can sum it up for you in one, wonderful word…
S'MORES!!!
Like how I yelled at you through your computer screen? I know. I really need to calm down….and get a life. I really need a life. A social life.
I know!! I'll make…. S'MORES!!! (I'm bound to entice a few friends over with those, right?)
Oh dear….
I know, I know. These are cookies, but so far, it's as close as I've gotten to clean graham crackers. And gosh darn it, I want s'mores!
Note: This is a recipe redo: You can find the original recipe here.)
Clean Eating Graham Crackers
(Makes approximately 25 crackers.)
Ingredients:
1 1/4 cups brown rice flour
3/4 cup tapioca starch (or organic cornstarch)
1 teaspoon baking powder
1/4 teaspoon salt
1/2 cup honey
3 tablespoons safflower oil
4 tablespoons almond milk (soy or cows milk will work as well)
1 tablespoons molasses
2 tablespoons cinnamon
Directions:
Preheat oven to 350 degrees F.
Line a cookie sheet with parchment paper (cookie sheet MUST have edges)
In a large mixing bowl, blend the rice flour, tapioca starch, baking powder, cinnamon and salt with a whisk.
In a medium mixing bowl, blend the honey, oil, almond milk, and molasses.
Pour the wet ingredients into the dry ingredients and mix with a wooden spoon until well combined.
Pour the batter onto the cookie sheet.
Spread this out thin with a spatula. The thinner the better.
Place in oven for 10 minutes.
Working quickly, remove the crackers from the oven. Using a knife or pizza wheel, cut into your desired size.
Using a fork, poke wholes all over the crackers.
Place back in oven and bake for another 10 minutes.
Remove from oven and cool on a cooling rack.
Note: I don't recommend these for pie crust.
Nutritional Content:
(Data is for 1 cookie)
Calories: 84
Total Fat: 2 gm
Saturated Fats: 0 gm
Trans Fats: 0 gm
Cholesterol: 0 mg
Sodium: 75 mg
Carbohydrates: 16 gm
Dietary fiber: 1 gm
Sugars: 6 gm
Protein: 1 gm
Estimated Glycemic Load: 10
Please Note: Nutritional information estimated at Nutritiondata.com. Data may not be accurate and is subject to the availability of specific foods in their database. Where one ingredient is not listed, substitutions must be used. Therefore, you should not refer to this data as being exact. It's more of a ballpark figure. The Gracious Pantry does not take responsibility for the inadequacies of the nutrition calculator used. This data is provided as a courtesy and general reference only. It is not exact.