Homemade Cinnamon Rolls Recipe
This post may contain affiliate links. Read my
Privacy Policy.
As an Amazon Associate I earn from qualifying purchases.
This homemade cinnamon rolls recipe is the perfect alternative to store-bought!
I have to tell you, I didn't think I could do this. The truth is, I try a lot of things for the first time in the interest of bringing you all a new recipe. As a result, I have plenty of "experiments" that end up in the trash (Good thing I don't blog about those, it's not pretty!)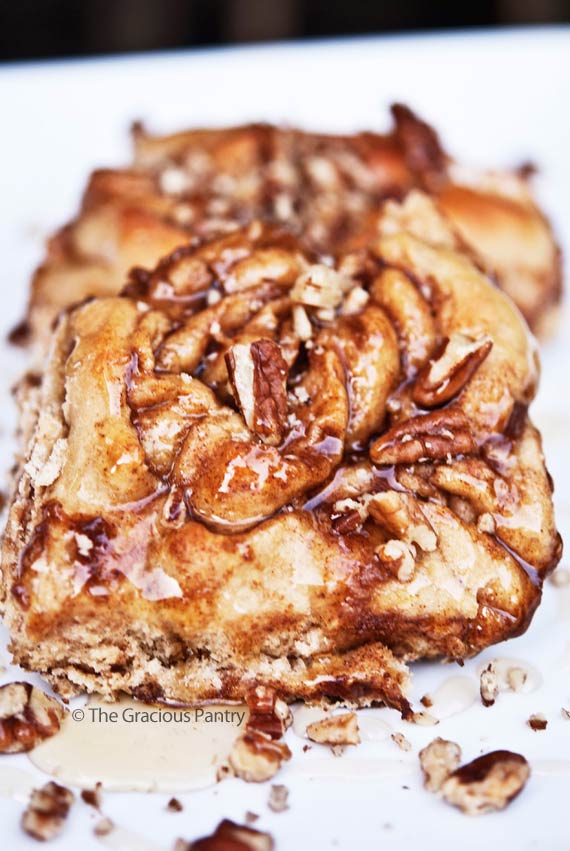 So when I set out to try this Clean Eating Cinnamon Rolls recipe for the first time, you guessed it, most of it went in the trash. I have never before in my life made cinnamon rolls and I just couldn't fathom trying to bake and eat the disaster that lay before me on the counter.
But being the brave soul that I am, I cut off a small portion and put it in the oven just to see how it would turn out, and you'll never guess what happened. The timer went off, I opened the oven, and I had a very small batch of nearly perfect clean eating cinnamon rolls before me (Yes, I cursed myself for throwing out so much of the recipe).
So taking note of a few things that I thought should change, I decided I'd give it another shot.
Well, little changes can make a HUGE difference in baking. And while I still had an absolute mess in my kitchen by the time I was done, I ended up with the most fabulous clean eating cinnamon rolls I've ever had!
So if you decide to try this recipe, I'm not saying it will be the tidiest experience you've ever had in the kitchen, but I am saying it will definitely be worth it!
More Health Treats
Homemade Cinnamon Rolls Recipe Card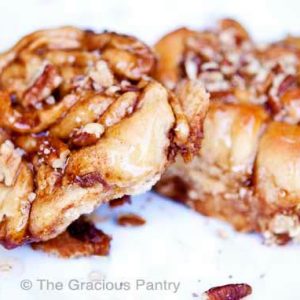 Whole Wheat Cinnamon Rolls
Note: This recipe will require 3 hours of total rising time. So plan accordingly.
Print
Pin
Rate
Servings:
15
rolls, approximate
Ingredients
CINNAMON ROLL INGREDIENTS:
1

packet

active dry yeast

½

tsp.

honey

⅛

cup

warm water (100-115 degrees F)

1

cup

unsweetened almond milk (regular milk works too)

¼

cup

honey

¼

tsp.

salt

2

tbsp.

olive oil + extra on reserve

1

large

egg

3½

cups

whole wheat pastry flour (affiliate link)
CINNAMON FILLING INGREDIENTS:
1

cup

honey

1

tbsp.

molasses

¼

cup

whole wheat pastry flour (affiliate link)

2

tbsp.

cinnamon
Instructions
(This will all be done in one large mixing bowl)

Pour the yeast into the bowl and mix in the warm water and the ½ teaspoon honey. Let sit for 5 minutes.

Now, add the almond milk, ¼ cup honey, salt olive oil, and eggs to the yeast mixture. Whisk gently until combined.

Using a wooden spoon, stir in the flour. When it's partially mixed and too thick to mix with the spoon any longer, begin kneading by hand. This will be very sticky at first, but you'll find that the more you knead, the more the gluten starts to pull everything together. In the end, you'll have a fairly firm ball of dough. So keep kneading (about 10-15 minutes).

Coat the ball of dough in a thin layer of olive oil and set back in the bowl. Cover with a towel and let stand for 1 hour to rise.

Punch down the dough, and cover again. Let it sit for another hour.

Punch down the dough one last time, cover and let sit for 10 minutes while you prepare the filling.

In a medium mixing bowl, blend all your filling ingredients together. You should have a nice, thick, molasses-like filling when you are done mixing.

On a generously floured surface, roll out your dough. Again, be generous with the flour. If you are not, the dough will stick to your counter making the rolling process a real chore. Roll the dough into a rectangle. Cut with a knife if necessary and place the cut offs in the center of the dough to be rolled back in with the rolling pin (no wasting good dough here!) In fact, if you look closely at the photo above, you can see the lines in the dough where I rolled my cut-offs back in.

Pour the honey mixture onto the middle of your rolled dough.

Smear on your filling. Make sure it only touches 3 of the four sides of your rectangle.

Roll the dough, starting with the side that has the honey mixture up to the edge.

When you get it rolled almost all the way, use your fingers to "paint" some water onto the edge of the dough that does not have any honey mixture on it. Give the dough one final roll so the dough will be "glued shut" by the water.

Note: If you get to this point and feel like you should just throw the whole thing in the trash, you're probably doing it right. Did I mention this recipe is messy?

Cut the roll into approximately 1 inch strips, and place each strip in an oiled baking pan or casserole dish. You want the dish to be too big for all your rolls as they will still need room for rising and baking. But don't go overboard, or your filling will seep out during baking. Better to have them fit snuggly after they have risen than still have too much room. Gauge accordingly.

Cover the dish with a towel and let the dough rise, one last time, for 1 hour.

Preheat your oven to 375° F.

If using the pecans, sprinkle them on now. Place rolls in the oven and bake for 15-18 minutes.

Allow to cool and squeeze some honey over the top of the rolls.

Notes
Please note that the nutrition data is a ballpark figure. Exact data is not possible.
Nutrition
Serving:
1
roll
|
Calories:
272
kcal
|
Carbohydrates:
48
g
|
Protein:
5
g
|
Fat:
8
g
|
Cholesterol:
12
mg
|
Sodium:
60
mg
|
Potassium:
185
mg
|
Fiber:
5
g
|
Sugar:
24
g
|
Vitamin A:
30
IU
|
Vitamin C:
0.2
mg
|
Calcium:
60
mg
|
Iron:
1.7
mg