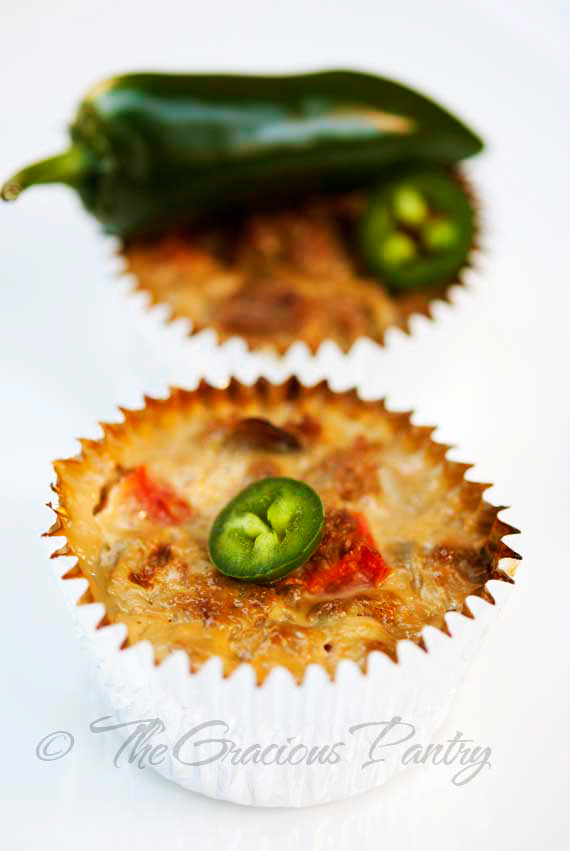 I don't know about you, but around here, mornings can be hectic. With all of us having to get out the door at the same time, it can get a little crazy.
Mini Chef doesn't care to be rushed either. He's a "take-your-time-like-you-have-it" kinda guy. Just like his Daddy.
So most busy mornings, the stress of getting out the door falls on me. I'm the worry wart around here. My brain is always on and running 50 mph. I'm always stressed because that seems to be how I function best. Perhaps it's not the healthiest way to get through the day, but it's effective to say the least.
Thinking back to my South Beach Diet days, I came up with this "grab-n-go" breakfast recipe that makes it easy to get some sustenance as the whirlwind I create zips through the house and out the door. (Don't judge, at least I burn a few extra calories…)
YOU MIGHT ALSO ENJOY:

Clean Eating Southwestern Breakfast Muffins
(Makes 16 muffins)
Ingredients:
3/4 pound lean ground turkey meat
1 tablespoon chili powder
1 tablespoon cumin
1 tablespoon garlic powder
1 medium red onion, chopped
2 medium red bell peppers, chopped
1 tablespoon olive oil
12 egg whites
Directions:
Line muffin tins with muffin papers.
Preheat oven to 350 degrees F.
In a large pan, combine all ingredients except egg whites and cook until done.
While that's cooking, separate your eggs, putting the whites into a large mixing bowl.
When the meat is done cooking, allow it to cool, then stir it into the egg whites.
Spoon the mixture into the muffin papers (a small ladle works best), and place in the oven for approximately 40 minutes. The muffins should have a nice golden color to them when they are done.
Allow to cool and serve.
Storage: Keeps in the refrigerator for up to 3 days.