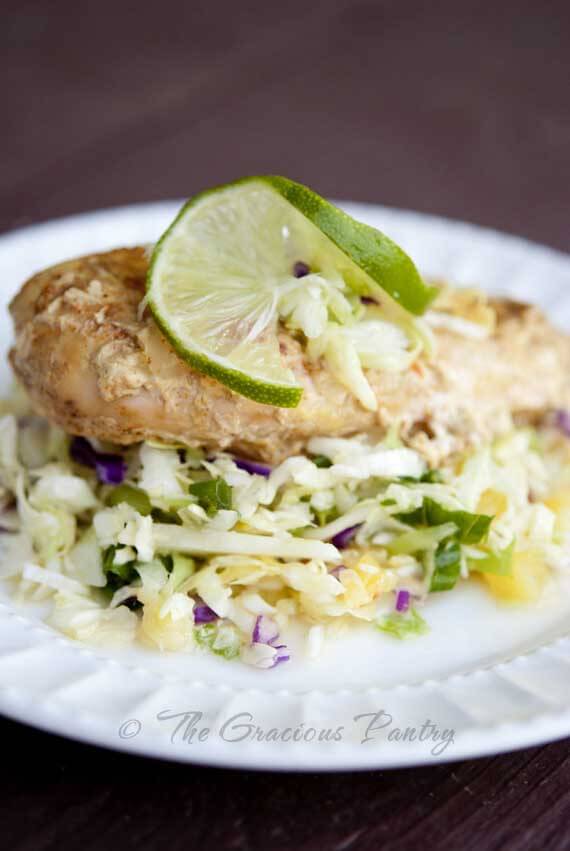 As some of you may know by now, I've recently teamed up with eMeals.com to bring you clean eating meal plans at their very best. As such, I'm allowed to post an emeals recipes every now and again, which I'm really excited about. Why? Because they are simply delish!
Case in point: This Clean Eating Slow Cooker Thai Chicken Massaman Curry. This was crazy good stuff! I loved the pineapple slaw, it was an absolutely perfect pairing with the chicken. eMeals.com (affiliate link) knows what they are doing in the kitchen!
That being said, I did have to make a few changes to the original recipe simply because this recipe has a fair amount of spice in it and my little guy never would have eaten it if it was spicy. So I'll give you the original recipe and put my alterations in parenthesis. Just know that even with my alterations, there is just a hint of kick to it. So if you are cooking for wee ones, keep that in mind.
But honestly, this is wonderful stuff. Clean eating at its finest!

Clean Eating Slow Cooker Thai
Chicken Massaman Curry
(Makes 2 servings – 4 servings of slaw)
Slow Cooker Chicken Ingredients:
1/2 pound raw, boneless, skinless chicken thighs (I used 1 pound boneless, skinless chicken breasts)
1 tablespoon Madras curry powder (I used 1 teaspoon regular curry powder)
Salt and pepper to taste (I omitted this until the dish was finished)
1 teaspoon minced garlic (I used 1 clove garlic, minced)
1/2 cup thinly sliced white onion
1/2 cup thinly sliced red bell pepper
1/2 cup organic chicken broth
1 (13.5 ounce) can coconut milk (I used 14 ounce can light coconut milk)
Slaw Ingredients:
16 ounce bag shredded cabbage coleslaw mix
1 cup diced pineapple (I used a 20 ounce can crushed pineapple)
1/2 cup chopped green onion
1/2 teaspoon crushed red pepper (I omitted this)
1/2 teaspoon kosher salt (I omitted this)
1/2 teaspoon black pepper (I omitted this)
3 tablespoons lime juice (I used the juice of 2 limes)
3 tablespoons extra virgin olive oil
Directions:
Combine chicken, curry powder, salt, pepper, garlic, onion, bell pepper, broth and coconut milk in a slow cooker.
Cook on low for 4-6 hours.
Combine cabbage, pineapple, onion, red pepper, salt and black pepper in a large bowl.
Stir in the lime juice and oil; let stand 1 hour before serving. Serve half of slaw, and save remaining for another meal. (I had it for lunch the next day. Delicious all by itself!)