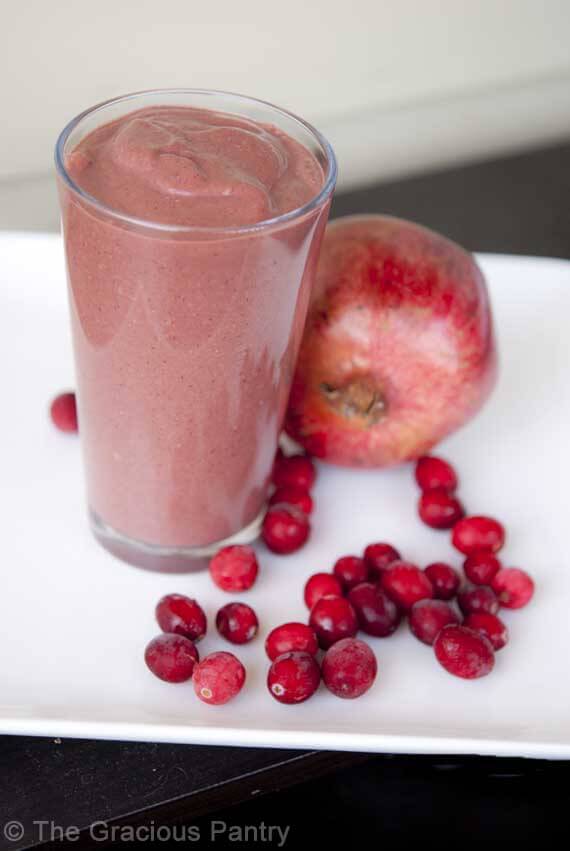 Every year, I stock up on fresh cranberries. I keep them in my freezer and enjoy them for as long as possible into the new year. This is a habit I try very hard to remember for many seasonal foods. But cranberries are special. They have an amazing nutrient content, and so does this smoothie!
This is tart and sweet at the same time. In fact, if you don't add any sweeteners, your first sip may make you pause. But then you realize it's actually quite sweet enough. Now if you don't use the mango, I strongly suggest the sweetener. But if you do use the mango, try the smoothie first before adding anything else. I think you'll find that for most of you, it's just sweet enough without any added sugar.
YOU MIGHT ALSO ENJOY:

Clean Eating Chocolate Cranberry Smoothie
(Makes 4 servings)
Ingredients:
1 medium banana
4 ounces fresh, frozen cranberries (I buy them fresh and freeze them myself)
1 1/4 cup light coconut milk
1 cup pomegranate seeds/arils
4 tablespoons. unsweetened cocoa powder
1 cup frozen mango (optional for sweetness, thickness and creaminess)
Clean sweetener to taste (optional)
Directions:
Blend everything in a blender until smooth.