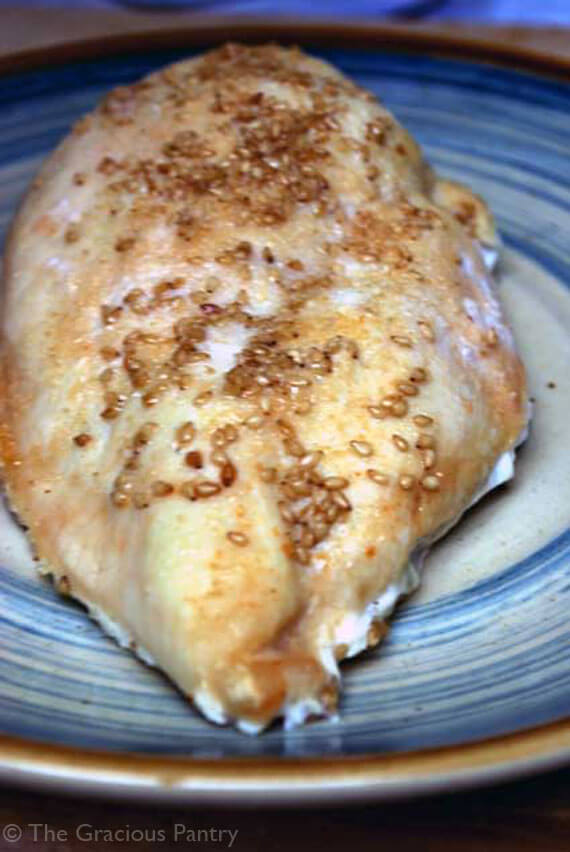 As you can see, this is NOT a beautiful dish. But then you have to ask yourself, can chicken really be beautiful?
I wanted to give you this really quick and simple recipe for making chicken because it's often an ingredient in other recipes I make. Plus, it's great tasting just by itself.
I enjoy adding this to stir fry veggies, topping with a little soy sauce or coconut aminos, or simply eating it as it is.
Clean eating often involves a lot of baked chicken breasts. So this is one way you can add a little flavor to the mix without messing up your macros or eating plan. It's delish!
YOU MIGHT ALSO ENJOY:

Clean Eating Sesame Chicken
Ingredients:
Frozen, skinless, boneless chicken breasts
Roasted sesame seeds
Garlic powder
Onion powder
Directions:
Preheat oven to 350 degrees F.
Place your chicken breasts (as many as you want) on a parchment lined cookie sheet.
Spray with a light coat of olive oil using an oil sprayer.
Sprinkle on the sesame seeds, garlic powder and onion powder to your liking.
Bake until the chicken reaches 170 degrees F. using a cooking thermometer (time will vary depending on your oven – approximately 45 minutes).