Even wonder if clean eating brownies were possible? They are! Here's how.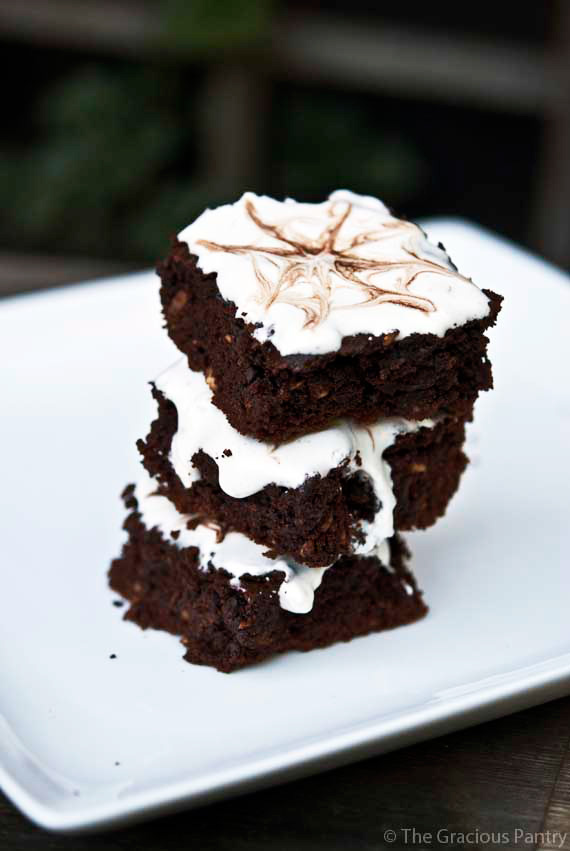 I made these as a Halloween treat, but you can always leave off the marshmallow topping and serve them just as they are. I found the original recipe on ElanasPantry.com. While the recipe was already technically clean, I played around with it just a bit. I wanted to see if I could lower the cholesterol content, cut down on the sodium and reduce the glycemic index a bit more. You can see the nutrition data for both the original recipe and my version for an idea of what changed with my adaptation.
While the above list may seem like a lot to ask of a brownie, not only did I accomplish the task, I ended up with the best brownie I've ever sunken my teeth into! I have to give a big thank you to Elana for developing the original recipe. She is truly a genius in the kitchen! Please stop by her blog. While her focus is not specific to clean eating, many of her recipes qualify by leaps and bounds.
And since I'm doing this for Halloween, I used Clean Eating Marshmallows for the topping and a little coco powder mixed with water to make the design. While the spider web is not the best, it's pretty good considering I was doing it on marshmallow instead of on regular frosting. Plus, my little guy won't care one way or the other.
Needless to say, my munchkin is going to be VERY happy this Halloween!
YOU MIGHT ALSO ENJOY:

Clean Eating Brownies
(Makes 20 brownies)
Note: You will want to read through ALL of the directions before decorating these brownies.
Brownie Ingredients:
1 (16 ounce) container almond butter
4 egg whites
1 cup honey
1 tablespoon vanilla
1/2 cup unsweetened cocoa powder
1 teaspoon baking soda
1 cup grain sweetened chocolate chips (non-dairy chips for those avoiding dairy)
Decorating "Paint" Ingredients:
1/2 teaspoon cocoa powder
Water
Marshmallow Ingredients:
3 tablespoons water
1 packets unflavored gelatin
1/2 cup honey
1 teaspoon almond extract
Brownie Directions:
Preheat oven to 325 degrees F.
Add each ingredient, in the order listed, to a large mixing bowl, one at a time. Whisk in each ingredient completely before adding the next.
Pour into an oiled baking pan and bake for 35-40 minutes.
Decorating "Paint" Directions
Mix cocoa powder with two drops of water. Continue to add water, two drops at a time until you have a somewhat thick "paint".
Marshmallow Directions:

It's best to get all your ingredients out and ready before proceeding with this because everything comes together pretty quickly. Be sure to have your brownies cooled, cut and ready to decorate BEFORE you start making the marshmallow topping. Once the marshmallow topping is made, you will need to move very quickly before it solidifies. Otherwise, you'll end up with a sloppy mess of marshmallow fluff instead of a smooth spread for your brownies.
Stir gelatin into water in a small bowl. Microwave for 30 seconds.
While that's in the microwave, pour your honey into a mixing bowl. Add the almond extract. Add warm gelatin/water mixture.
Blend for 10-15 minutes until the mixture is thick and fluffy and has more than doubled in size.
Now you must work quickly. Using a knife, spread your marshmallow topping over your brownies.
Using a toothpick and anything with a small edge, dip into your cocoa paint and decorate your brownies any way you'd like!
Note: For a spider web, simply draw two circles, one inside the other (like a target) and then draw squiggly lines from the center, out. (Like rays of the sun)