This post may contain affiliate links. Read my
Privacy Policy.
As an Amazon Associate I earn from qualifying purchases.
Ever wonder if  healthy brownies were possible? They are! Here's how.
Brownies are an amazing dessert. I don't think I've ever met a single person who doesn't like brownies. But what does differ from person to person, is the type of brownie they like.
Brownies come in so many different variations, and each person has a favorite. There is caky, gooey, chewy, peanut butter, mint, chocolate chip, white chocolate chip, cream cheese, black bean, walnut and pecan brownies, just to name a few. But no matter how you like your brownies, it's always a happy treat when you get one, no matter what type or flavor it is.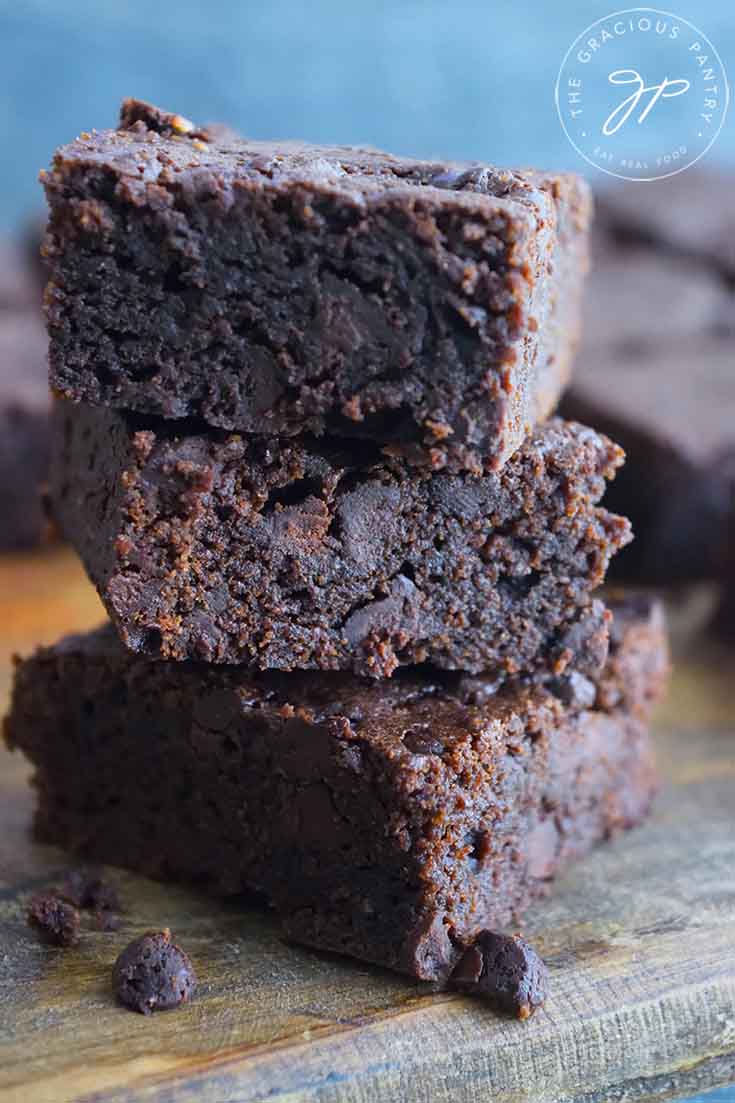 HOW TO MAKE HEALTHY BROWNIES
It's not as hard as you might think. It really all comes down to the ingredients you use. These use all natural ingredients including whole wheat pastry flour and sucanat, which you can also sub with coconut sugar.
These aren't something to eat for breakfast every morning, but I'll take these over the processed, sugar-filled brownies at the store, any day! Your choice of chocolate chips will be important here. I use Lily's chocolate chips because they are stevia sweetened so it cuts down on the sugar. But if sugar isn't your concern here, then the Enjoy Life brand is a great option, and is allergy friendly too.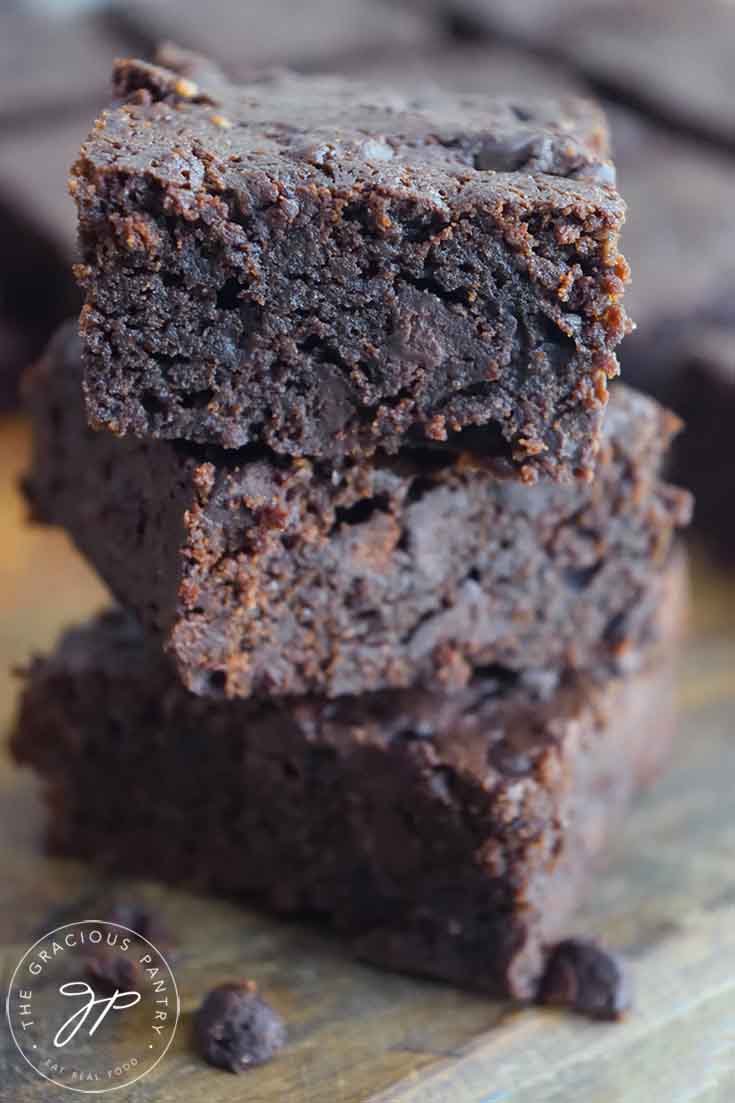 HOW TO MAKE FUDGY, GOOEY BROWNIES
What makes brownies so fudgy, soft and gooey? Fat. There is no way around it. The more fat and chocolate (from the fat in the chocolate) you use, the gooier your brownies will be. That being said, I didn't want to make these brownies so high in fat that they would totally dive bomb your entire day's caloric intake, so I backed off of the fat content slightly. These are on the gooey side with just a hint of cakey-iness to them. A nice middle ground, so to speak. However, if you want them gooier, you can add an extra 1/2 cup of butter and an additional 1 cup of chocolate chips. Other additions such as walnuts can be added as well. 1/2 to 1 cup of nuts should be plenty if they are chopped.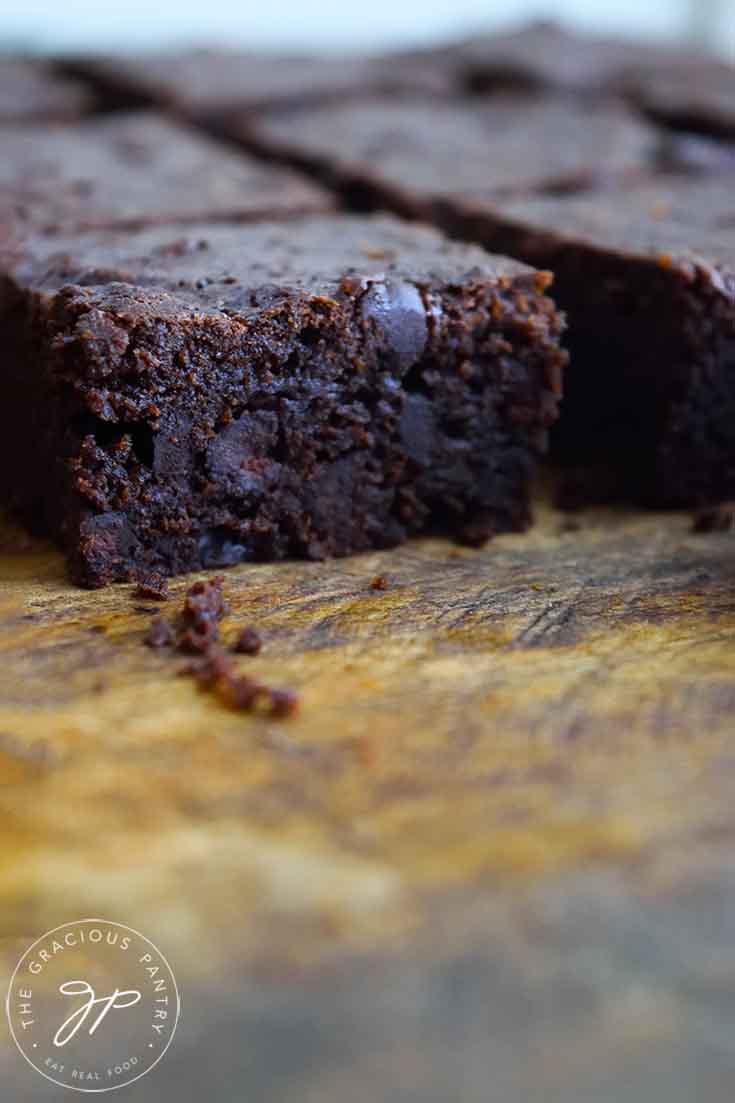 HOW TO MAKE CAKEY BROWNIES
If you want your healthy brownies to be more cake-like, then you'll want to reduce the fat a bit and add more flour. For these, you can cut back to 1/4 cup butter and use and additional 1/4 cup of cocoa powder PLUS a 1/2 cup more of flour PLUS a 1/2 cup of milk. Use only the 1 cup of chocolate chips. Other additions such as nuts can be added at a 1/2 to 1 cup, as long as they are chopped.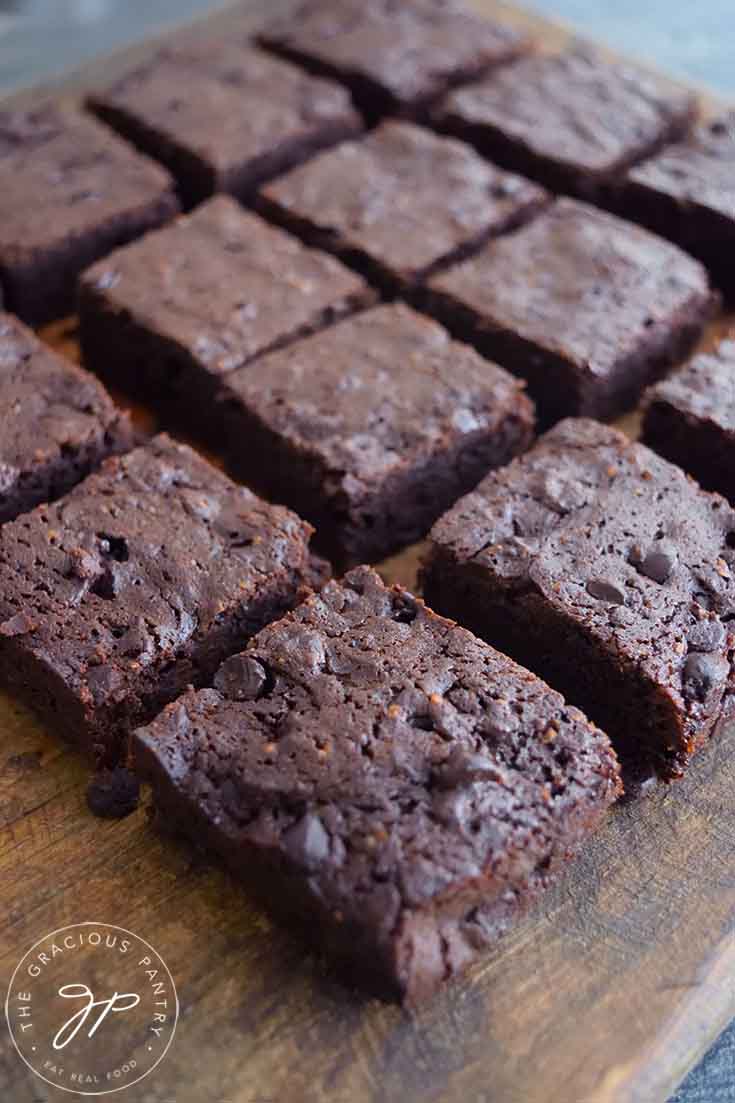 HEALTHY BROWNIE RECIPE WITH COCOA POWDER
Don't skip the cocoa powder in this recipe, no matter how you make your brownies. While you can certainly melt chocolate chips into the butter to create a solid chocolate flavor, I find that the cocoa powder allows the chocolate chips to just be themselves. Nice little nuggets of chocolate in the middle of a brownie.
HOW TO LINE A BROWNIE PAN
Lining your brownie pan, while not completely necessary, makes life so very much easier when it comes time to remove the brownies from your pan. I highly recommend a square cake pan. It makes cutting the brownies into even pieces easier as well a making it much simpler to fully line your pan. You'll want to spray your pan, but under the parchment, and over the parchment, with an oil sprayer of some sort. Here's how to do it.
Oil your pan, then cut two strips of parchment paper to the width of the base of your pan. Don't worry about the length. Place one piece of the parchment down into the pan, pressing into the corners to score you paper so it stays in place.
Place the second piece of cut parchment going the other directly, and press down in the corners to score your paper so it stays in place.
Fold the overhang edges over and score them with your fingers so they stay down and out of the way when you pour the batter in. You do not have to score them at the edge of your pan. In fact, it's easier to score the parchment just above the edge.
Now spray the parchment with oil just like you did the pan.

Now go ahead and add the batter to the pan, using a spatula to help spread it out as evenly as possible.
Once baked, allow the brownies to cool for a bit. Once cooled down, they should easily lift out of the pan without breaking, by grasping the parchment on opposite corners. Make sure you grasp two pieces of parchment in each hand, then lift the brownies onto a cutting surface.
Allow them to cool a bit more before cutting into them. They can still be warm when you cut them, but they will crumble a bit more.
MORE HEALTHY BROWNIES:

HEALTHY BROWNIES RECIPE: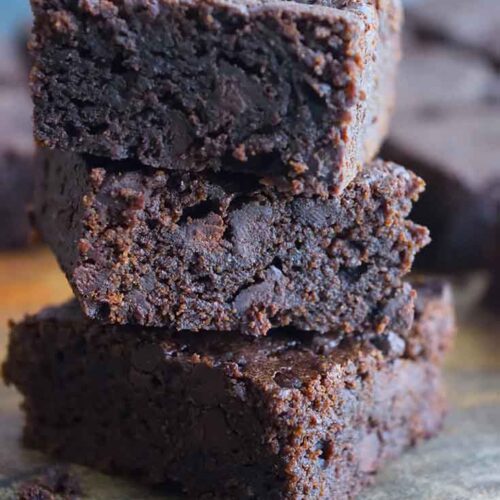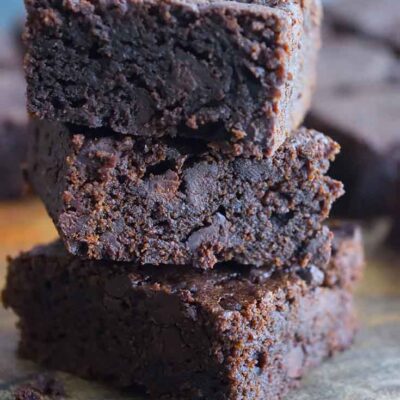 Healthy Brownies
A delicious, no-grain, homemade brownie everyone will love!
Print
Pin
Rate
Ingredients
Brownie Ingredients:
½

cup

whole wheat pastry flour

1

cup

Sucanat

(or coconut sugar)

½

cup

unsweetened cocoa powder

½

tsp.

salt

¾

cup

butter

(melted)

3

large

eggs

1

cup

chocolate chips

(I use Lily's or Enjoy Life brands)
Instructions
Preheat oven to 350 degrees F. and line your pan as instructed above.

In a large mixing bowl, whisk together the dry ingredients.

To the dry ingredients, add the melted butter and eggs, and stir well to combine. This batter should be slightly on the thicker side. Lastly, stir in your chocolate chips.

Scoop the batter into the parchment lined pan and smooth with a spatula to spread it as evenly as possible.

Bake for 25-30 minutes. Remove from oven and cool for 5-10 minutes.

Lift the brownies out of the pan onto a flat cutting surface and cut three times each direction. If the brownies begin to crumble too much, then they need to cool down a bit more before you continue cutting.

Serve with a glass of milk!
Notes
Please note that the nutrition data given here is a ballpark figure. Exact data is not possible. 
Nutrition
Serving:
1
brownie
|
Calories:
215
kcal
|
Carbohydrates:
24
g
|
Protein:
3
g
|
Fat:
13
g
|
Saturated Fat:
8
g
|
Cholesterol:
59
mg
|
Sodium:
158
mg
|
Potassium:
74
mg
|
Fiber:
2
g
|
Sugar:
20
g
|
Vitamin A:
342
IU
|
Vitamin C:
1
mg
|
Calcium:
27
mg
|
Iron:
1
mg
This post from the Gracious Pantry® archives, originally posted 10/26/10. Recipe has been changed to update and improve.