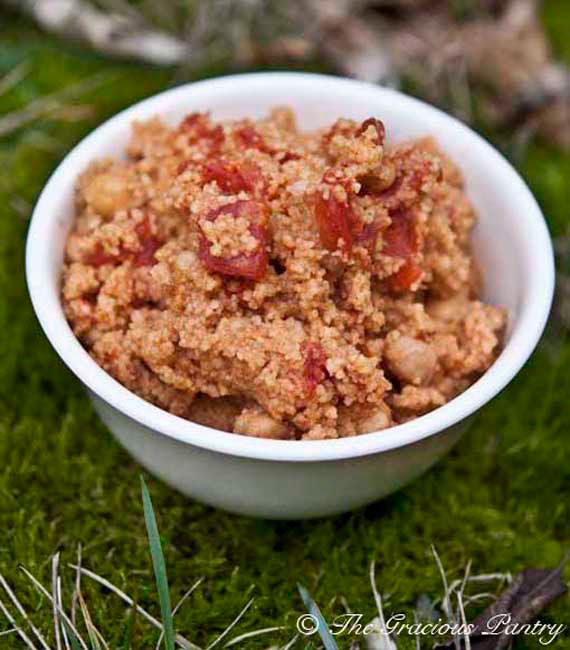 Some nights, you just need to get dinner on the table fast, and yet you still want something a little different then a plain ol' salad (the world's healthiest "fast food" in my humble opinion).
I found myself in just such a situation recently, and this recipe was the result. This is actually very similar to another Indian Couscous recipe I did a while back, but this one doesn't require a specific sauce. So I hope you'll forgive the similarity.
This makes a wonderful side dish for chicken, or a fabulous vegetarian/vegan main meal. The beans and couscous make a complete protein, so any way you eat this, it's a pretty balanced meal (just add a few greens…)!
YOU MIGHT ALSO ENJOY:

Clean Eating Quick Indian Style CousCous
(Makes approximately 7 cups)
Ingredients:
1 (28 ounce) can diced tomatoes, no sugar added
1 (15 ounce) can light coconut milk
1 (15 ounce) can chickpeas, drained, no sugar added
1/2 cup golden raisins
1 teaspoon curry powder
1/2 teaspoon ground cinnamon
1/2 teaspoon garlic powder
1/2 teaspoon onion powder
1/2 teaspoon ground cumin
1/4 teaspoon sea salt
1 1/2 cups dry whole wheat couscous
Directions:
Combine everything in a large pot EXCEPT the couscous.
Stirring frequently, bring the mixture to a soft boil.
Stir in couscous and immediately remove the pot from heat and cover with a lid.
Let sit for 15 minutes, then stir, cool slightly and serve.