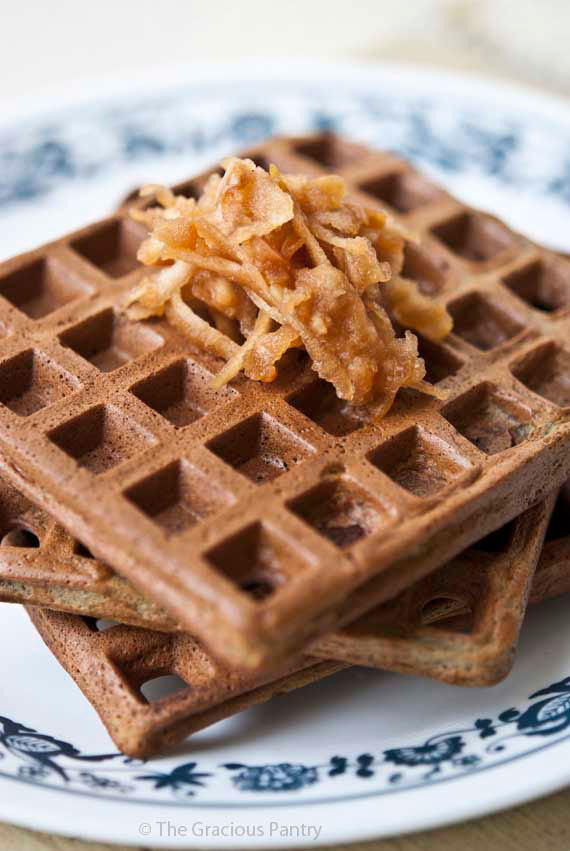 I've had a lot of folks ask me for waffles that have a higher protein content in them.
It's understandable. When mornings can be so hectic, you often just don't have time to make a full and balanced meal. And never mind the kids! I mean, wouldn't it just be easier to pop a frozen waffle or two in the toaster, fling them at your children on the way out the door and call it a morning? I think so.
These fabulous waffles have sadly evaded my breakfast plate due to allergies. But they were devoured by my husband and son. And I didn't even have to fling any at them!
YOU MIGHT ALSO ENJOY:

Clean Eating Protein Powder Waffles
(Makes 12 waffles – may vary depending on waffle maker)
Ingredients:
1 cup quinoa flour
4 scoops protein powder (amazon affiliate link)
1 whole egg
2 egg whites
1 tablespoon olive oil
2-3 cups organic, non-GMO soy milk
Directions:
Whisk together all ingredients in a large mixing bowl, pouring in the milk last. Adjust consistency of batter with milk.
Ladle into your waffle maker and cook until done!
Note: Every protein powder may react differently. With mine, I had to cook them twice as long as I would a normal waffle.
Storage: These are fabulous for making large batches and freezing for future "toaster meals". But I suggest putting little sheets of parchment between them before freezing otherwise you may end up with a block of waffles for breakfast!