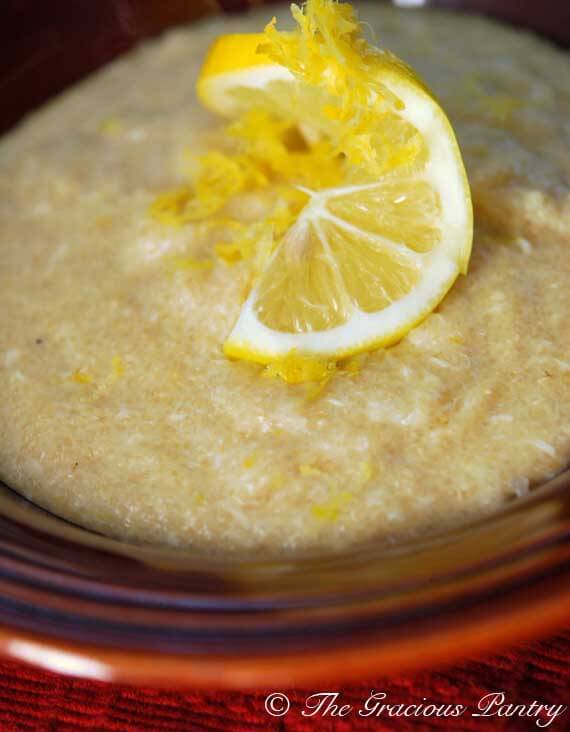 When I lived in Germany, this lemon porridge was served as a very special breakfast, on very special occasions. Birthdays and holidays were always looked forward to in anticipation of this meal. I never knew cream of wheat could taste so good!
The thing about cream of wheat is that many people don't realize that the regular stuff you buy in the grocery store is NOT whole grain. So don't be fooled!
I had to go to the health food store and really search for some whole grain cream of wheat. But I did find it.  It's called Whole Grain Farina. The one I used is from Bob's Red Mill. Great stuff!
If you manage to find it too, then you must absolutely give this recipe a try. It's fabulous.
Clean Eating Lemon & Honey Porridge
(Makes 2 servings)
Ingredients:
1 cup milk (almond milk may work as well)
1 tablespoon honey
4 egg whites
6 tablespoons cream of wheat
1 tablespoon lemon zest
Directions:
Put milk in a small pot and bring to a boil, being sure to whisk constantly so the milk doesn't burn or boil over.
Once your milk is boiling, add the cream of wheat, honey and lemon zest.
The porridge will thicken in under 5 minutes. Stir constantly. When you are ready to remove the porridge from the heat, quickly stir in egg whites. Stir very quickly to evenly disperse the eggs. Immediately remove from heat and allow to sit and cool slightly before stirring.
Nutritional Content
1 serving =  1/2 the recipe
Calories: 257
Total Fat: 3 gm
Saturated Fats: 0 gm
Trans Fats: 0 gm
Cholesterol: 0 gm
Sodium: 130 mg
Carbohydrates: 43 gm
Dietary fiber: 4 gm
Sugars: 9 gm
Protein: 15 gm
Estimated Glycemic Load: 27
Please Note: Nutritional information estimated at Nutritiondata.com. Data may not be accurate and is subject to the availability of specific foods in their database. Where one ingredient is not listed, substitutions must be used. Therefore, you should not refer to this data as being exact. It's more of a ballpark figure. The Gracious Pantry does not take responsibility for the inadequacies of the nutrition calculator used. This data is provided as a courtesy and general reference only. It is not exact.