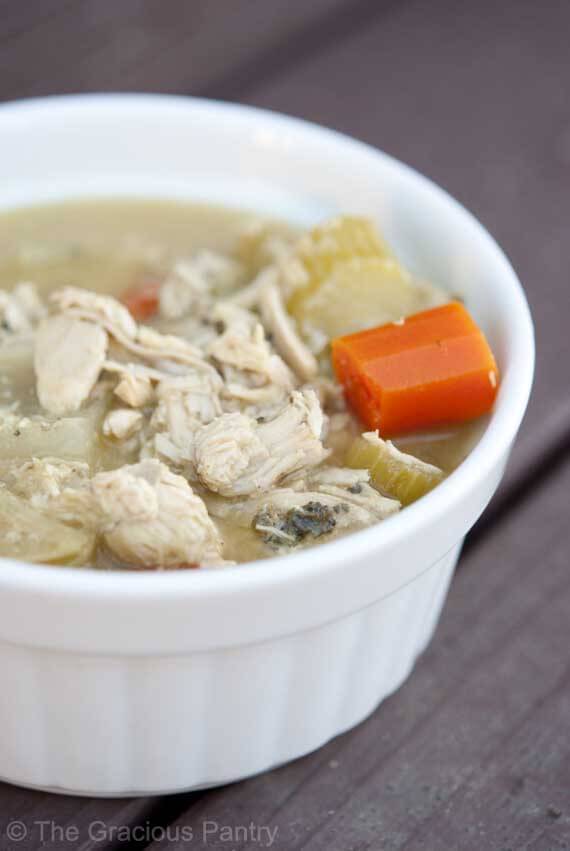 Soup is soothing to the soul. I firmly believe that.
When things go wrong or you feel under the weather, few things can comfort you like a good, warm and hearty bowl of homemade soup. It's one of the best medicines there is in my humble opinion.
A big bowl of comfort soup takes me back to when I was a kid. I loved playing outside in the rain. Stomping in puddles was one of my absolute favorite things to do. I mean, what else is rain good for as a kid???
I would stomp my way home from school through every single puddle I could manage to find and walk through the door so thoroughly soaking that the puddle on the floor beneath me was nothing short of a small lake. I'm sure my grandmother was thrilled at my arrival. But instead of getting mad, she gave me dry clothes and a warm bowl of soup.
I have very fond memories of sitting at the table, laughing over some joke she told me as I ate my bowl of soul-warming broth. And let's face it, any soup made by grandma's loving hands is ALWAYS soul warming. Wouldn't you say?
So for me, it goes without saying that I would have to include a turkey soup recipe in this "Turkey Leftovers" week I'm doing. I mean, who can't use another good soup recipe?
YOU MIGHT ALSO ENJOY:

Clean Eating Leftover Turkey Soup
(Makes 2 servings)
NOTE: I put my spices in a spice bag, not directly into the soup. But the choice is yours. You can cook add them any way you like. That said, if you do not use a spice bag (or tea ball), you may want to cut back a tad on the spices or your broth will be over run with it. Try half. You can always add more as needed.
Ingredients:
4 cups low sodium chicken broth, no sugar added
1 large carrot, sliced
2 medium stalks celery, sliced
1 tablespoon garlic powder
1 tablespoon dried onion
2 teaspoons dry sage (only use 1 tsp. if your turkey was cooked with a lot of sage)
2 cups cooked, shredded turkey
Directions:
In a medium sized soup pot, bring the broth, carrots, celery and spices to a boil.
Boil until the vegetable are cooked to your liking and then toss in the turkey. Cook for an additional 5 minutes just to warm the meat, and serve.