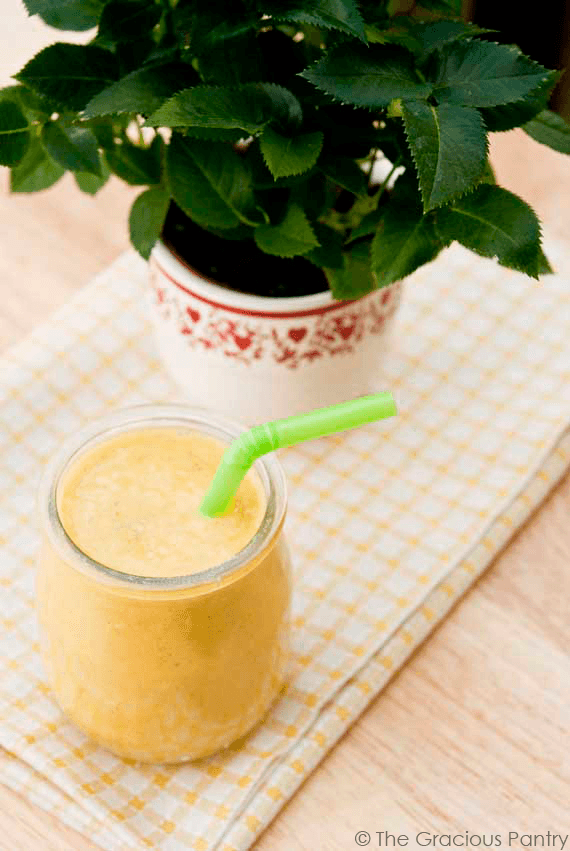 Since giving up dairy, I have to say my life has changed considerably. My food cravings have vanished, my skin is clearing up and I no longer have "fog brain".
But the problem with giving up dairy, is that coffee and all it's counterparts (can we say latte???) just are not the same.
I've tried almond milk and coconut milk. Neither one tastes like dairy does. And since caffeine has never been a very good friend to me either, I figured it was just high time to pitch them both to the curb.
I know. I know. Life without coffee? Have I lost my marbles?
But the truth is, there are smoothies like this one that give my morning a fantastic kickstart without the caffeine, and I can feel confident that my body is getting a nice dose of nutrition first thing in the morning.
I make this right after getting out of bed, and by the time I get half way done with it, I'm zipping around my apartment like the Energizer Bunny. Not bad for a caffeine-free start to the day!
YOU MIGHT ALSO ENJOY:

Clean Eating "Good Morning Sunshine" Smoothie
Author:
Ingredients
1 cup traditional, rolled oats
1 cup frozen mango
1/2 small orange, peeled, segmented and seeds removed
1 cup water
1/8 tsp. cayenne pepper
1/8 tsp. black pepper (helps your body absorb the turmeric*)
1/2 tsp. ground turmeric
1/2 tsp. fresh, grated ginger
Sweetener of choice (optional)
Instructions
Place all ingredients in a blender and blend until smooth.
Note: Feel free to adjust the spices to your liking.
*REFERENCE SOURCE