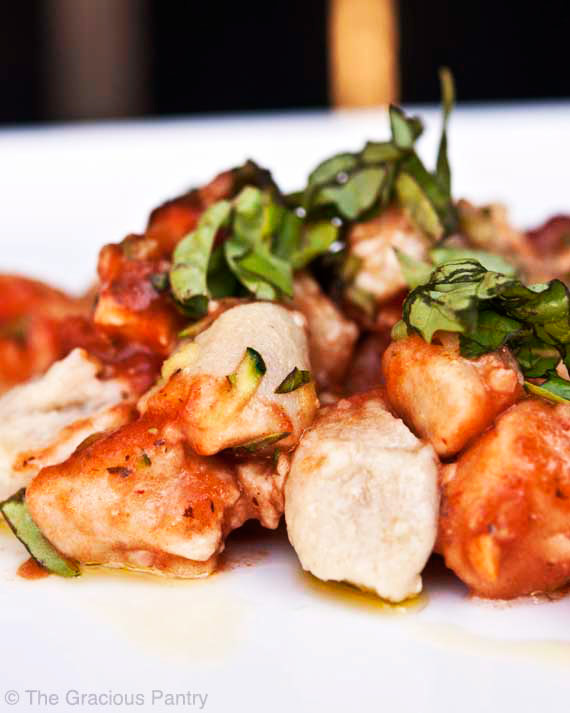 I have a new love in my life. My husband doesn't know. In fact I don't think I should even tell him about it because he might get jealous.
That new love is called Gnocchi. Not just any gnocchi, homemade gnocchi. There are few things I wouldn't do for a plate of good, homemade gnoochi.
But maybe I'm kidding myself. My husband loves gnocchi too. It might just be the one love affair we can both agree on. I mean, if he were to ever cheat on me, I would much prefer that he cheat with a fabulous plate of gnocchi. At least the only "bad blood" between us then would be that he didn't share with me!
But then again, that would be a pretty serious offense in my book…
YOU MIGHT ALSO ENJOY:

Clean Eating Gnocchi With Chicken And Marinara
(Makes approximately 12 servings)
Ingredients:
6 cups cooked gnocchi (Get recipe here)
4 large chicken breasts, baked with black pepper and cut into cubes
3 medium zucchini, shredded
1-2 jars clean marinara sauce
1 large red onion, chopped
6 cloves garlic, chopped fine
2 teaspoons olive oil
Fresh basil, chopped
Directions:
In a large pan, saute the onion and garlic in the olive oil. Keep the heat somewhat low so you don't burn the garlic.
Stir in the zucchini and cook, stirring constantly for about 2-3 minutes.
Add the gnocchi and chicken and continue to stir until they are warmed through (if they were pre-made) or until everything is well blended.
Remove from heat, top with marinara and fresh basil and serve.