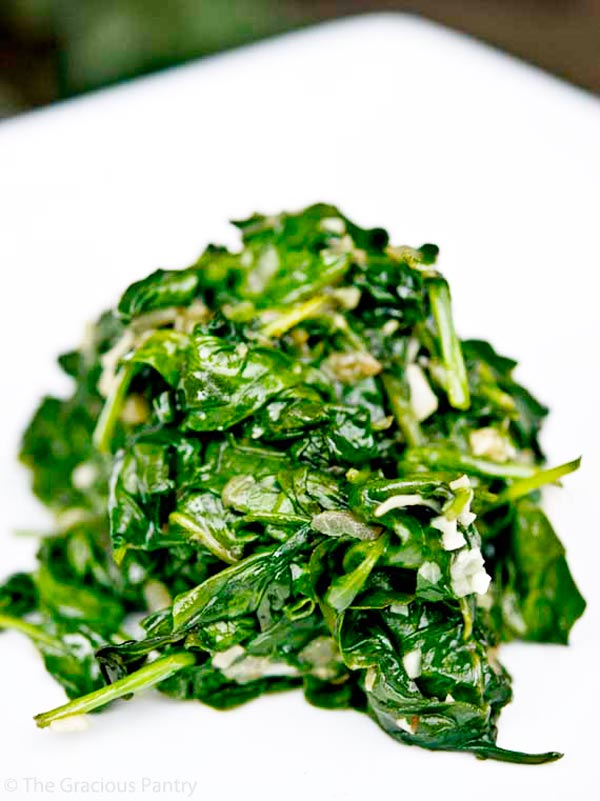 This was served to me in a restaurant. My husband and I had gone out to dinner for our anniversary and I was a bit hard pressed to find a dish without dairy. The waitress suggested the salmon and some spinach. I wasn't thrilled as I really wasn't in the mood for fish. But seeing as how I had very few options, I agreed.
Holy moly!!! Forget the salmon, I could have eaten ten plates of that spinach. It was incredible!
So my husband asked what was in the spinach, and the waitress happily listed off the ingredients.
Now, you know me. I just HAD to come home and see if I could duplicate this amazing, spinach phenomenon. I'm happy to say, my duplication process was precise and well rewarded. I don't think I'll ever prepare spinach any other way, ever again. Ya, it's THAT good!
Note: The shallots make this recipe. So don't substitute or leave them out.
YOU MIGHT ALSO ENJOY:

Clean Eating Garlic Spinach
(Makes 2 servings)
Ingredients:
1 large shallot, diced
3 cloves garlic, diced
1 tablespoon olive oil
4 cups fresh spinach
Directions:
Place the shallot and garlic in a pan with the olive oil and sauté for 1-2 minutes.
Add the spinach and cook until it is properly wilted.