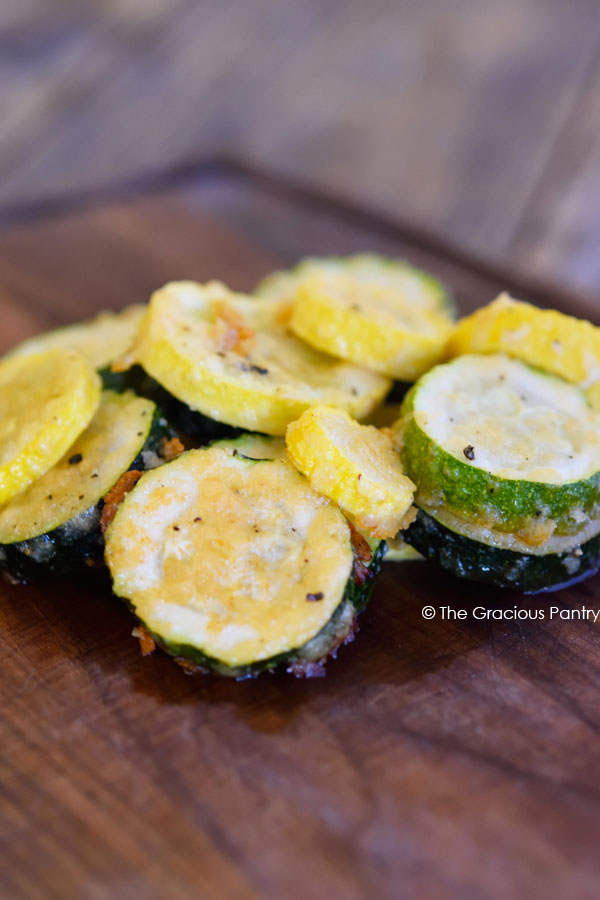 I love summer for two reasons only. The fruits and the vegetables. At no other time of the year do you get as large an assortment of fabulously fresh, juicy and succulent produce, especially here in northern California.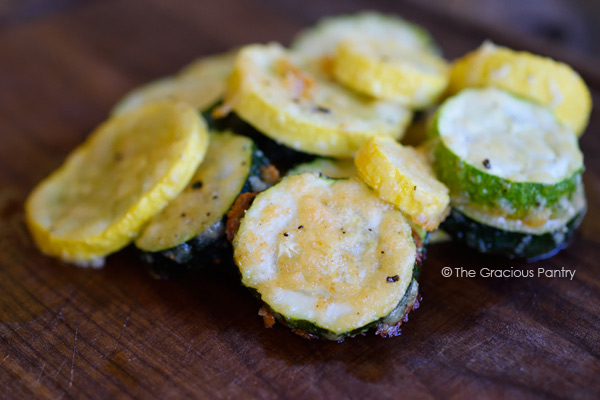 I have to admit that I hate turning on the oven as much as the next person during the warmer months of the year, but my favorite way to prepare just about any vegetable during the summer is to roast them. I just can't help myself. (Although, this could also be done on the BBQ). I inevitably end up turning on the oven again and again to enjoy, in particular, the wonderful array of summer squashes.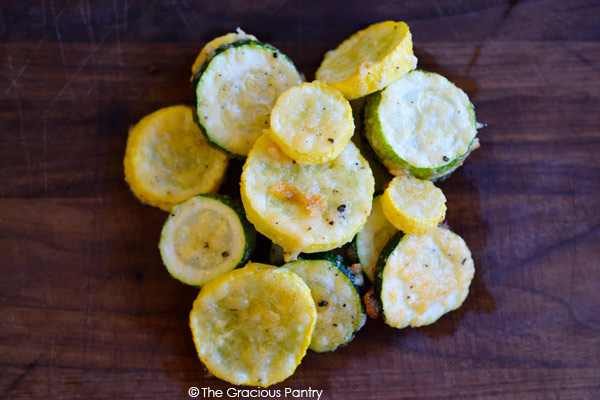 My two favorites are zucchini and yellow squash. I just can't seem to get enough of them. Roast and serve them together, and I could pretty much survive on squash alone during the summer.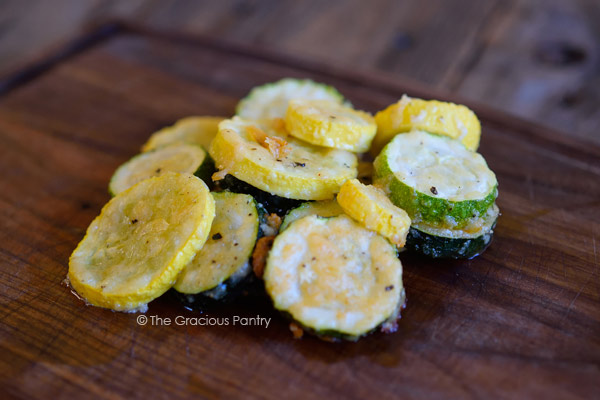 RECIPE TOOLS:
If you don't yet have a Misto oil sprayer
(affiliate link), I highly recommend it. I was not paid to promote this. It's simply a tool I have in my own kitchen that I use on a regular basis. Can't live without mine!! It's a great way to get even oil coverage without overdoing the fat.
YOU MIGHT ALSO ENJOY:
Please note: Measurements for this recipe are approximate. Feel free to adjust amounts to your liking (Personally, I never measure when I'm making this dish).

From the Gracious Pantry archives: Recipe originally posted 5/31/10.
Clean Eating Roasted Summer Squash Recipe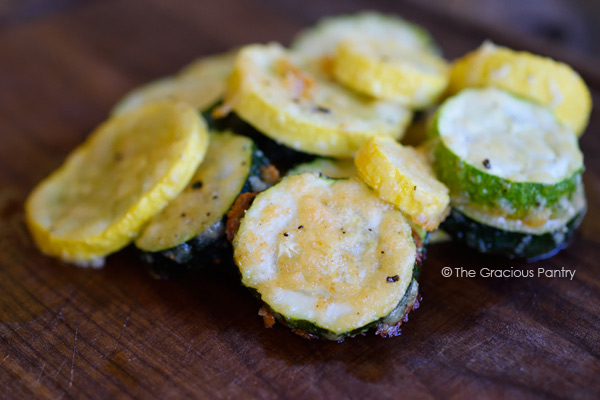 Author:
Tiffany McCauley | The Gracious Pantry.com
Yield:
Approximately 6 servings
Ingredients
4 large zucchini
2 large yellow squash
2 tsp. garlic powder
½ tsp. ground, black pepper
Olive oil - In an oil sprayer (affiliate link)
⅛ to ¼ cup parmesan cheese
Instructions
Preheat oven to 350 degrees F.
Chop your squash into large, chunky slices about ½ to ¾ inch thickness.
Spray a cookie sheet with a light coat of olive oil.
Line up your squash slices like little soldiers. Don't worry about leaving any space between them. They'll cook just fine scrunched together.
Spray a very light coat of olive oil over the top of the squash.
Sprinkle your spices, including the parmesan over the squash.
Bake for approximately 30-45 minutes, or until they have a very light golden hue to them, and you can easily push a fork through them.
Allow to cool slightly and serve.