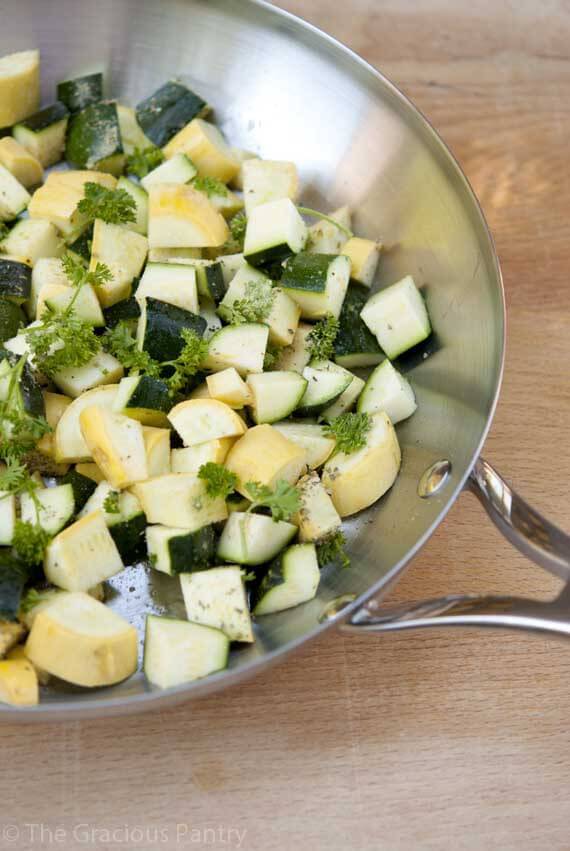 Oh my! I'm in cookware heaven!
Not only did I enjoy this fabulous recipe I'm about to share with you, but I got to cook it in this amazing 12 Inch Nouvelle Copper Stainless Steel pan from Anolon.
And I'm going to give you a chance to win one for yourself!
This summer squash recipe is the first thing I cooked in this pan and it was a positively dreamy experience. This is the kind of cookware you pray you will get from a registry for your wedding or some other major life event. Everything cooked evenly (even on my electric stove!), there were no "hot spots" and cleaning up was a breeze! I really must invest in more of these in the future. I swear, if it was more cuddly, I'd probably snuggle up to it on the couch. But I digress…. ~ehem~…

Here are some details on the pan, courtesy of the Anolon web site. You can read more at the link above.
Stainless Steel construction crafted with copper delivers optimum heat control and perfect cooking performance. Durable, polished stainless interiors are metal utensil and dishwasher safe.
A double full cap base features a layer of aluminum encapsulated with copper followed by more aluminum and finished with an impact-bonded magnetized stainless steel cap. This unique combination offers outstanding heat distribution.
Cast stainless steel handle is oven safe to 500°F.
Deep seated stainless steel dome lid fits securely into the rim to lock in flavors and nutrients.
Lifetime Limited Warranty.
THE CONTEST IS NOW CLOSED. THE WINNER IS:
Tracy Amendola. Congratulations Tracy! Please contact me to collect your prize.

Clean Eating Skillet Summer Squash
(Makes 4 servings)
Ingredients:
2 cups chopped, raw zucchini
2 cups chopped, raw yellow squash (crookneck)
2 teaspoons olive oil
1 teaspoon garlic powder
1 teaspoon marjoram
2 tablespoons chopped, fresh parsley
1/4 cup broth (chicken or veggie)
Salt and Pepper to taste
Directions:
In a large skillet, sauté the squash, garlic powder marjoram and parsley in the olive oil.
When the squash starts to stick to the pan, add the broth and continue to cook until it reaches the level of doneness you prefer.
Disclosure: Anolon sent me this pan for free to review here. No other compensation was accepted. The item received was for the purpose of sampling. This is not a paid review. This is my honest opinion of the product I was sent. You can read my full blog disclosure here.