This baby kale recipe is for the dedicated kale lovers. It's earthy, strong flavored, peppery and just so…. kale-like! With garlic and crushed red pepper flakes, the flavors of this veggie side dish will stay with you for a while.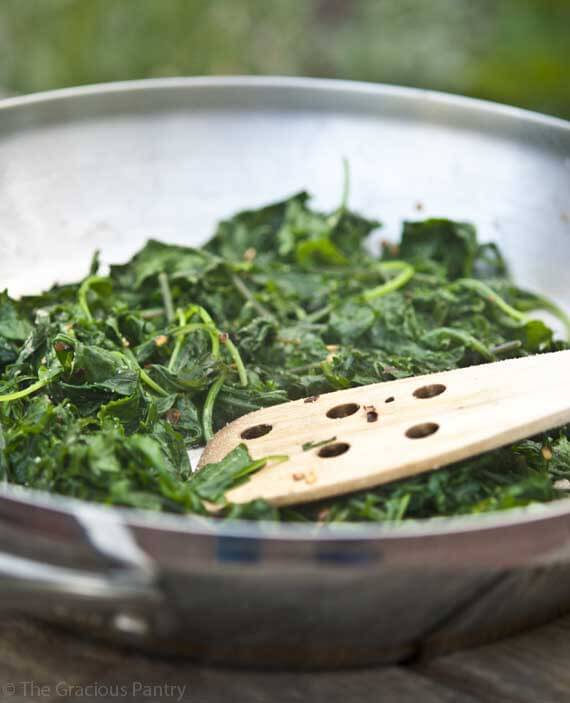 I sometimes struggle with kale. It's not the easiest vegetable to get creative with. At least not for me. The flavor is so specific and so strong that I often have a tough time pairing it with other ingredients. So instead of fighting it, I decided to go with it.
There is no mistaking the fact that you are eating kale with this baby kale recipe. It's dominant and almost overwhelming. A perfect side dish for those dedicated to kale!
OTHER BABY KALE RECIPES TO TRY:

Clean Eating Garlic Baby Kale with Crushed Red Peppers
(Makes 2 servings)
Ingredients:
1/2 cup low sodium chicken broth, no sugar added
4 generous cups, tightly packed baby kale
1 teaspoon olive oil
2 teaspoons garlic powder OR 6 cloves, chopped
1 teaspoon crushed red pepper flakes
1 teaspoon low sodium soy sauce
Directions:
Sauté the garlic in the olive oil in a large pan.
Pour the chicken broth into the pan and add the kale, garlic powder, red pepper flakes and soy sauce. Cook until kale is wilted and cooked to your liking.