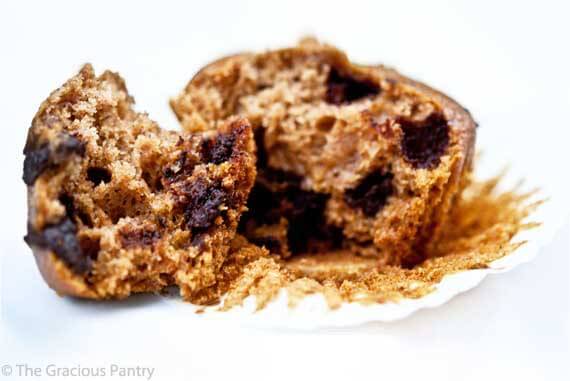 This is my last goody post for the year. I hope you've enjoyed my holiday recipes. Have an amazing New Year! May it be filled with many blessings and lots of clean food!
There's just something about a chocolate chip muffin. I bite into its soft, spongy little body, and I'm immediately whisked away to my fabulously warm and sweet-scented dream kitchen and that perfect, double oven I keep fantasizing about. My stress seems to melt away and the only thing occupying my mind is that deep, rich gooey chocolate that seems to massage my shoulders and rub my feet on the way down.
Just writing about it here is taking about 10 points off my stress meter.
Yes, I know. Food and stress relief should not go together. But they do. In my tiny little universe, my chocolate chip muffins give me the full spa treatment without ever leaving home. Even my split ends repair themselves. It's a fabulous experience. Try it! You'll see!
YOU MIGHT ALSO ENJOY:

Clean Eating Chocolate Chip Muffins
(Makes 24 servings)
Ingredients:
2 cups whole wheat pastry flour
2 teaspoons baking soda
1 egg
1/2 cup honey
1/4 cup avocado oil (olive oil or safflower oil will also work)
3/4 cup unsweetened soy milk (or milk of preference)
2 teaspoons ground cinnamon
1/2 cup unsweetened apple sauce
1 cup grain sweetened chocolate chips
Directions:
Preheat oven to 350 degrees F.
Line your muffin tin with cupcake papers.
In a medium mixing bowl, whisk together the flour, chocolate chips and baking soda.
In a large mixing bowl, blend everything else with a whisk.
Add the flour to the wet ingredients and whisk again.
Pour into your muffin tin. Fill up the cups only half way.
Bake for 20 minutes or until a toothpick poked in the middle of a muffin comes out clean.