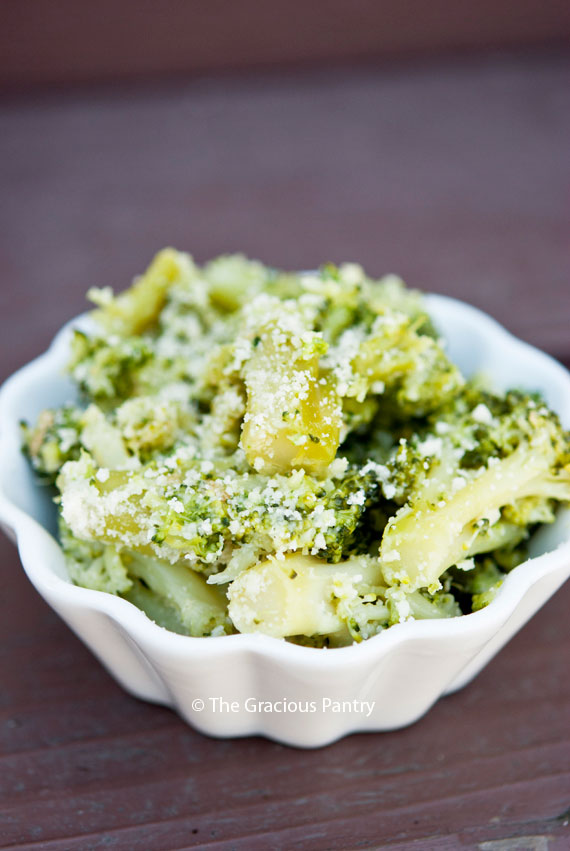 Mini Chef and I are both broccoli fanatics. We'll eat it every night of the week if it's available from the fridge or freezer. It's something I stock up on in spades at the grocery store, and as soon as I have room to garden, I'll be growing it by the yard full.
We really do love it that much. But even though we love it, we don't like to eat it the same way all the time. I mean, who wants the monotony? So I started playing around with last nights broccoli and came up with this delicious little concoction. Even Mini Chef asked if we could have it again tonight for dinner.
I said yes. Who could say no to a child asking for broccoli??!!!
YOU MIGHT ALSO ENJOY:

Clean Eating Buttery Garlic Broccoli With Parmesan
(Makes 4 servings)
Ingredients:
1 lb. broccoli, steamed
2 tbsp. butter
1/4 cup parmesan
1 tsp. garlic powder
Directions:
Just after steaming the broccoli, use a large spoon to transfer it to a medium mixing bowl while it's still hot. Add the butter and cover it with the hot broccoli so it melts.
Once melted, stir in everything else and mix well.