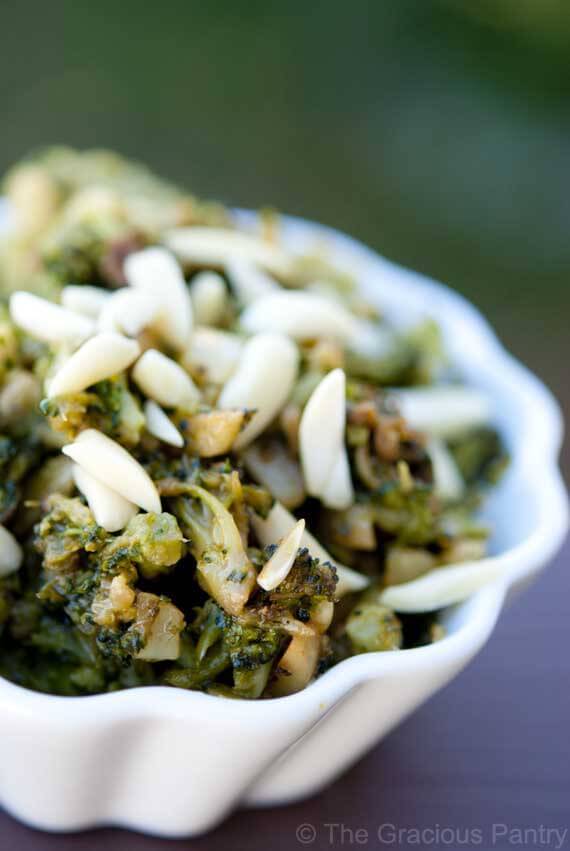 If you love garlic, then this is a fantastic little side dish! It may not look like much, but man is it good! Plus, it's simple and easy to make. And I don't know about you, but simple and easy to make recipes are at the top of my "to-cook" list these days.
YOU MIGHT ALSO ENJOY:
Clean Eating Garlic Almond Broccoli
(Makes 4 servings)
Ingredients:
1 pound broccoli, steamed
1 teaspoon garlic powder
1/2 cup almonds – roughly chopped
1 teaspoon olive oil
Salt to taste
Directions:
Place all ingredients in a pan and stir until warmed through. You want to be sure the garlic powder is well distributed.
Nutritional Content:
(Data is for 1/4 recipe)
Calories: 119
Total Fat: 7 gm
Saturated Fats: 1 gm
Trans Fats: 0 gm
Cholesterol: 0 gm
Sodium: 37 mg
Carbohydrates: 11 gm
Dietary fiber: 4 gm
Sugars: 3 gm
Protein: 6 gm
Estimated Glycemic Load: 4
Please Note: Nutritional information estimated at Nutritiondata.com. Data may not be accurate and is subject to the availability of specific foods in their database. Where one ingredient is not listed, substitutions must be used. Therefore, you should not refer to this data as being exact. It's more of a ballpark figure. The Gracious Pantry does not take responsibility for the inadequacies of the nutrition calculator used. This data is provided as a courtesy and general reference only. It is not exact.