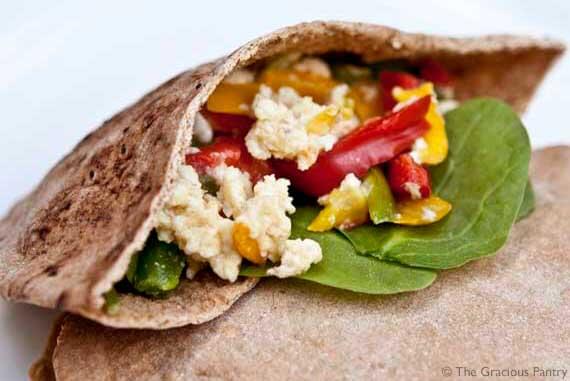 I love a good, protein-filled breakfast in the morning. There's just something about it that gets my day off on the right foot. So I look for different ways to serve up the same old eggs because nothing will kill a clean eating plan faster than boredom.
When you're on the go, a pita is a fantastic "grab-n0-go" meal. You can stuff them with just about anything and you'll feel confident that you have a nutritious breakfast. Just be sure the pita bread is 100% whole wheat. If you have a Trader Joe's in your area, they carry them, but I'm sure other stores do too.
Just do yourself a favor and eat these at your desk. As portable as these are, they do fall apart when you're eating them. Not so great in the car. Trust me. I know.
YOU MIGHT ALSO ENJOY:

Clean Eating Breakfast Pita
(Makes 2 pitas)
Ingredients:
4 egg whites
1 cup bell peppers, chopped (any color)
1 teaspoons garlic powder
1 teaspoons onion powder
1 cup raw spinach (but you can cook it if you prefer)
2 teaspoons olive oil
Directions:
Saute the bell peppers in the oil until tender (the spinach too if you prefer it cooked)
Add the eggs and spices to the pan and scramble everything together.
Stuff your pita with the filling and go!