I know. "Roulade" is a fancy word that conjures up images of some fancy French chef doing fancy things in the kitchen we could never hope to do in our own, not-so-fancy home kitchens.
But the truth is, "Roulade" basically means "roll". So simply put, this is a rolled up turkey breast. Sounds a lot simpler that way, doesn't it?
This recipe created and shared in collaboration with eBay.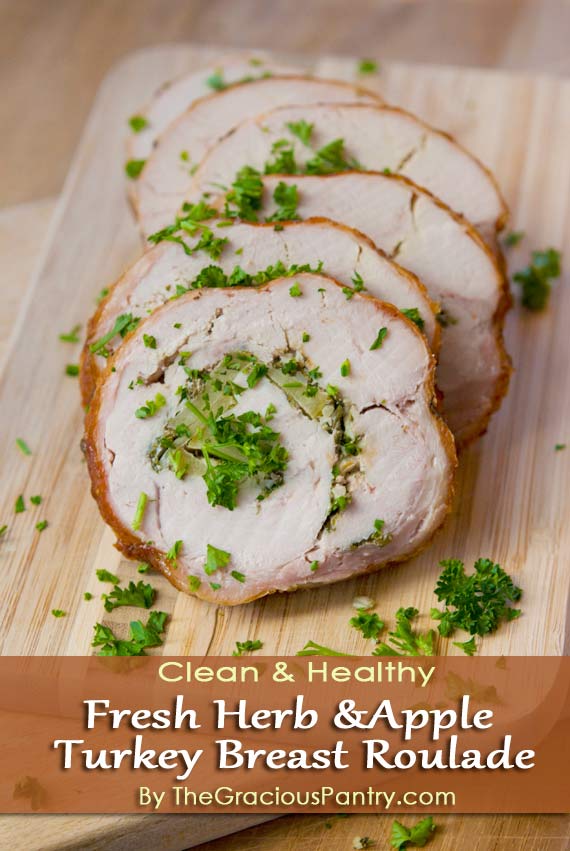 I created this recipe for eBay, wanting to show people that those fancy words don't always equal something complicated. In fact, this was so super easy and the result was so amazingly delicious that my mom ate almost the entire thing (over a few days, of course). It's definitely a fun and impressive way to serve a turkey breast.
The trick with rolling it up is to be sure you tenderize the breast enough to get the thickness of the breast pretty even all the way across. Also, ask the butcher to cut you a breast without the bone, but WITH the skin on it. It makes it easier to roll it up and will help keep the moisture in the meat as it cooks on the grill. You can always remove it after cooking if you prefer not to eat the skin.
I have to say that this simple dish opened up a whole new area of cooking for me. I love the idea of taking those seemingly complicated cooking terms and simplifying them for people using fresh, clean ingredients. What a fun project! Count on seeing more of that in the future…
P.S. – This is a barbecue recipe, but you could also cook this in the oven at 350 F., though you would have to experiment with the timing as I have not done it myself….yet.
YOU MIGHT ALSO ENJOY:

This recipe originally created in collaboration with eBay. You can VIEW THE ORIGINAL RECIPE HERE.

Clean Eating Barbecued Fresh Herb And Apple Turkey Breast Roulade Recipe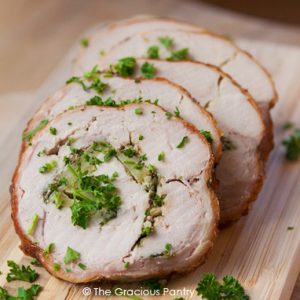 Author:
Tiffany McCauley | The Gracious Pantry.com
Ingredients
½ large, deboned turkey breast (about 2½ lbs.)
4 cloves garlic, minced
1 tbsp. fresh, chopped parsley
1 tbsp. fresh, chopped thyme
2 tsp. fresh, chopped rosemary
¼ apple, cored and sliced thin
Dash of salt and black pepper
Instructions
Lay a piece of aluminum foil on a flat work surface. It should be large enough to wrap the turkey in plus a little extra just to be safe.
Lay the turkey out on the foil and tenderize it to an even, ½ inch thickness across the entire breast.
Distribute the garlic and spices evenly across the surface of the turkey breast.
Place the apples, in the middle of the breast, and add a bit of salt and pepper.
Starting at one end of the breast, roll it up, making sure to tuck the apples in as you go. Pull it tight and secure it by wrapping tightly with the foil. Twist the ends to close it off completely.
Place on a pre-heated grill, rotating about every 15 minutes and cook for about 40-50 minutes or until it reaches at least 165 F. Cooking times can vary, so use a thermometer.