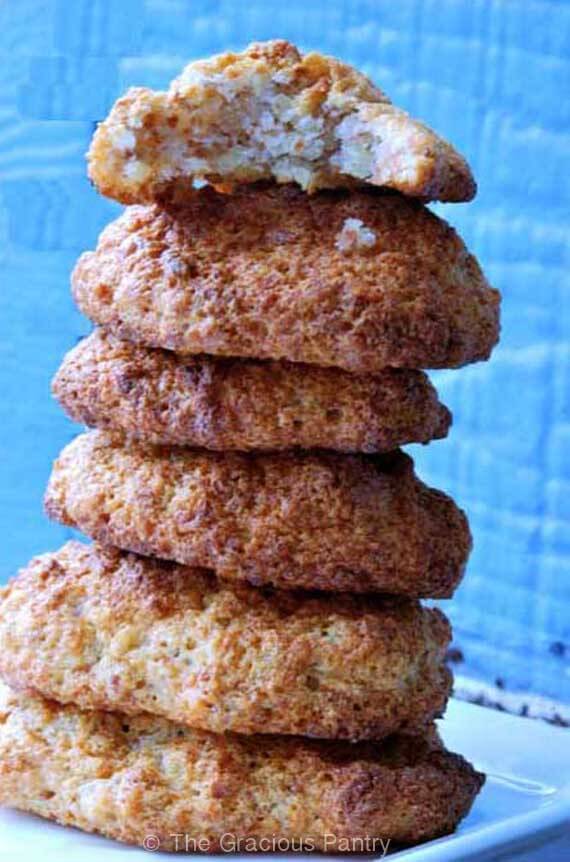 I love this recipe for it's simplicity. This is another one of the cookie recipes I learned to bake in Germany during the holiday season.
I had never seen cookies made like this, and still haven't since. I mean, who thinks to make anything other than meringue cookies with egg whites?
These small but delightful cookies are soft and "spongy", slightly sweet, nutty and full of that "good-for-you" feeling.  If ever there was a clean eating cookie, this is it!
Originally, these cookies were made by spooning the cookie mixture onto a "Oblaten", a wax paper like, edible wafer. These Oblaten really don't add any flavor to the cookies, but they do offer the benefit of a stable "foundation" for a cookie like this. You can find Oblaten all over Europe, and in European food markets here in the states. You can order them online as well from Amazon.com by clicking here.
Personally, I use them when I have them, and I don't use them when I don't. This cookie can go either way.
YOU MIGHT ALSO ENJOY:

Clean Eating Almond Honey Cookies
(Makes approximately 24 cookies)
Ingredients:
1-1/2 cups ground almonds
3/4 cup honey
4 egg whites
Directions:
In a large mixing bowl, beat egg whites until stiff peaks form.
In a second bowl mix almonds and honey.
Scoop nut mixture into the egg whites and fold until well mixed. do not over mix. The moment mixture is combined, stop mixing.
Using a regular teaspoon (not a measuring teaspoon), scoop small clumps onto round edible wafers, or directly onto parchment paper.
Place in oven on lowest shelf at 350 for 10-15 minutes. Should be lightly brown when done.
Quote from a reader:
"I just had to share with you…..I made your almond cookies yesterday.   My 18mo. old who still only has a few words – stood at the counter pointing to the cookies and kept saying "more, more, more".  A huge hit and I certainly didn't mind giving her more "clean" cookies!

For dessert, we all crumbled some cookies over fresh strawberries..yum!"