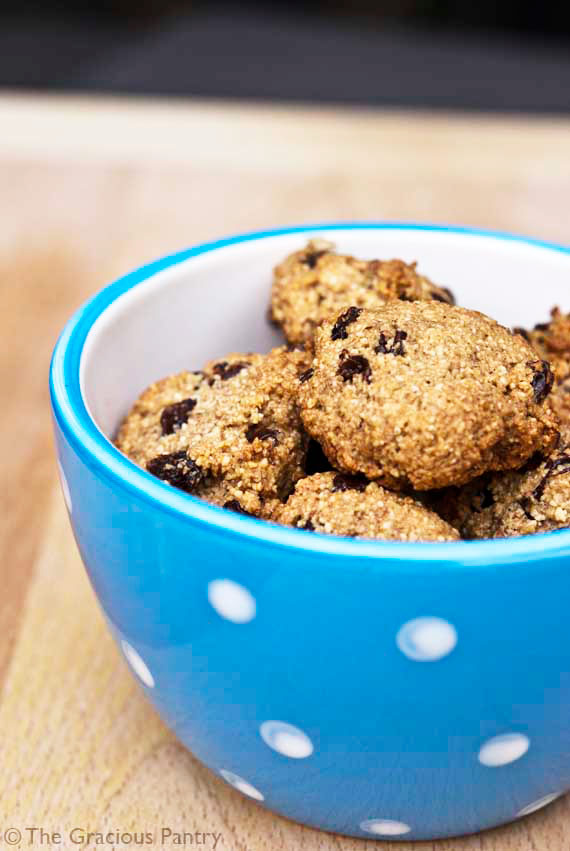 Oatmeal cookies are wonderful things. There is something just so homey and comforting about them. They soothe your tummy and remind you of warm kitchens of years gone by.
Unlike many of you, I did not grow up eating oatmeal cookies. They were never a staple of my childhood. Instead, I grew up with German confectionery my grandmother created and gourmet goodies my mother liked to bake. Not that I'm complaining…. I assure you… I'm not! But oatmeal cookies just never made it into my childhood collection of sweets.
However, I am quickly learning to appreciate these little bits of heaven. I can see why people serve them to kids and why for so many, they qualify as comfort food. It's not a far leap from cookie to comfort with these little goodies.
While this recipe is not exactly like the traditional oatmeal cookie, I think the cashews really add a depth of flavor that is warm and wonderful.
YOU MIGHT ALSO ENJOY:

Clean Eating Oatmeal Raisin Cashew Cookies
(Makes approximately 30 cookies)
Ingredients:
2 cups cashews, chopped fine (I used raw cashews, but roasted is fine too.)
1 cup plain oatmeal, see note below
1/2 cup honey
1 tablespoons pure vanilla extract
1 tablespoon. ground cinnamon
1/3 cup whole wheat pastry flour
1/2 cup raisins
Directions:
NOTE: If you cook the oats first, you will end up with a much softer cookie. If you use them raw and put them through the processor to chop them up a bit, you will end up with a denser, crispier cookie (pictured above).
Preheat oven to 350 degrees F.
Mix together all ingredients in a large mixing bowl.
Spoon onto a cookie sheet.
Bake for about 10-15 minutes, or until golden brown on top.