This post may contain affiliate links. Read my
Privacy Policy.
As an Amazon Associate I earn from qualifying purchases.
A good baked oatmeal recipe just makes life easier.
You can make them ahead or simply prep them the night before to cook in the morning. They freeze well and feed as many people as you need to feed.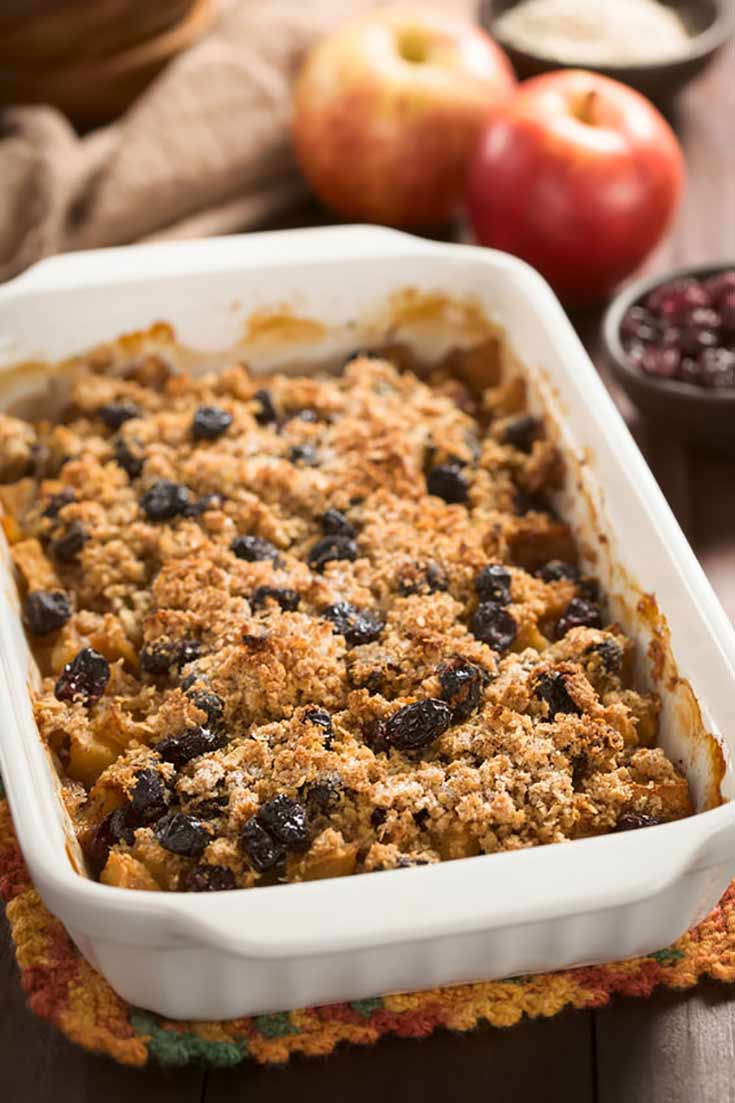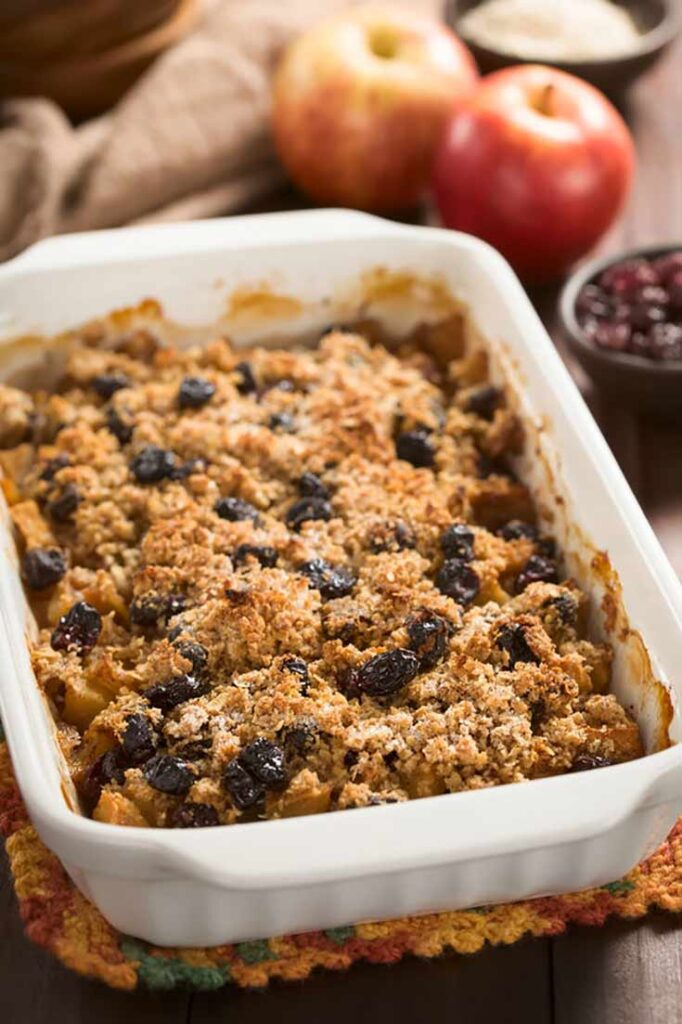 What Is Baked Oatmeal?
Baked oatmeal is a breakfast casserole that is served warm, straight from the oven. It typically involves oats, milk and anything from spices to fruits for flavoring.
Types Of Oats
For baked oatmeal, you'll want to use any type of oats except quick cooking or instant oats, which won't hold up well to the cooking time that
Oat Groats – These are the most unprocessed oats you can get. They are the whole kernel with just the inedible husk removed. They take the longest of all the types of oats to cook.
Steel Cut Oats – These are the whole oat groats that have been cut two or three times. They cook a bit faster than oat groats and are sometimes called Irish oats.
Rolled or Old Fashion Oats – These keep the best in your pantry. They are steamed and flattened oat groats. They take less time than steel cut oats to cook.
Quick Cook Oats – These oats are essentially pre-cooked before they are rolled and flattened. They cook the fastest and are what you'll find in those flavored oatmeal packets by companies like Quaker Oats. They are one of the two least nutritious oat.
Instant Oats – Like quick cooking oats, these oats are also pre-cooked. And like quick cooking oats, they are the other one of the two least nutritious oats with the least amount of protein and fiber due to pre-processing.
What Is The Best Way To Cook Oats?
While there isn't truly a "best" way to cook oats, everyone has their favorite way of preparing this breakfast staple. Here are a few ways prepare them.
Stove Top – The traditional method of cooking oats is simply to combine water and oats and bring them to a boil on your stove top. Every package of oatmeal will give you directions that tell you how to cook oats with this method.
Slow Cooker – If you se steel cut oats, you can cook oats all night long in a slow cooker so breakfast is ready for you in the morning. Plenty of liquid is required.
Instant Pot Oats – While this method is a bit more involved, actual cooking time is only 3 minutes. But keep in mind, you'll need time for letting the IP come to pressure too.
Overnight Oats – These don't actually require cooking, but soaking oats overnight with milk and whatever flavoring you want is a delicious way to enjoy them.
Microwaved Oats – These are cooked using package measurements and typically cook on high for about 2 minutes, for oats that are not highly processed. Quick cooking oats may take less time.
Baked Oats – This involves combining the oats with milk and flavorings and then baking them in the oven. This is basically a breakfast casserole.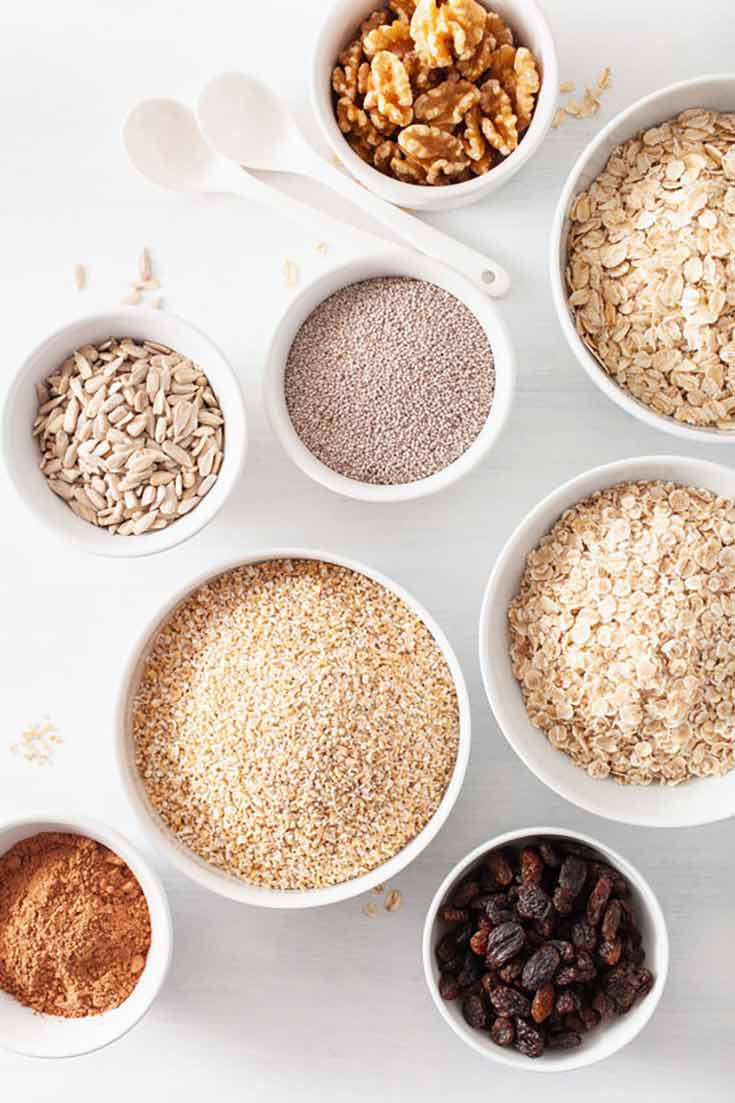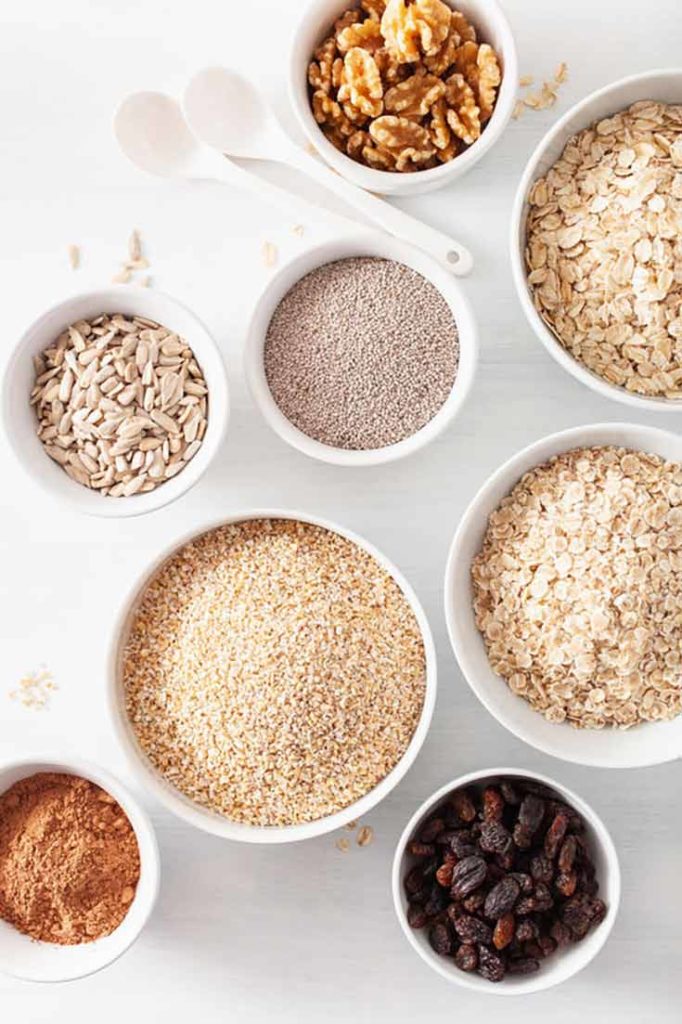 Should Oatmeal Be Cooked Covered Or Uncovered?
For the most part, you'll want to follow the package directions for this when cooking oats on the stove top. But cooking with the lid on or off usually changes the consistency of your oats. So take that into account. Consistency trumps package directions.
Oatmeal Consistency
No matter how you like your oats, there are ways to achieve the consistency you enjoy most. Here's how to get your oats just right.
Creamier Oats
Cook in water.
Add to water when cold.
Serve in a deeper bowl. This keeps the oats warm longer, keeping them at a creamier consistency.
Cook with lid on.
Thicker Sticky Oats
Cook in milk.
Add to water when boiling.
Serve in a shallow bowl. This cools the oats faster, making them thicken and stiffen faster.
Cook with lid off.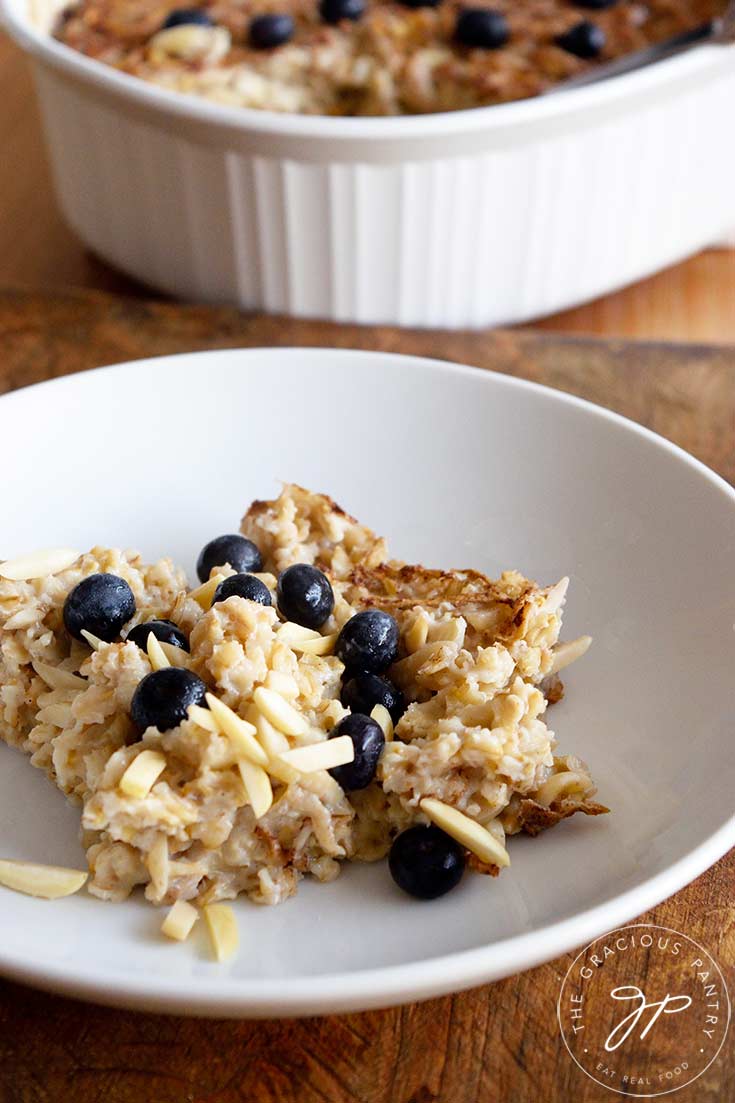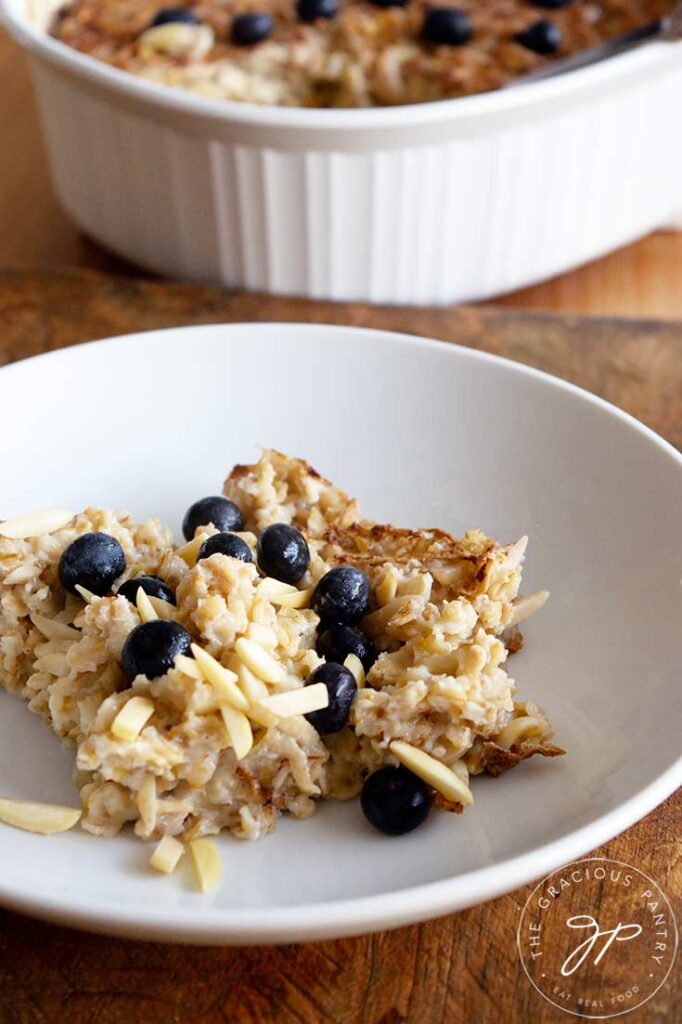 Baked Oatmeal With Apples
While apples are a fabulous addition to any type of oatmeal, baked oatmeal is especially good with them. Baking the apples really helps impart their flavor on the oatmeal. That being said, I have found that grating apples generally gives a better "mouth feel" or texture to baked oats.
There is absolutely nothing wrong with adding chunks of apple to your oats, but if you go that route, chop the pieces small. It just gives a better texture than a huge hunk of apple.
Try this Baked Oatmeal Recipe that has grated apples in it.
Can You Make Baked Oats Ahead Of Time?
Yes you can! Baked oats can typically be assembled in their casserole dish the night before and cooked the following morning.
Some folks like to add the milk to the casserole dish the night before to get a creamier consistency from the oats when done baking. However, they will also be a tad thicker.
If you add the oats in the morning just before popping the dish in the oven, you'll get oats that are a bit less creamy and less thick in consistency.
Does Bake Oatmeal Need To Be Refrigerated?
Absolutely! Whether you are prepping them for the next morning or storing them after cooking, you'll want to store them in the fridge.
Uncooked (prepped) oats that will be cooked later will last with additions (including milk) for up to 2 or 3 days.
Cooked oats will last in the fridge for 3-5 days, depending on what other additions you have added.
Can You Freeze Oatmeal?
Whether it's baked or cook another way, oatmeal is very freezable stuff. It's often best to freeze it in portioned sizes so that you don't have to thaw a big block for one person, but freezing is a great way to go.
Oatmeal freezes well for up to 3 months.
And yes, you can freeze flavored oatmeal. One great way to freeze oatmeal is in muffin tins. This gives you a single serving portion and you can freeze different flavors really easily from one batch of oats. So make a few flavors, freeze them and keep each flavor in its own zipper-top plastic bag. It's an easy grab-n-go breakfast. Thaw overnight or microwave from frozen in the morning with some extra milk.
Banana Baked Oatmeal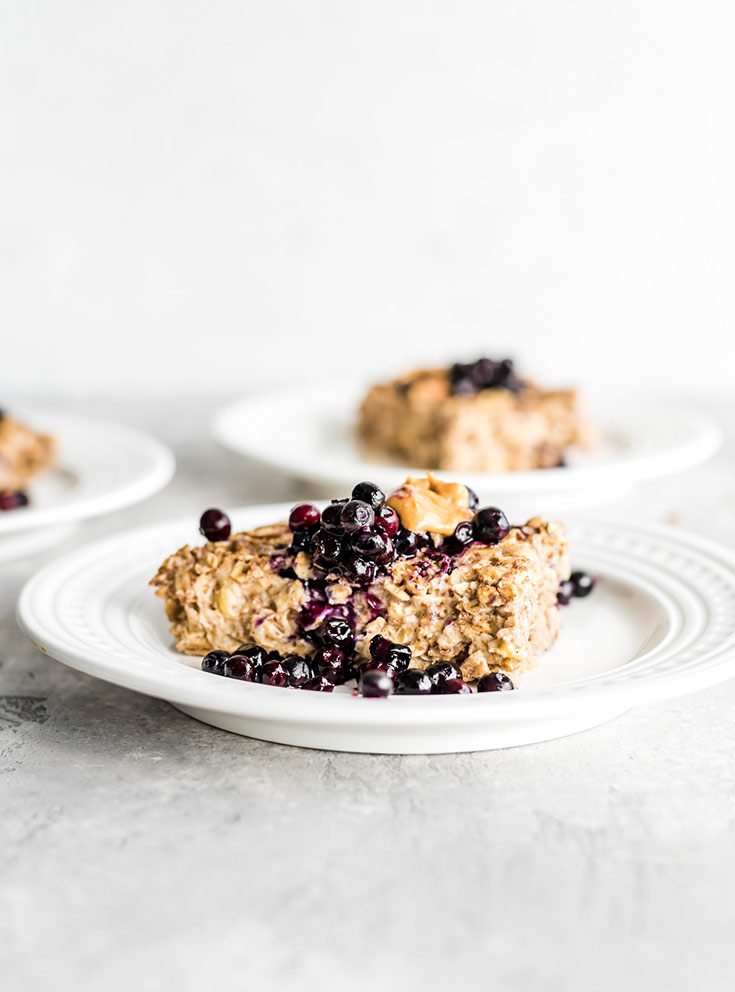 This easy Banana Baked Oatmeal From Running On Real Food takes just minutes to prepare with 4 simple ingredients and is ready after 30 minutes of baking time for a warm, healthy breakfast perfect for the whole family.
What To Serve With Baked Oatmeal
This will largely depend on what you have already added to your baked oatmeal. The list below does not include spices that should have already been added to your baked oatmeal when you baked it. But generally speaking, here are some suggestions:
Fresh fruit
Chopped nuts
Dried fruit
Nut butter
Whipped cream
Chocolate chips
Jam
Maple syrup
Honey
Best Oats For Baked Oatmeal?
While you can certainly bake just about any type of oats, the best oats for baked oatmeal will always be rolled oats (old fashion oats). They tend to hold up best in the oven and can bake long enough to fully cook any additions you might add to your casserole dish. They also allow a long enough baking time to allow any spices or seasonings to do their job properly.
How To Make Baked Oatmeal Healthy
While the term "healthy" is subjective, there are definitely ways to make sure your morning bowl of oats give you the maximum nutrition. Just because you bake oats, doesn't mean they can't be healthy.
To make baked oatmeal healthy, you'll want to focus on the additions.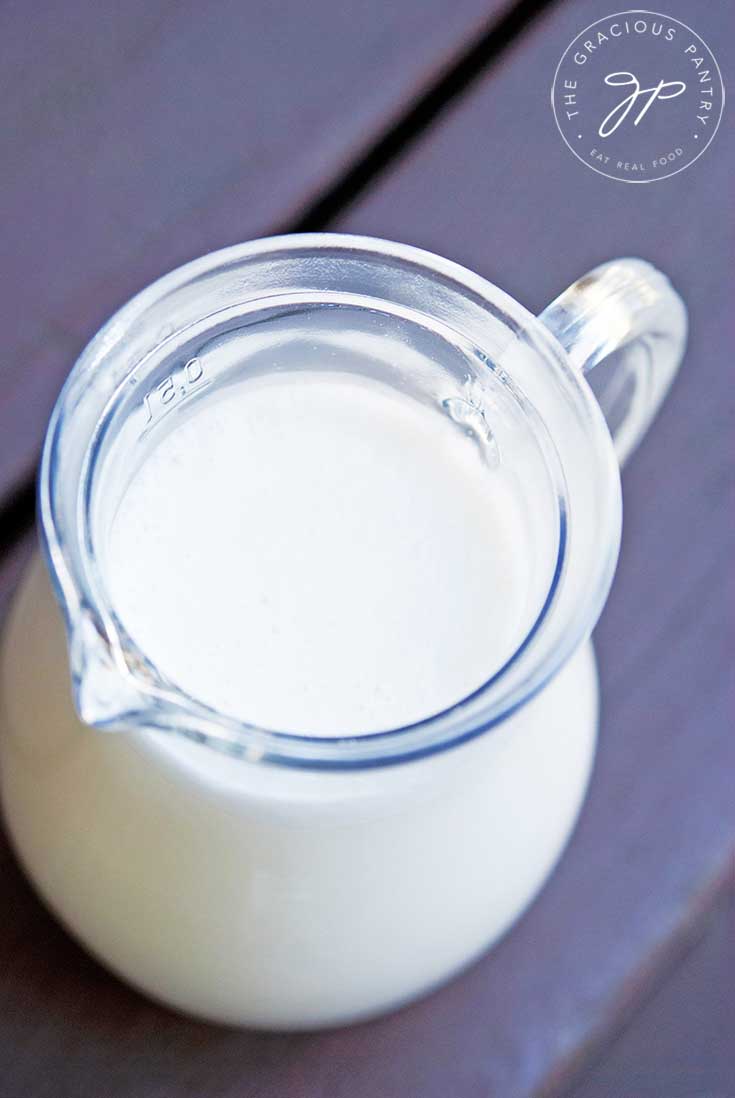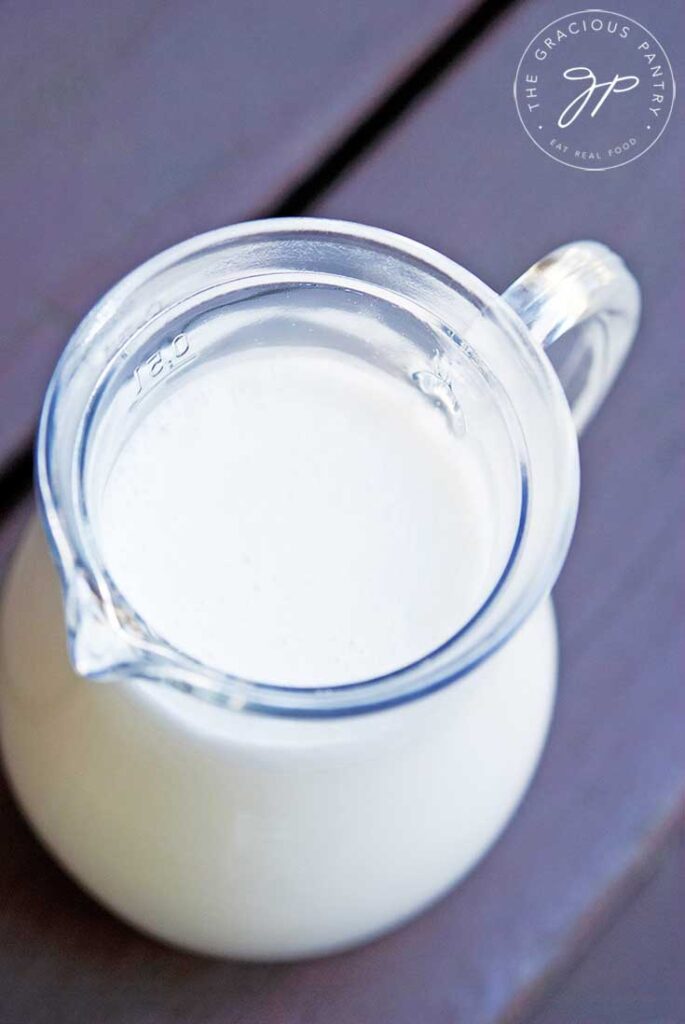 Milks
Opt for whole milk (which is less processed), or if you are non-dairy, look for unsweetened nut or grain milks. The best case scenario for non-dairy milk is to make your own. But if you don't have that option, always purchase the unsweetened variety. Not only does this give you a larger range of possibilities for using it up, but it will keep the processed sugar out of your morning bowl of oats. And that's always a healthier option!
Try:
Dairy Milk | Almond Milk | Cashew Milk | Oat Milk | Hazelnut Milk
Nuts & Seeds
Some nuts and seeds hold up really well in baking. They add some wonderful nutrition and help fill you up.
Try:
Almonds | Chia Seeds | Flaxseed | Peanuts | Pecans | Hazelnuts
Fiber
Oats are already known for having a good dose of fiber in them. But ff you want to up the fiber content, you can easily add psyllium husks to your baked oatmeal. It does change the texture slightly, but it's pretty good stuff. You can also add in purees.
Try:
Psyllium Husks | Pumpkin Puree | Apple Sauce
Pumpkin Baked Oatmeal
This Baked Oatmeal With Pumpkin And Cranberries is destined to become a holiday family favorite. Start your holiday mornings off right with a big bowl of oats, pumpkin, cranberries and so much more!
Fruits
Fresh Fruit – While many folks opt for dried fruits in their oatmeal, the better option is fresh fruit. Why? Because dehydrated fruit has concentrated natural sugars.
Try:
Apples | Mango Chunks | Berries | Peaches | Bananas
Dried Fruit – If you prefer dried fruits, opt for those that do not have added, processed sugar.
Try:
Dates | Apricots | Cranberries | Raisins | Goji Berries
How To Eat Baked Oatmeal
When people as the above question, they typically mean what to serve it with. But just to cover all the bases, here's how to physically serve your baked oatmeal.
Like any casserole, cut out a serving with a serving spoon and serve the oatmeal in a bowl with any fresh toppings you wish to add. You can also add additional milk.
What To Serve Baked Oatmeal With
Again, any fresh toppings will work here.
Fruits – fresh or dried
Nuts – See suggestions above
Coffee – Or shall I say, "Life Juice".
Apple sauce – Make sure it's unsweetened
A side of eggs
A side of turkey or Canadian bacon
How Long Does Baked Oatmeal Take In The Oven
You have two options here. Which one you choose will depend on the oats you use and even on some of the additions you use.
Generally speaking, the more "sturdy" the ingredients, the longer you'll want to bake your oatmeal. If you have oats that cook quicker than rolled oats or have very delicate additions (like soft fruits), then opt for the quicker cooking time.
45 Minutes – Bake at 400 F.
50-60 minutes – Bake at 375 F.
Vegan Baked Oatmeal Recipes
Oatmeal is one of most vegan-friendly breakfasts there are. Always choose a non-dairy milk, and and rest if just naturally vegan!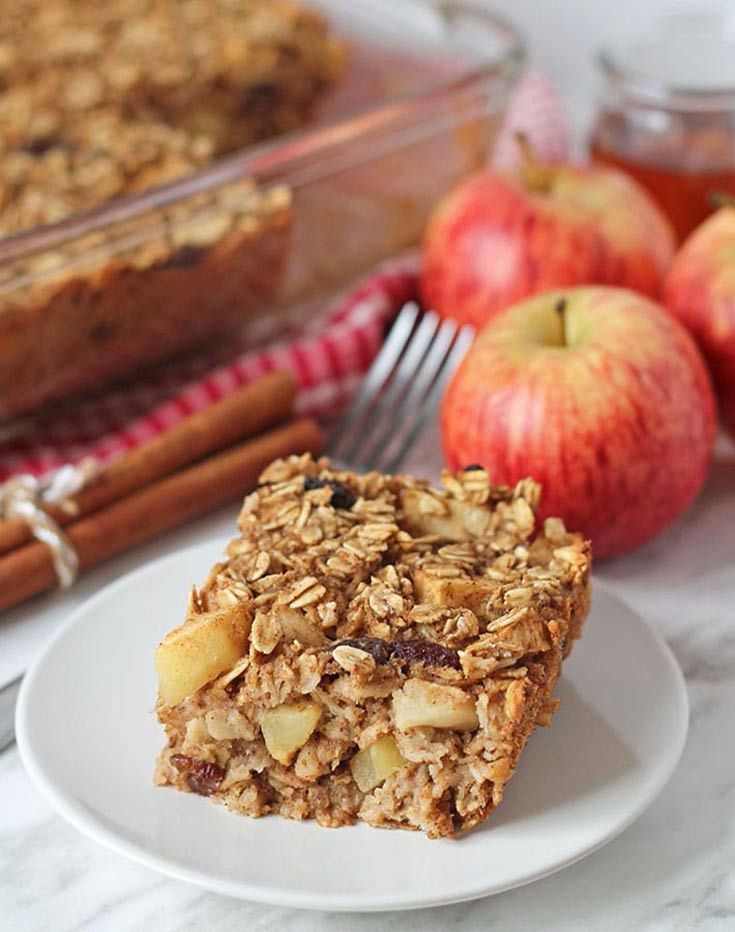 Make this delicious Vegan Apple Spice Baked Oatmeal from Delightful Adventures on the weekend and reheat during the week for a filling, wholesome breakfast.
How To Reheat Baked Oatmeal
If you've baked your oatmeal, had leftovers in the fridge and want to enjoy it for breakfast again the next day, reheating is pretty simple.
Cover the casserole dish loosely with aluminum foil, and place in a preheated oven at 350 F. for 20 minutes.
How To Make Baked Oatmeal
This sort of topic always reminds me of "Build-A-Bear" stores. Except in this case, it's "Build-Your-Oatmeal".
Start with putting your oats into the bottom of the casserole dish.
Add any spices you want to add (cinnamon, pumpkin pie spice, cardamom, etc.)
Add any fruits or nuts or other additions.
Pour in the milk and give everything a quick, gentle stir.
Pop in the oven at the above listed times and temps and bake until done.
Serve with any additional toppings and even extra milk.
Baked Oatmeal With Blueberries
This will apply to any berry you want to use, but blueberries and oatmeal just go together. You can use them fresh or frozen. Either one will bake well.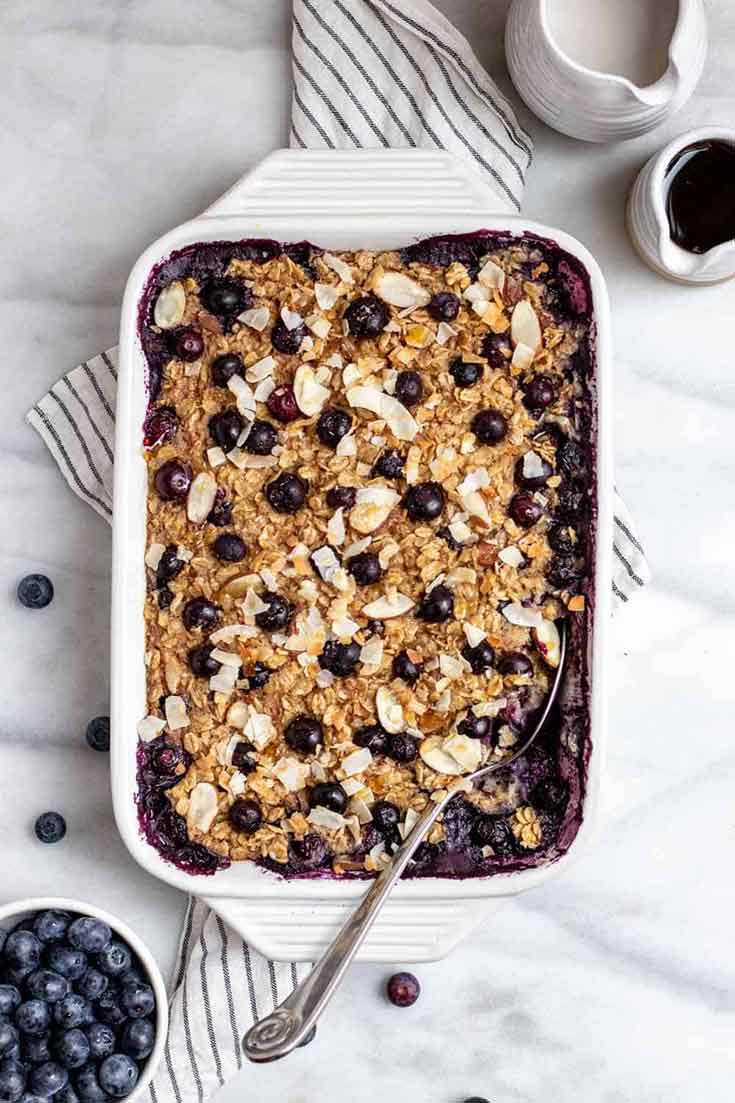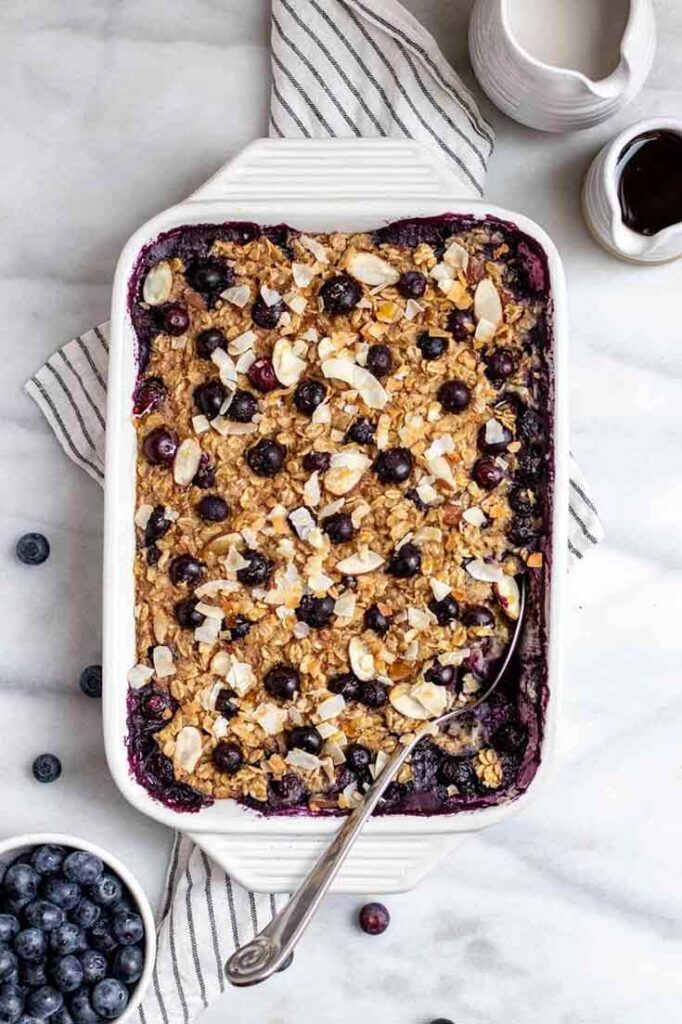 This blueberry baked oatmeal from Eating With Clarity is the perfect gluten free breakfast or brunch recipe! It's full of juicy blueberries, naturally sweetened, with the perfect hints of banana, maple and cinnamon in every bite.
Cinnamon Baked Oatmeal
Cinnamon is another one of those ingredients that just goes naturally with oats. You can make an entire casserole dish of baked oatmeal using just oats, milk and cinnamon. It's delicious every time and you then have the option to add in any fresh ingredients you choose after baking. It's a great way to make a basic breakfast casserole and still give everybody the flavor they want by allowing them to add their own toppings.
Amish Baked Oatmeal
This type of baked oatmeal involves a custard of sorts, and has a consistency similar to bread pudding.
Need Supplies?
Whether you are making one big dish for everybody, or everybody wants their own, different flavors, you can always accommodate by using either one, large casserole dish, or several small ones.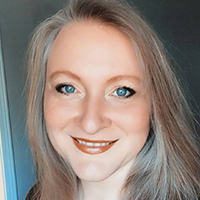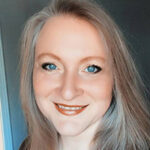 I'm Tiffany, a writer for MSN and the AP Newswire, a cookbook author, digital publisher, food lover, and mom. I create healthy, clean eating recipes for everyday living.