Roasted Yellow Squash Recipe
This post may contain affiliate links. Read my
Privacy Policy.
As an Amazon Associate I earn from qualifying purchases.
This roasted yellow squash recipe is one of the most delicious ways to use up the last of your summer garden's bounty.
Yellow squash is delicious when roasted, and no matter how you get the roasting done, it always pairs wonderfully with just about any type of main course you can think of.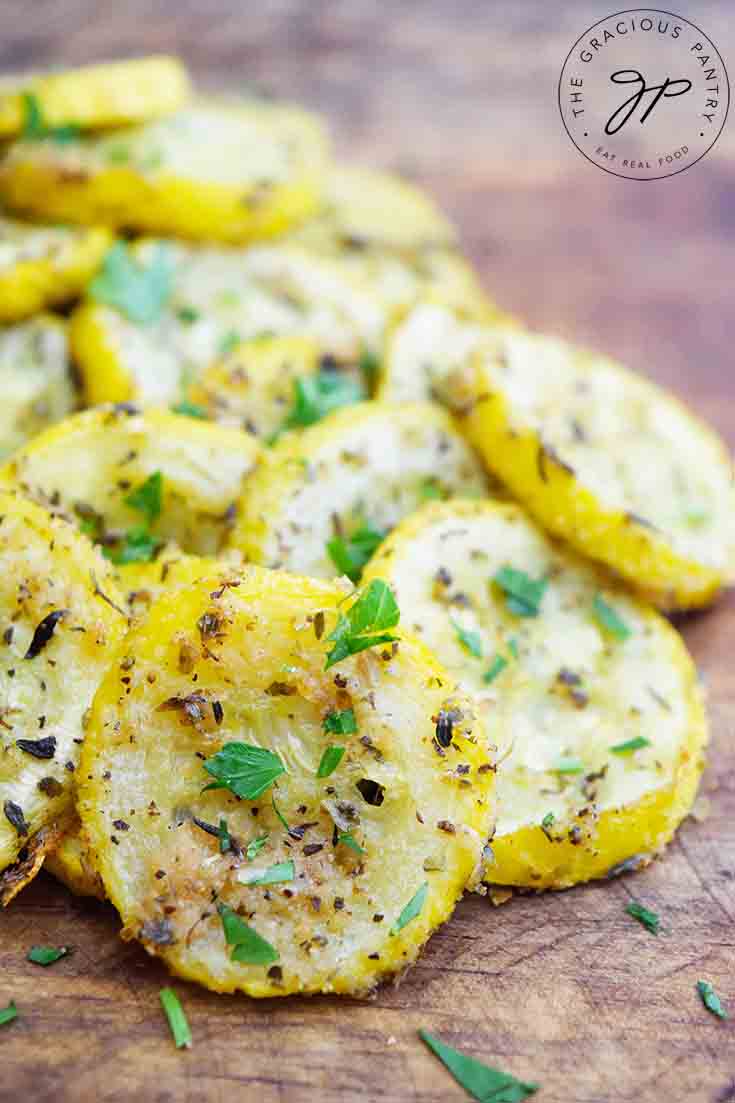 NUTRITION
Yellow squash is nutritious stuff. It's one of summer's gifts of nutrition that just happens to also be totally delicious.
One medium yellow squash contains:
32 calories
.4 g of fat
7 g carb
2.2 g fiber
2.4 g protein
But where yellow squash truly shines is in it's nutrients. Check these out!
One medium yellow squash contains:
514 mg potassium
55% of your daily vitamin C requirement!
20% of your daily vitamin B-6 requirement
It also has plenty of other vitamins and minerals in smaller doses. So the average person really can't go wrong here! And with flavor like this, you'll want more and more of it all summer long.
HOW TO ROAST YELLOW SQUASH
The process is simple enough. The key is to make sure you give your squash (no matter how you cut it up) a thin layer of oil and some spices to give it flavor. Beyond that, you can roast yellow squash a few ways.
In an air fryer
In an oven
On a grill
HOW TO ROAST YELLOW SQUASH IN AN AIR FRYER
Once oiled and seasoned, you can either lay the pieces out on the air fryer try or in its basket (depending on which type of air fryer you have), making sure to allow for a bit of air flow around the squash. Do not overfill your tray or basket. I like to roast mine at 400 F. for approximately 5 minutes for sliced squash. Squash cut into chunks or thicker fries may require an extra minute or two.
This is the air fryer I have and I can't say enough good things about it!

Instant Vortex Pro Air Fryer Oven 9 in 1 with Rotisserie, 10 Qt, EvenCrisp Technology
HOW TO ROAST YELLOW SQUASH IN AN OVEN
The same method applies here. Only, after the squash is oiled and seasoned, you will lay it out on a cookie sheet or baking pan and bake it at 375 F. for approximately 20-30 minutes, depending on how you cut your squash.
These are the roasting pans I have, and they work wonderfully, are durable and easy to clean.

Nordic Ware Natural Aluminum Commercial Baker's Half Sheet (2 Pack), Silver
HOW TO ROAST YELLOW SQUASH ON A GRILL
Again, once the squash is oiled and spiced, you'll want to  us a grill pan for sliced squash. Squash that is cut into thicker chunks or wedges can go directly onto the grill. But you'll want to watch the heat carefully and rotate them often with direct contact. Keep the heat on the lower end. If using a grill pan, you can simply toss the squash in the pan until they are roasted to your liking.
ROASTED ZUCCHINI AND YELLOW SQUASH
If you are wondering about preparing roasted zucchini the same way, you absolutely can! Simply switch out the yellow squash for zucchini or  do a combination of both types of squash for a roasted summer squash recipe like I did here. The flavor won't change much. The zucchini tends to have a very slight bitter flavor, but no more than any other dish you'd put zucchini in. It's actually a truly delicious combination! In fact, you could just just about any summer squash with this and it will turn out really well. So use what you have! This recipe will work with either the crookneck variety or squash or the regular yellow squash (like yellow zucchini). They are interchangeable with this recipe. And if you need more zucchini recipes, I have a bunch or zucchini recipes here!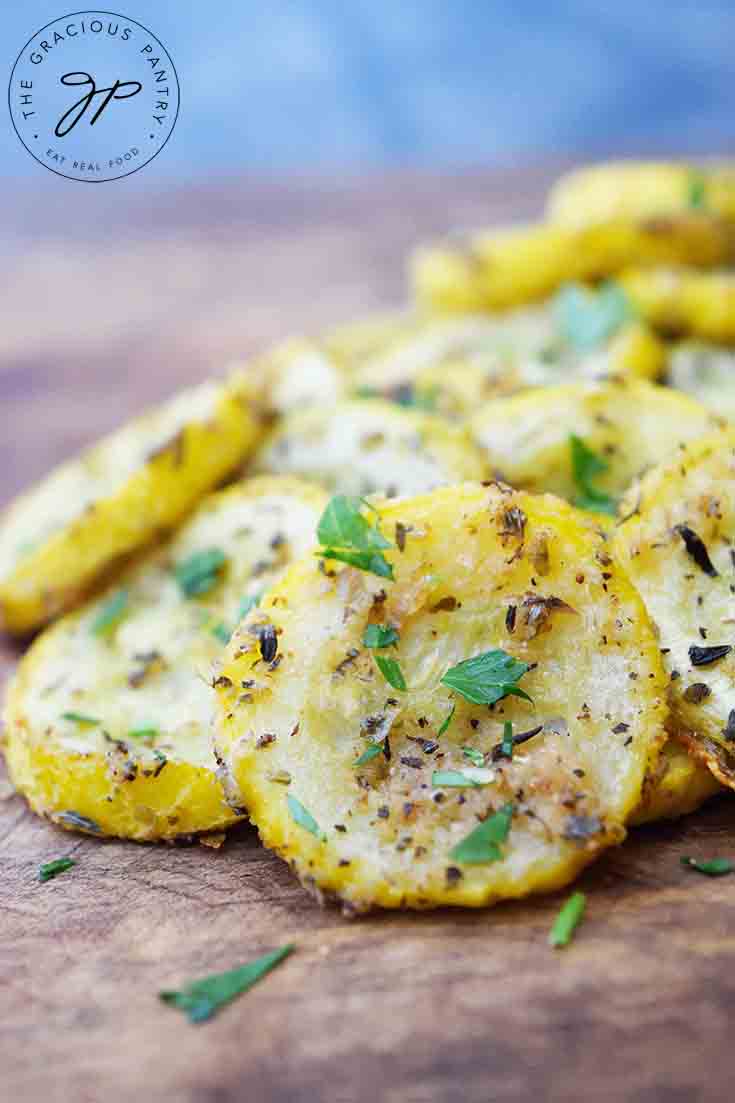 TYPES OF SQUASH THAT WILL WORK WITH THIS RECIPE
Green zucchini
Yellow zucchini
Costata romanesco zucchini
Yellow squash
Pattypan squash
Cousa squash
Zephyr squash
Eight ball zucchini
All you have to do is slice any of these in 1/4 to 1/2 inch thick slices and follow the recipe. Easy!
SUBSCRIBE:
Remember to subscribe to my free, Gracious Pantry Newsletter to receive all my latest recipes in your inbox! Click here to sign up!
MORE SQUASH RECIPES:
Enjoy!

ROASTED YELLOW SQUASH RECIPE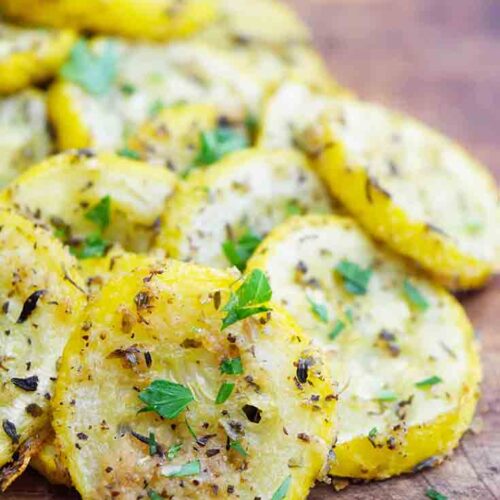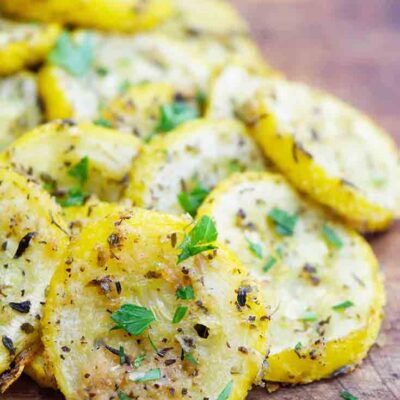 Roasted Yellow Squash Recipe
A delicious roasted side dish that pairs well with most main courses.
Print
Pin
Rate
Ingredients
16

oz.

sliced yellow squash

1

tbsp.

Italian seasoning

2

tbsp.

fresh, chopped Italian parsley

¼

tsp.

salt

¼

tsp.

ground black pepper

1

tbsp.

oil

2

tbsp.

grated parmesan

(optional)
Instructions
In a zipper top plastic bag or large bowl with a tight fitting lid, combine all the ingredients and toss to coat the squash in oil and spices. (Careful not to break your slices!)

Spread out the slices over an oiled cookie sheet (baking pan), and bake for approximately 20-30 minutes, or until you start to see a golden brown edge on your squash slices.

Remove from oven and serve immediately with your main course.
Notes
Please note that the nutrition data given here is a ballpark figure. Exact data is not possible.
Nutrition
Serving:
0.25
the recipe
|
Calories:
94
kcal
|
Carbohydrates:
7
g
|
Protein:
5
g
|
Fat:
6
g
|
Saturated Fat:
2
g
|
Cholesterol:
7
mg
|
Sodium:
237
mg
|
Potassium:
364
mg
|
Fiber:
3
g
|
Sugar:
3
g
|
Vitamin A:
522
IU
|
Vitamin C:
22
mg
|
Calcium:
161
mg
|
Iron:
2
mg